The BHL and Encylopedia of Life (EOL) share the vision of open access to knowledge about life on earth. BHL works to achieve this goal by providing open access to biodiversity literature. EOL tackles this challenge by gathering, generating, and sharing biodiversity knowledge in an open, freely accessible digital repository.
BHL and EOL have been collaborating since 2007, sharing content, best practices, and expertise. Both websites are also extensively interlinked. Taxa identified on pages in BHL are linked to the corresponding species page in EOL. Likewise,  EOL species pages contain links to all identified literature in BHL referencing those species. Through the use of machine tagging, BHL also supplies species illustrations to EOL. To date, 16,496,376 pages in BHL link to EOL species pages, and 1,177,510 EOL pages link to BHL literature. BHL has contributed 13,808 images to EOL.
On 28-29 July, 2014, the EOL Executive Committee Meeting was held at the National Museum of Natural History in Washington, D.C. Agenda topics included strategic planning, EOL content growth and integration with external databases, repackaging content for educational purposes, and the success of Traitbank (a searchable, comprehensive, open digital repository for organism traits, measurements, interactions and other facts for all taxa across the tree of life).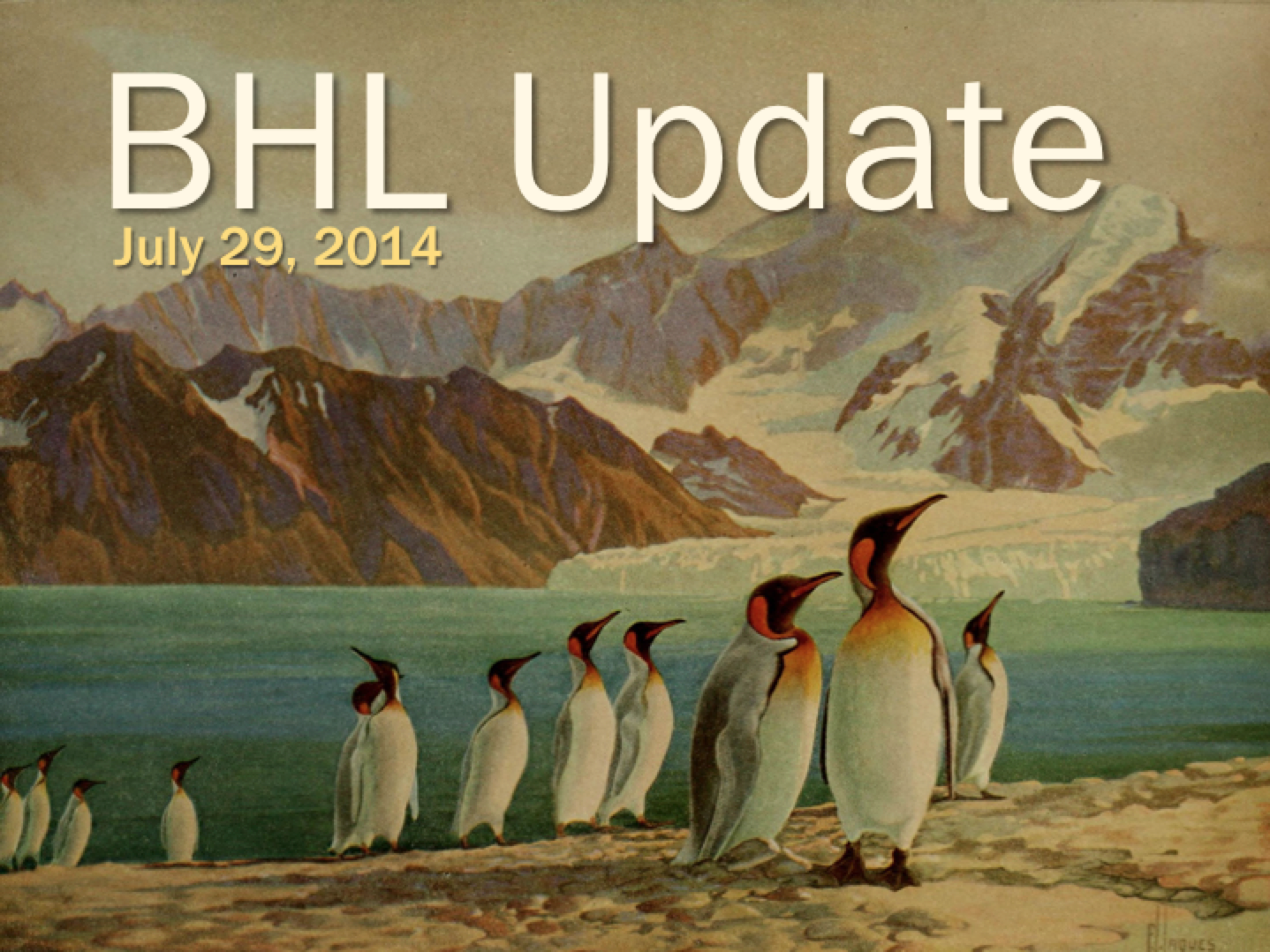 Dr. Nancy Gwinn, Director of Smithsonian Libraries and the BHL Executive Committee Chair, was asked to give a BHL update at the meeting. Her presentation highlighted BHL content and membership growth, the Art of Life project, and notable activities over the past six months, including the Field Book Project, participation in the Bouchout Declaration, the joint SIL/BHL exhibit "Once There Were Billions," Purposeful Gaming, Mining Biodiversity, and the Global Names Project.
Dr. Gwinn also showcased notable BHL/EOL collaborative activities and achievements over the past six months. The May 28th Smithsonian Associates event on Digital Volunteerism, which provided volunteers an opportunity to tag BHL illustrations with species names and explore the iNaturalist platform, was of particular interest.
"Planning for EOL's future is proceeding with vigor and enthusiasm," said Dr. Gwinn following the meeting. "I am pleased that BHL continues to contribute to this process."
Making biodiversity knowledge freely available to everyone is an ambitious goal. But by continuing to share content and collaborate with EOL and like-minded initiatives through joint events, knowledge transfer, and cooperative needs analysis and service development, we are confident we will achieve it.
View Nancy's Presentation: http://www.slideshare.net/costantinog/bhl-update-at-the-encyclopedia-of-life-executive-committee-meeting-2014