My Life as a BHL Staffer: Michelle Abeln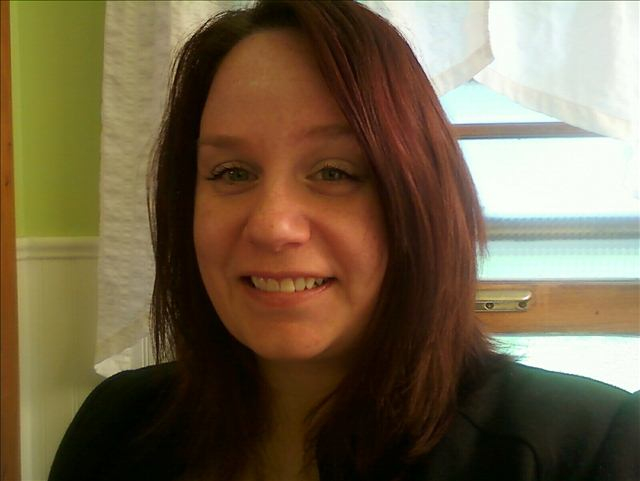 Hello from St. Louis. My name is Michelle Abeln, and I'm a metadata librarian at the Missouri Botanical Garden Library. I've been working as our BHL "liaison" for almost five years. My main focus is to make sure that our in-house scanning efforts correlate with the bigger BHL mission.
BOTANICUS
The Missouri Botanical Garden has been a leader in the digitization of scientific literature since 1995, initially focusing on illustrated volumes from the Library's rare book collection. Working with the Garden's Bioinformatics department, and its leader Chris Freeland, the Botanicus website was developed early on as a freely accessible web-based encyclopedia for botanical literature. While Botanicus was initially developed to house only the Garden's holdings, the technologies and ideals behind it eventually led to the development of the BHL portal. Even though BHL is the ultimate repository for our digitized holdings, Botanicus is still very much a part of our workflow. Everything we scan goes through Botanicus first before it turns up in BHL or the Internet Archive.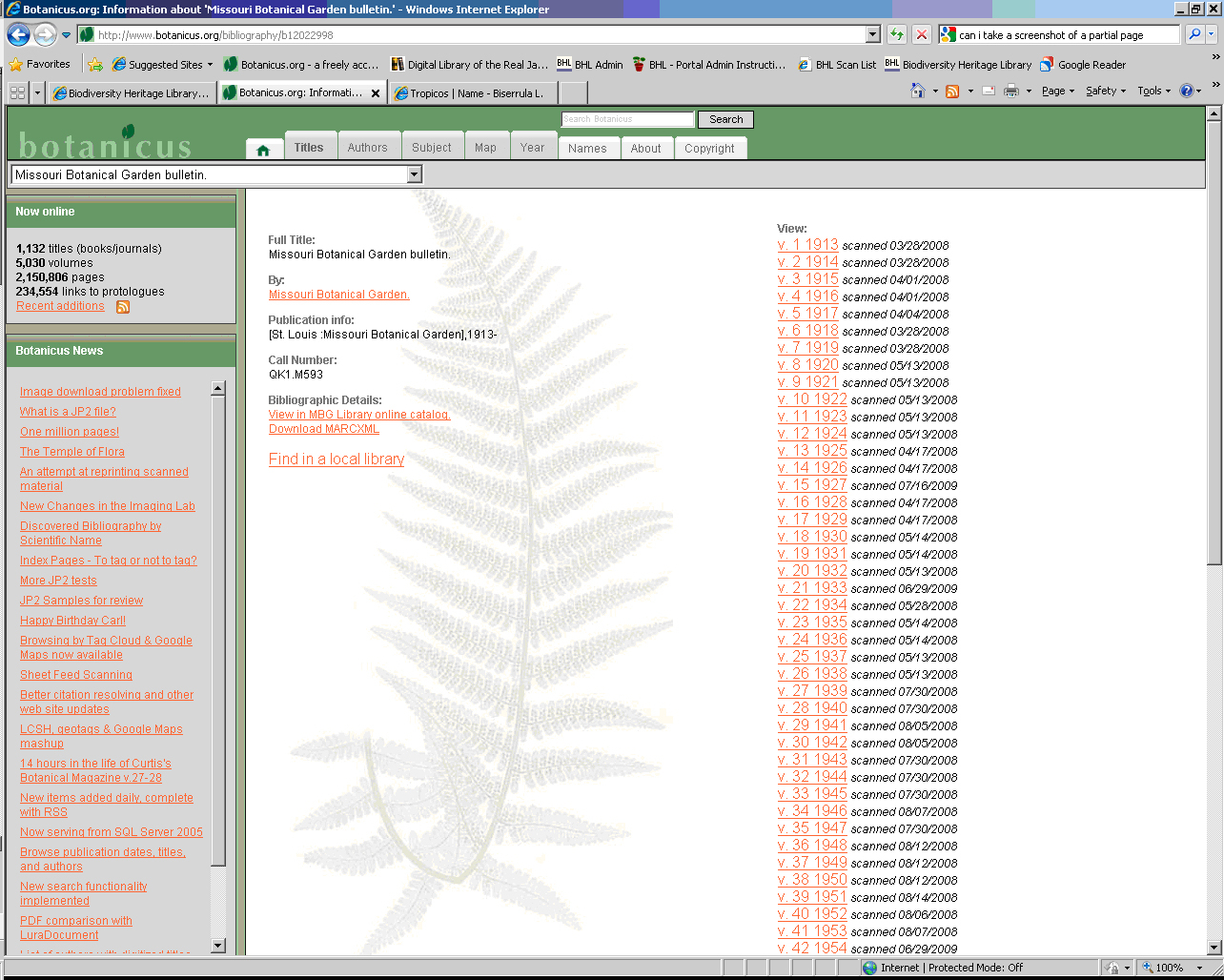 Botanicus Display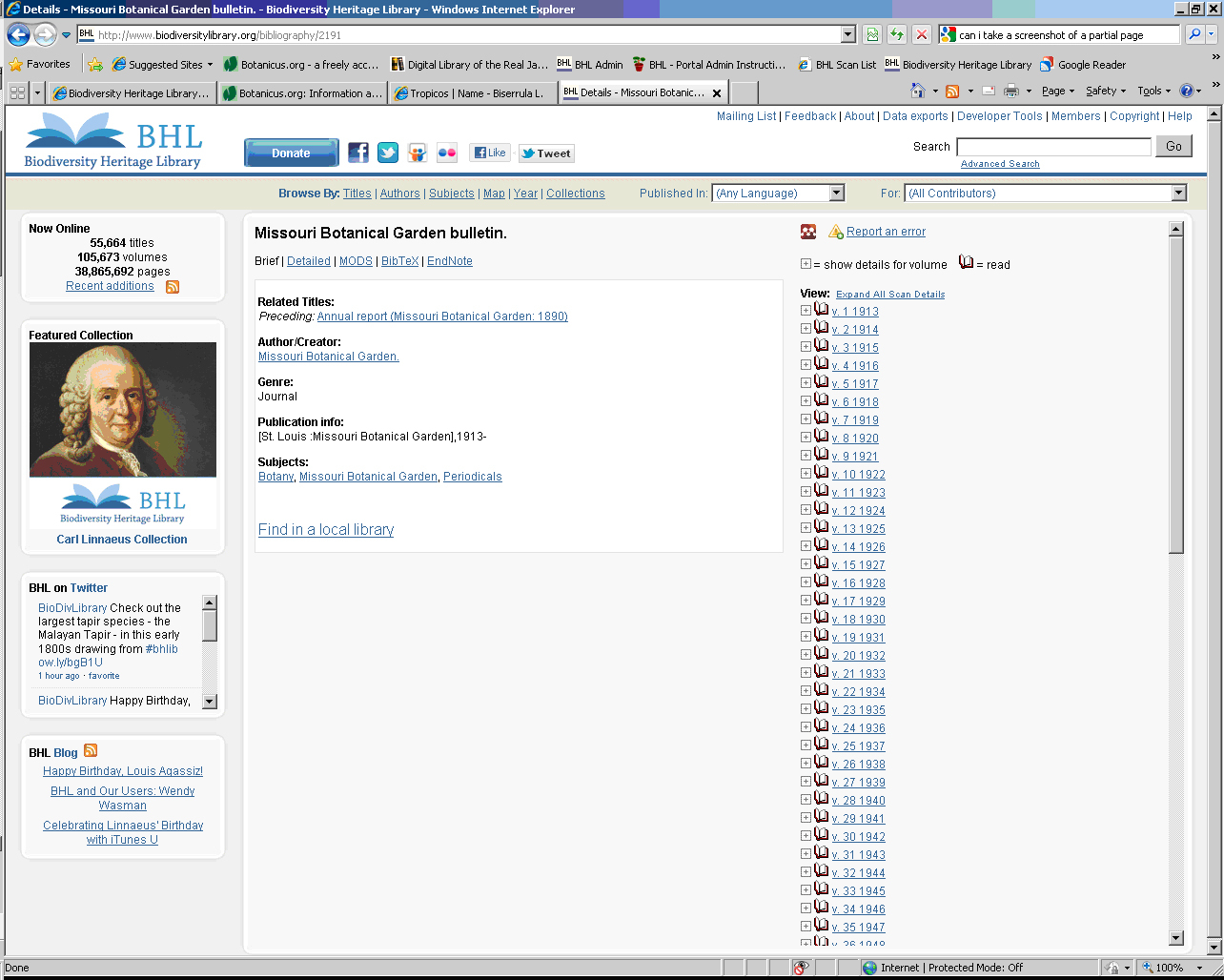 BHL Display – See the Similarities?
We're lucky here in Missouri to have our own staff of scanners in-house, which means our workflow is quite different from other BHL institutions. We don't need to send carts of books off site; instead we're able to take them just down the hall. While this means that our scanning volume might be lower than other institutions, having our scanning staff on site does mean we're able to deal with quality control issues, such as missing pages and display problems, faster. We also have things a bit easier in terms of pagination. Both Gilbert and JJ discussed the trials and tribulations (and importance!) of paginating in their blogs. At MoBot, our scanners paginate each item before it goes online. We also have the ability to scan extremely rare folios and oversized books on our "Leaf" scanner, an instant capture camera used for archival material and larger fold-outs (such as maps and plates).
Most of what we scan is monographs and journals assigned by BHL coordinators, and are received from BHL users via the online feedback form. Most are "gap-fills," to complete serial runs, and post-copyright journal titles. We try to balance fulfilling BHL requests while still making sure that the needs of the Garden's own research staff are met. The library shares scanning staff with the Garden's Herbarium, so I work closely with our imaging lab coordinator, Mike Blomberg, to organize the scanners.
METADATA
One of the main focuses of my day to day work is metadata! I am forever editing, correcting, adding or subtracting data from both Garden library records and BHL records. I like to be sure that our contributions to BHL are both correct and consistent. This means that all library records are checked for corrections and edited before being parsed through (via XML conversion software) to the Botanicus database. After titles are scanned, the records are checked again once they're online, just to make sure everything displays properly. If we're completing a serial run started by another institution, records need to be merged so that all volumes display under one title. I also check to make sure all volumes are labeled the same (I'm a bit on the overly fastidious side when it comes to display-it's something I know I spend way too much time on. But I do enjoy when everything lines up just so).
After scanning is complete, I return to the library catalogue and create links out to both Botanicus and BHL.
I also check the BHL RSS feed weekly for titles held by MoBot, but scanned by other institutions, so I can create links for these titles in our catalogue as well. I've found that these links help both research and library staff.
TROPICOS
Tropicos is a botanical database created and maintained by the Bioinformatics Department here at MoBot, which organizes over 4,000,000 plant specimens and images. Tropicos contains all of the specimen data that has been accumulated in the Gardens' electronic databases over the past 25 years, and is now available to the public. In Tropicos, you're able to search by both specimen name and publication name (depending on what information you have available in your citation).
Tropicos and BHL are intimately linked: the OCR that helps identify species names in BHL "reports back" to Tropicos through an automatic data resolver, so ideally, when you look up specimens or citations in Tropicos, there should be a link out to BHL, directly to the page where the specimen is named.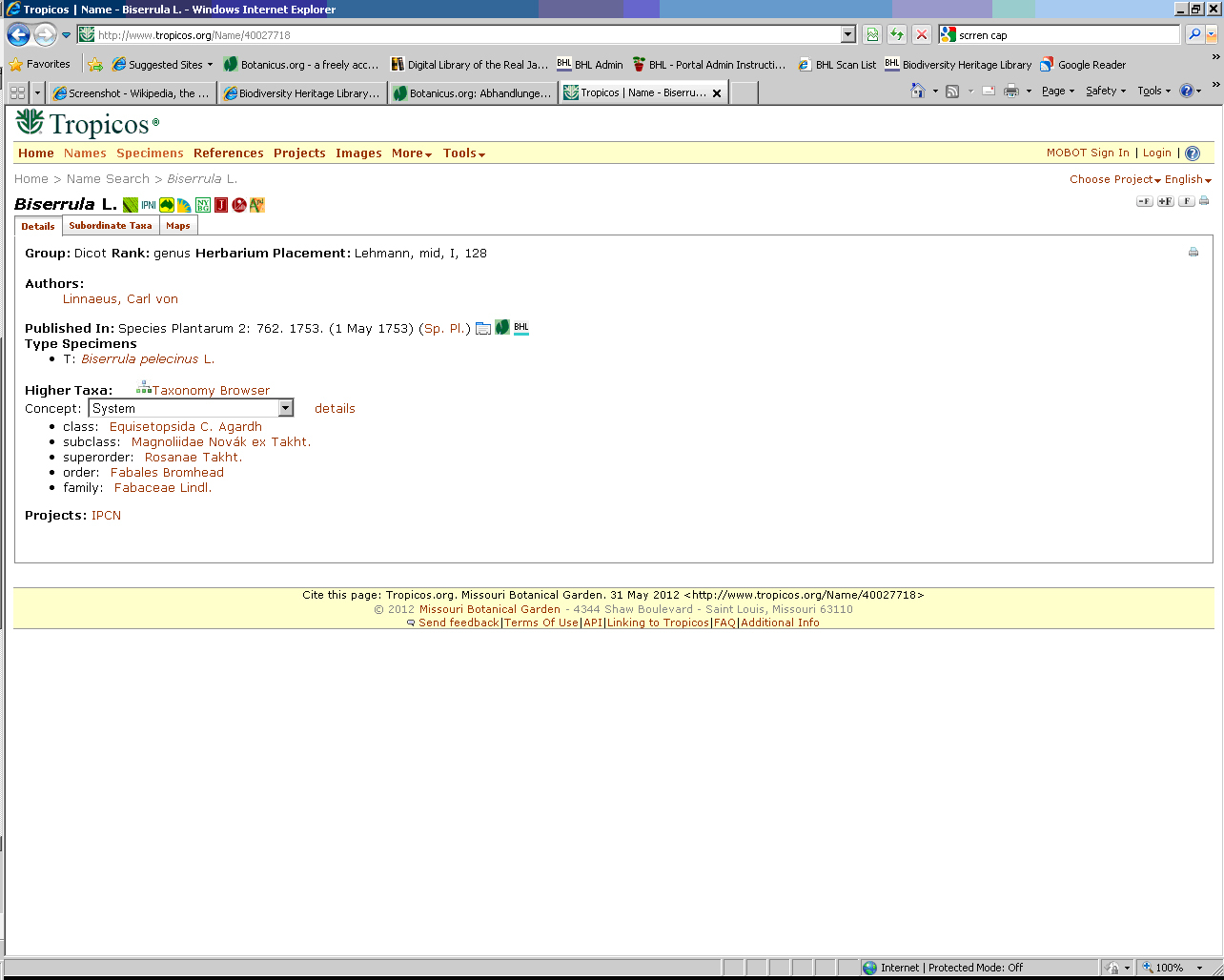 Tropicos Citation Page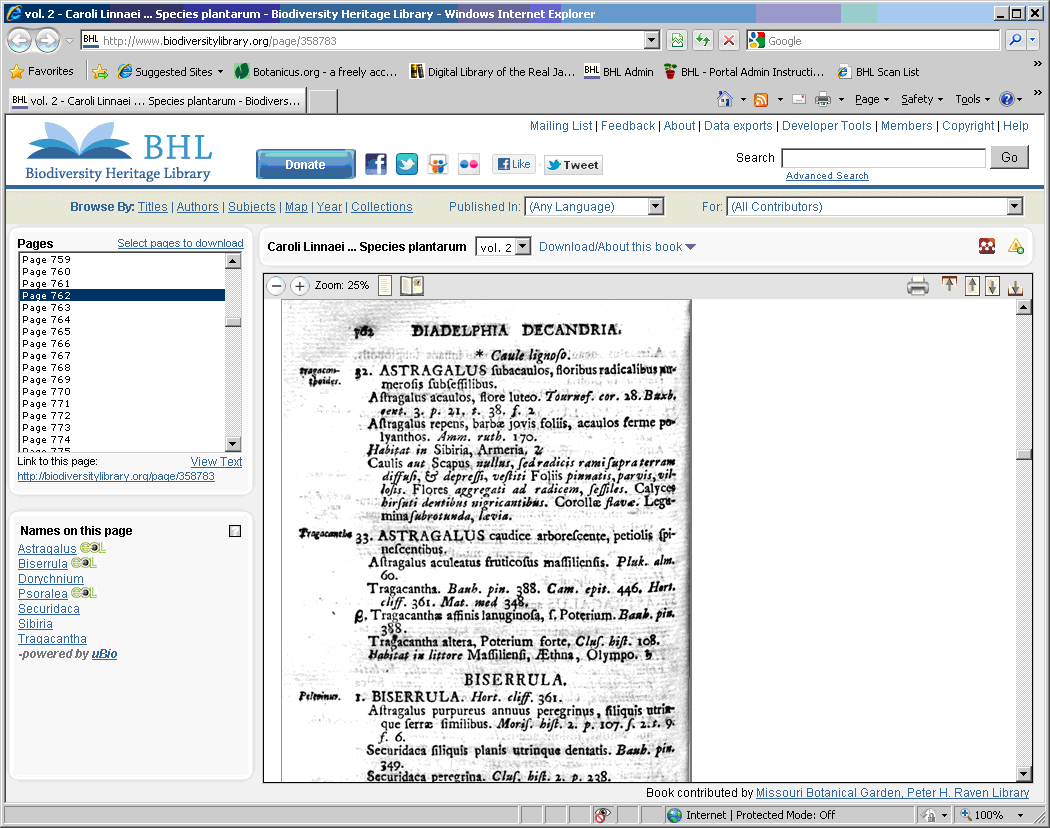 Citation Page in BHL, linked out from Tropicos
Unfortunately, BHL has gotten so big in recent years the automatic resolver doesn't always work, and the links don't always get made. I'm able to go in and add links to both Botanicus and BHL from both specific citations and publication pages. I don't use Tropicos very often, so I rely on the Garden's research staff to let me know when links are missing (and they do!).
I've been working with BHL almost since its inception, and it's been a wonderful experience, and a lot of fun, seeing how it's evolved and grown, not to mention meeting all the wonderful people who've worked on the project. I'm proud to work on such a project, knowing that we're able to provide rare and necessary material to people who might otherwise not have a chance to study it.