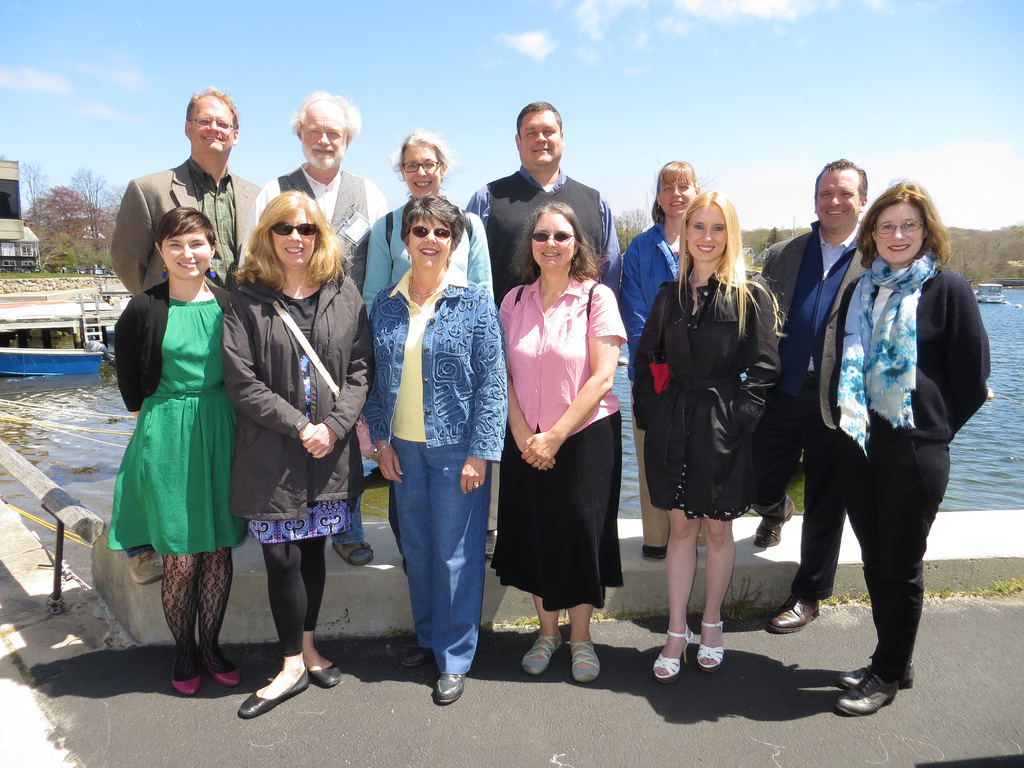 Attendees at the 2013 BHL Institutional Council Meeting. Back Row, Left to Right: Martin Kalfatovic (BHL Program Director); Marty Schlabach (Mann Library, Cornell University); Judy Warnement (Harvard University Herbarium); William Ulate (BHL Technical Director); Diane Rielinger (MBL-WHOI); Tom Baione (American Museum of Natural History). Front Row, Left to Right: Bianca Crowley (BHL Collections Coordinator); Susan Fraser (the New York Botanical Garden); Nancy Gwinn (Smithsonian Libraries); Connie Rinaldo (Harvard Museum of Comparative Zoology); Grace Costantino (BHL Program Manager); Jane Smith (Natural History Museum, London).
The seventh annual BHL Institutional Council Meeting occurred at the Marine Biological Laboratory and Woods Hole Oceanographic Institute Library (MBL-WHOI) in Woods Hole, MA, on May 6-7, 2013.
The BHL Institutional Council is composed of the directors (or designated alternative representatives) of the BHL member libraries. The annual meetings serve as an opportunity for council members to provide updates about BHL activities at their institutions, discuss governance issues, make funding decisions, and strategize about the future of BHL. It also allows BHL Administrative Staff to inform council members about developments in their areas of expertise.
Representatives from eight member libraries were able to attend the meeting in person, and, for the first time in IC Meeting history, those who could not be present physically were able to virtually join the meeting using video conference software available within the MBL-WHOI library. Representatives from California Academy of Science, the Field Museum Library, and our newest BHL member, The Library of Congress, participated in a virtual capacity throughout the meeting. As part of the meeting, each representative gave updates on the BHL activities that occurred at their institutions over the past year.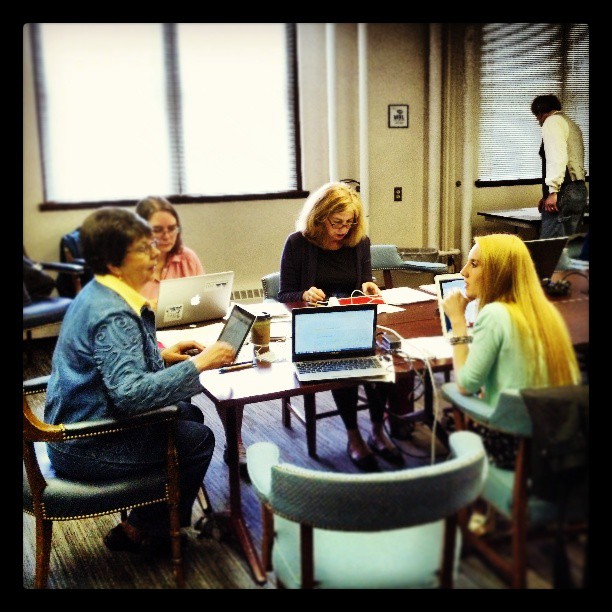 Hard at work at the 2013 BHL IC Meeting!
Day one of the meeting began with a BHL Program Director update, provided by Martin R. Kalfatovic, discussing project developments and achievements.
Also during day one, William Ulate, BHL Technical Director and Global Coordinator, detailed BHL's work in the past year, highlighting the implementation of the new user interface, work to date on the Art of Life  project, and the status of BHL's six global nodes. BHL Program Manager, Grace Costantino, also provided an update on BHL's outreach activities, including the presentation of a new BHL Outreach and Communication plan. Finally, Bianca Crowley, BHL Collections Coordinator, outlined her recent work and that of the BHL Collection's Committee, including an overview of collection analysis needs and a new Permissions Plans which proposes a strategy for obtaining and fulfilling agreements with publishers to scan in-copyright content for BHL.
The BHL Business Meeting occurred on day two. Topics covered included approval of the 2013 budget, discussion of a new proposed member library organizational structure for BHL, and brainstorming about fundraising options to achieve financial sustainability. One final topic of discussion was a review of a proposed revision to BHL's vision and mission statements:
Vision
"Inspiring discovery through free access to biodiversity knowledge."
Mission
"The Biodiversity Heritage Library works collaboratively to make biodiversity literature openly available to the world as part of a global biodiversity community."
As always, these meetings serve as a valuable opportunity to bring together BHL's geographically dispersed leadership in order to make important decisions about BHL's future. The decisions reached at this meeting promise to ensure continued positive growth and prosperity. We look forward to the ninth annual meeting next spring.
See presentations from the meetings by:
* Photo Credits: Martin Kalfatovic, BHL Program Director