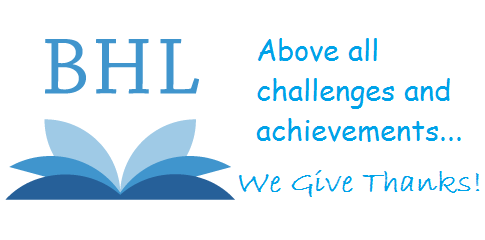 BHL is a collaborative endeavor, no doubt about it; and it's been thanks to these collaborations that we have the technical achievements we have. For many reasons, this is a good time to be thankful.
So as the BHL Technical Director, I would like to start by thanking my colleagues at the BHL Technical Group here in Missouri Botanical Garden (MBG) for taking the leading role in many of the pressing issues we've faced this year: our BHL Data Analyst and P.I. of the NEH-funded Art of Life project, Trish Rose-Sandler and our developer, Mike Lichtenberg, who's been responsible for many of the new things you've seen in BHL and is always improving our Portal (check his Developer's blog).
I'd also like to thank all the staff at the IT Division at MBG who have support our infrastructure this year and have been key to support our technical developments and enable the implementation of the required functionality; special thanks to Mike Westmoreland for supporting our installation of Macaw, our RefBank node at MBG, and our Solr infrastructure.
Thanks to our Technical Advisory Group (TAG) members who have supported our technical work all this past year by providing advice and leading several important tasks for the BHL community that started or concluded this year like Macaw (Joel Richards from Smithsonian), our Solr implementation for Full-text Search (Frances Webb from Cornell), the Partner Meta App implementation (Joe deVeer from Harvard) and represent BHL in technical meetings and hackathons (John Mignault from New York Botanical Garden, NYBG).  Our thanks also go to our folks at MBL, particularly to Anthony Goddard for the Cluster implementation and support throughout this past year.
Particular thanks to the Secretariat and colleagues at Smithsonian, for leading and supporting BHL's technical and operational activities.  Our gratitude also goes to the BHL Executive Committee, the BHL Members Committee, the BHL Collections Committee (lead by our Collections Manager, Bianca Crowley) and the BHL Staff group, comprised of dedicated individuals from each of the BHL Member and Affiliate Libraries, who contribute countless hours to scanning, paginating and cataloging to make the millions of pages in BHL available for free and open access.  Each of these groups also actively further our common objective by providing guidance, perspective and recommendations on technical topics.
This year, we also had some significant staff turn around.  This is no surprise as, unfortunately, it is part of any extensive collaborative endeavor such as BHL. Without taking any merit from all of our other former colleagues, we want to thank Grace Costantino and Gilbert Borrego for their enormous contributions to BHL: much of our current technical work wouldn't be what it is without their lasting contributions.
We also would like to thank our partners at the NEH-funded Art of Life project, Indianapolis Museum of Arts, University of Colorado, Marine Biological Laboratory and a special mention to the Internet Archive technical team.  Our thanks go to our BHL partners, particularly to Harvard, Cornell and New York Botanical Garden colleagues in our IMLS-funded project to use Purposeful Gaming to help improve OCR text in BHL, starting next month.
Finally, we are particularly thankful to those we worked directly with, whom, I'm sure, represent a wider collaboration by themselves: Rod Page for BioStor, Rich Pyle and Rob Whitton for Zoobank, Nicky Nicholson from IPNI and Paul Kirk for Index Fungorum, Donat Agosti and Terry Catapano at Plazi,  Guido Sautter at the Karlsruhe Institute of Technology,  Lyubomir Penev, Jordan Biserkov and Theodore Georgiev at Pensoft and Dave Roberts for Vibrant and Dauvit King for Open University, the whole EOL team, particularly Jen Hammock, Cyndy Parr, Katja Schulz, Patrick Leary, Erick Mata and Bob Corrigan, Dmitry Mozzherin, David Shorthouse, and many, many others whose technical contributions keep making BHL what it is.
Our appreciation travels far to all our colleagues in BHL for their daily contributions, and translates into different languages for our international Global BHL Nodes collaborators for their invaluable support: Obrigado, Dankie, Danke, Dank, Gracias, Merci, Děkuji, 謝謝, شكرا
And most of all, our deepest thanks to all of the users of BHL who continuously inspire and challenge us to make BHL the best it can possibly be!
Thank you!