Webcast! Exploring Antarctic Dinosaurs with The Field Museum
During the 1990-91 austral summer, geologist David Elliot came across fossil bones on Mount Kirkpatrick in the Beardmore Glacier region of the Transantarctic Mountains in Antarctica at an altitude of ~4,000 m (13,000 ft) high and about 640 km (400 mi) from the South Pole. The team notified paleontologist Bill Hammer, who then excavated the fossil-bearing rock over a three week period. The excavated skeleton was eventually given the name Cryolophosaurus ellioti in an 1994 article in Science by Hammer and paleontologist William J. Hickerson. Two subsequent expeditions to Mount Kirkpatrick in 2003 and 2010-11 recovered yet more remains of Cryolophopsaurus, as well parts of three herbivorous dinosaurs.
Cryolophosaurus ellioti was a significant find. It was the first carnivorous dinosaur to be discovered in Antarctica and the first non-avian dinosaur from the continent to be officially named. It dates from the Early Jurassic Period, and is ~194 million years old.
At this point, at least a few of you are probably saying, "I didn't know there used to be dinosaurs in Antarctica!" Anxious to learn more about the previous inhabitants of Earth's southern-most continent? Well, you're in luck.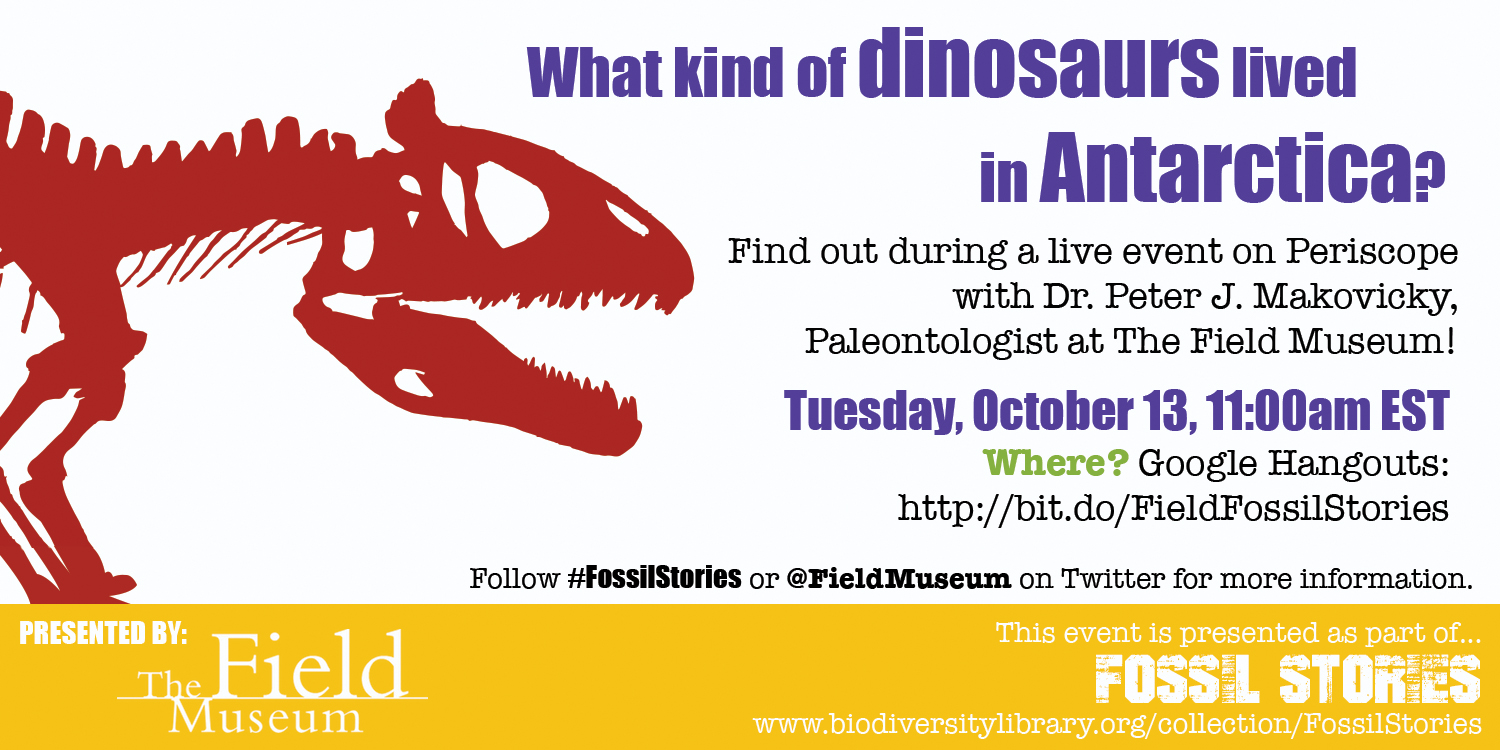 On October 13, at 11am EST, The Field Museum hosted a live webcast with Dr. Peter J. Makovicky, Associate Curator of Dinosaurs at The Field Museum. Dr. Makovicky was interviewed by none other than Field's Chief Curiosity Correspondent, Emily Graslie, whom you may recognize from her show The Brain Scoop.
Did you miss the live event? You can see the recording of it here: http://sml.fieldmuseum.org/sml/play/DigitalStudio/48-recording
Dr. Makovicky studies dinosaurian evolutionary history, and he has led expeditions to the western US, China, Argentina and Antarctica. Some of his recent work has focused on Antarctic dinosaurs. In 2007, he co-authored a paper with Dr. Hammer and Drs. Nathan Smith and Diego Pol, as well as lengthy treatment on Cryolophosaurus in the Zoological Journal of the Linnean Society. Smith and Pol named the only other known early Jurassic dinosaur from Antarctica, Glacialisaurus hammer, in 2007.
Follow our blog and #FossilStories on Twitter and Facebook all week for more great fossil fun and live webcasts. Check out the full webcast schedule below: