BHL and The Field Museum rapid inventory team: joining forces for conservation action
In 1855, after an exhausting trip across the Amazon, botanist Richard Spruce reached the Escalera Mountains of northern Peru. "I am among magnificent scenery and an interesting vegetation," he wrote.
In 2013, botanist Corine Vriesendorp went back to those same mountains—still remote, still magnificent, and essentially unexplored since Spruce. "Stunningly beautiful," she wrote. "…breath-taking vistas of mountains, cliffs, waterfalls, and the Amazon lowlands."
Spruce worked out of a place that looked like this:
Vriesendorp and her colleagues worked out of a place that looked like this:
In the field Spruce spent the night in tambos like this:
Vriesendorp sheltered in places like this:
Fascinated by the dwarf vegetation on the Escalera hilltops, Spruce wrote:
"On the top of the narrow ridge of crumbling sandstone covered with a dwarf herbaceous and shrubby vegetation, it is hardly possible to walk on account of its violence."
Exploring those same hilltops, Vriesendorp observed:
"The landscape is hummocky and irregular, and covered in a thick swaying rootmat…. Walking through the landscape was difficult, with deep holes between some of the larger roots. An elfin forest… grows here, with very dense, moss-covered stems."
Why highlight these two expeditions, separated by 158 years? Because both surveys—all their text, figures, photographs, and species lists—are now available in the Biodiversity Heritage Library:
Given BHL's rich historical holdings, no one will be surprised to hear that Spruce's book has long been a mainstay of the collection. What fewer people appreciate is that BHL is also a major supporter of modern-day efforts to explore, document, and protect biodiversity.
The 2013 expedition to the Escalera range is a great example. Since 1999, the rapid inventory program Vriesendorp runs out of the Field Museum has assembled teams of biologists and social scientists to survey 27 poorly known biological hotspots in Peru, Ecuador, Bolivia, Cuba, and China. These inventories drum up the biological data, social data, consensus, and momentum needed to protect threatened landscapes. Over the program's 16 years, The Field Museum has helped governments protect more than 21 million acres of the world's richest forests.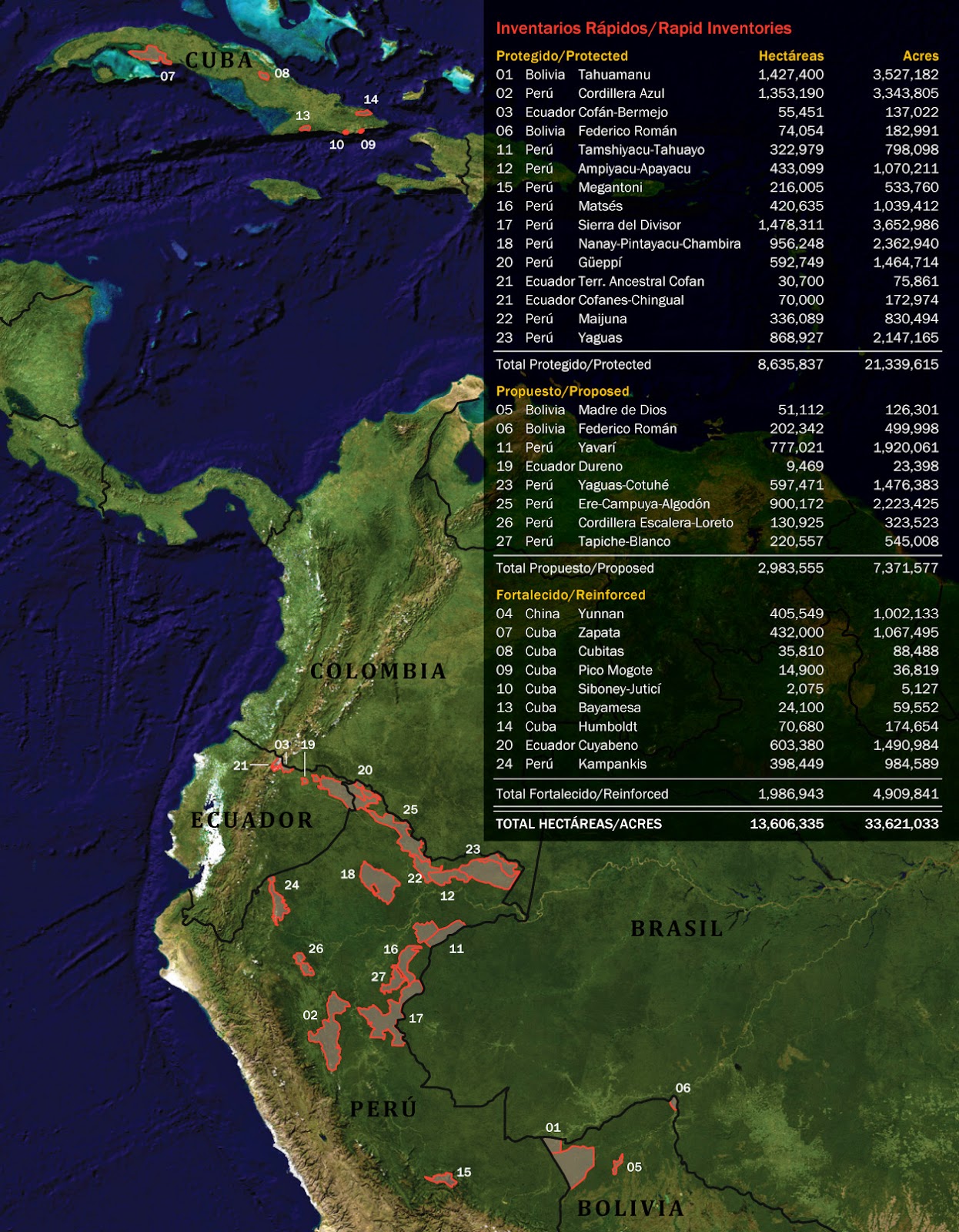 Locations of the 27 rapid inventories carried out by The Field Museum since 1999, with summary statistics showing the more than 21 million acres protected to date. Map by Jon Markel, The Field Museum.
All 26 of the rapid inventory reports—totaling more than 5,000 pages and 2,000 photographs—are now freely available for downloading and searching on BHL (Series 1: Rapid Biological Inventories; Series 2: Rapid Inventories: Biological and Social). The tens of thousands of species the team has recorded over the years have been indexed, too. That means that when someone searches for the tree Vochysia ferruginea on Encyclopedia of Life, they get a link to our 2013 Cordillera Escalera survey—as well as a link to Spruce's 1855 survey.
Getting all of The Field Museum rapid inventory reports into the Biodiversity Heritage Library is a big step forward. We couldn't help noticing, though, that a lot of our peers in conservation haven't taken the same step yet. It's time to change that. Conservation International, Smithsonian Conservation Biology Institute, Chicago Wilderness, Morton Arboretum, and all our other friends:
Let's see your stuff on BHL!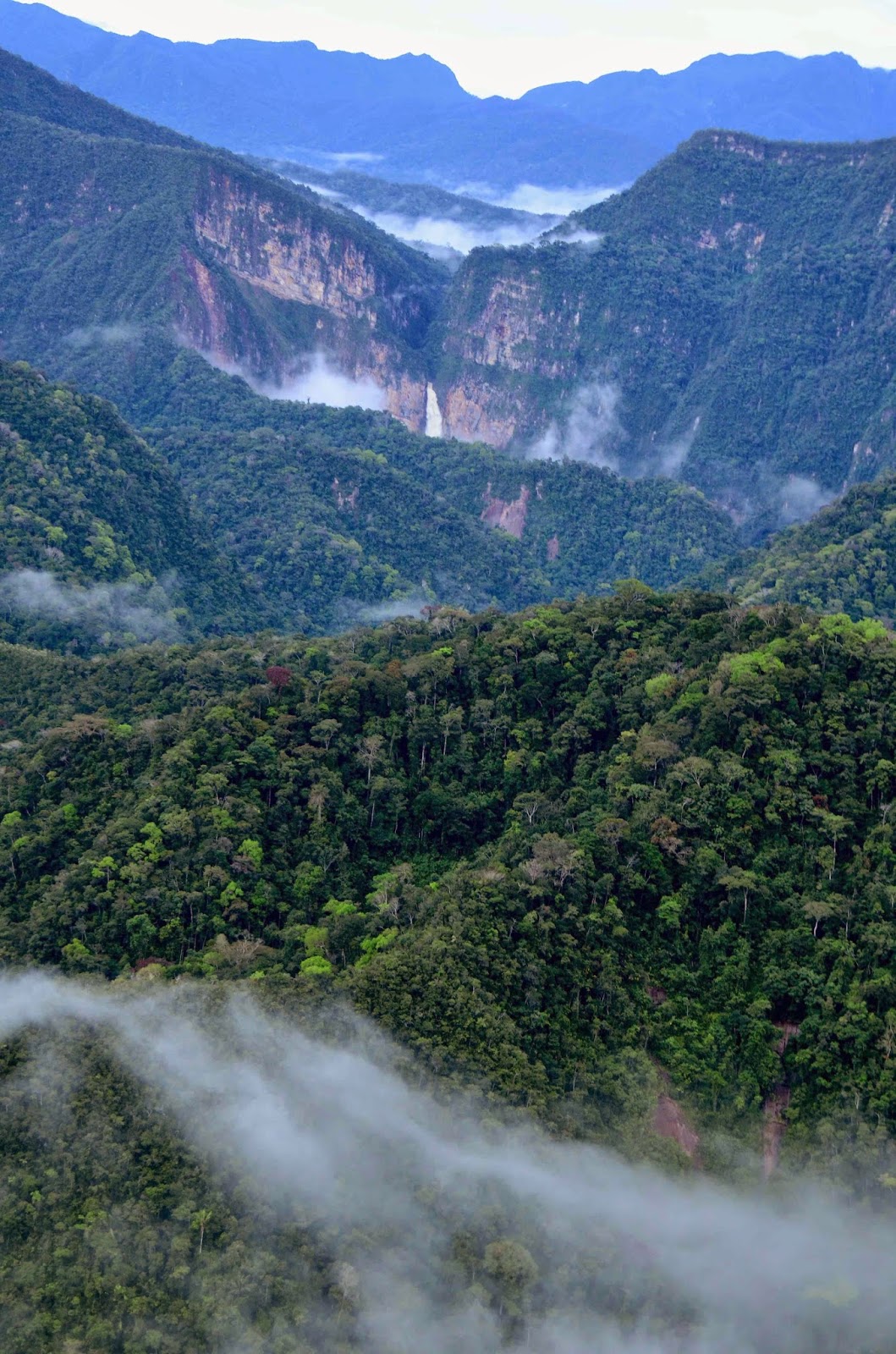 The Escalera Mountains of Loreto, Peru. Photo by Álvaro del Campo, The Field Museum.