The Case of the Mistaken Manakin
Since the end of the twentieth century, the genus name Dixiphia has been associated with the white-crowned manakin. A recent investigation, made possible in part thanks to BHL, demonstrated that Dixiphia did not refer to a manakin at all, but was in fact a junior synonym of the white-headed marsh tyrant (genus Arundinicola).
The white-crowned manakin was in need of its own, new genus-group name.
The manakin mystery was first discovered by researchers Guilherme Renzo Rocha Brito and Guy M. Kirwan. Following the publication of a book on Cotingas and Manakins, Brito and Kirwan received an inquiry from James A. Jobling about the absence of any mention in the publication of modified wing feathers in the white-crowned manakin (then called Dixiphia pipra), which were so clearly displayed in Reichenbach's (1850) Dixiphia illustration. Brito and Kirwan were perplexed by the inquiry, because not only does Reichenbach's illustration show a bird with an all-white head (which the white-crowned manakin does not have), but the white-crowned manakin also does not have modified wing feathers.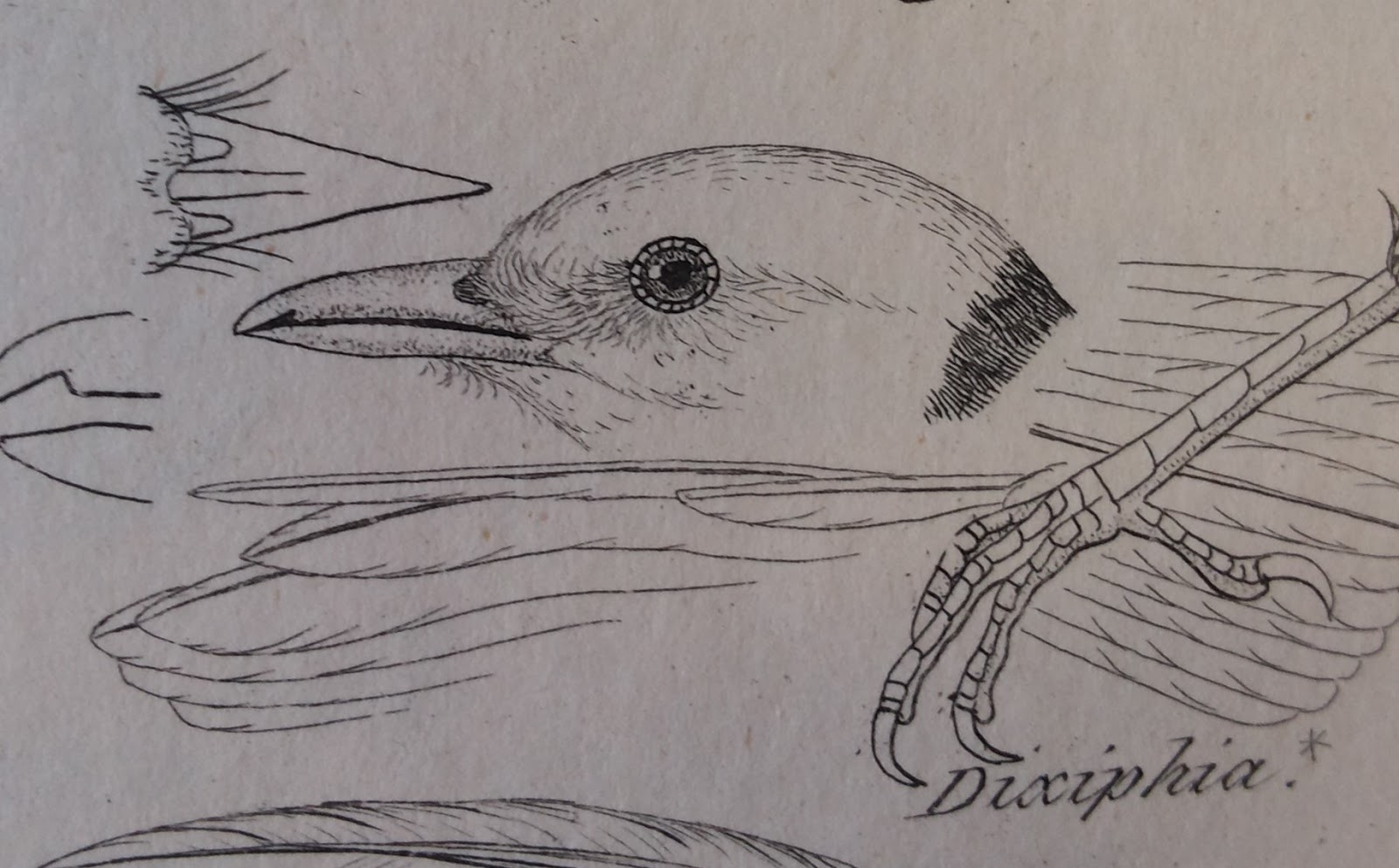 Detail from Plate LXIII of Reichenbach (1850) showing the bird that he named Dixiphia; all visible features are those of a male white-headed marsh tyrant Arundinicola leucocephala. Reichenbach, H. G. Ludwig (Heinrich Gottlieb Ludwig). Die vollstèandigste Naturgeschichte der Vèogel. Abt. 2, Bd. 1. (1836-62).http://biodiversitylibrary.org/page/47618489. Digitized by Smithsonian Libraries.
The genus name Dixiphia was first published by Reichenbach in 1850. In 1992, Richard O. Prum assigned the white-headed manakin to the Dixiphia genus after demonstrating that it had long been erroneously attributed to the Pipra genus.
After examining Reichenbach's illustration following the inquiry regarding modified wing feathers, Brito and Kirwan came to the conclusion that Reichenbach's illustration was actually that of the white-headed marsh tyrant (Arundinicola leucocephala). They examined specimens in the Museum Nacional's ornithological collection as well as descriptions in historic publications, many made available to them thanks to the Biodiversity Heritage Library.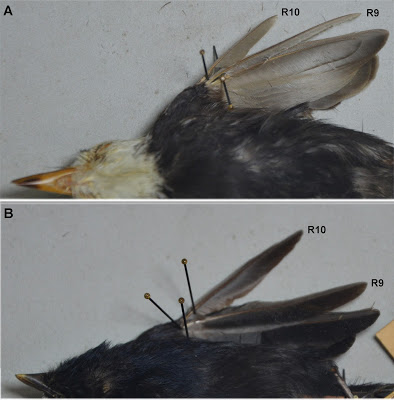 Pinned museum specimens showing the wing feathers (9th and 10th remige – R9 and R10). A – male White-headed Marsh Tyrant B – male White-crowned Manakin.
All of this research culminated in the conclusion that Reichenbach's illustration was indeed of the white-headed march tyrant, that Dixiphia was actually a junior synonym of Arundinicola (a fact that had first been suggested over a century ago), and that a new genus-group name for the white-crowned manakin was needed.
Brito and Kirwan, along with co-authors Normand David, Steven M.S. Gregory, James A. Jobling, and Frank D. Steinheimer, summarized this research and proposed a new genus name, Pseudopipra, for the white-crowned manakin in the 2016 Zootaxa article "The mistaken manakin: a new genus-group name for Parus pipra Linnaeus, 1758(Aves: Passeriformes: Pipridae)".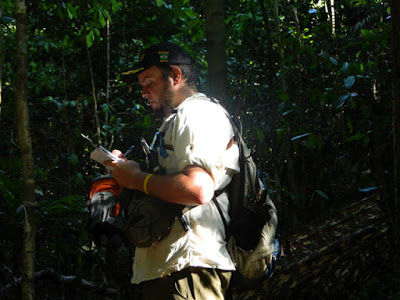 Guilherme R. R. Brito doing field work on the Brazilian Amazon.
Guilherme R.R. Brito, a substitute professor at the Universidade Federal do Rio de Janeiro, is quick to emphasize the role that BHL played in solving this taxonomic mystery – a role that is also highlighted in the acknowledgments section of the Zootaxa article.
"BHL is one of the most important databases for several [subject] areas within the biological sciences," lauds Brito. "For historical taxonomic purposes, it's now essential."
Brito, who has been studying bird anatomy, natural history, taxonomy, and systematics for fifteen years, first discovered BHL shortly after the online portal launched nearly a decade ago. Since then, he has used BHL to access many important and historical publications that were previously very difficult to obtain in Brazil.
"Thanks to BHL, several very rare works are now readily available to any researcher in the world," explains Brito. "I remember not so long ago that we researchers in Brazil had to wait for colleagues to visit museums and institutions abroad to ask them for some copies of works not available here. These were more difficult times."
The digital open access provided by the Biodiversity Heritage Library allows scientists to easily access the information they need to study life on Earth and solve taxonomic enigmas like the Dixiphia mystery. No doubt Pseudopipra pipra is grateful to have a name to call its own.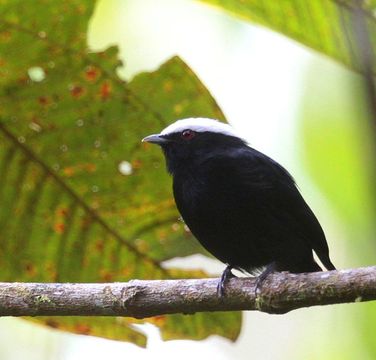 White-crowned manakin (Pseudopipra pipra). Image by Carmelo López Abad. Licensed under a Creative Commons Attribution-NonCommercial License license: http://creativecommons.org/licenses/by-nc/4.0/. Image source: Encyclopedia of Life http://eol.org/data_objects/33609559.
______________________________________

This post may contain the personal opinions of BHL users or affiliated staff and does not necessarily represent the official Biodiversity Heritage Library (BHL) position on these matters.