BHL Welcomes the Arboretum Library at the LA County Arboretum and Botanic Garden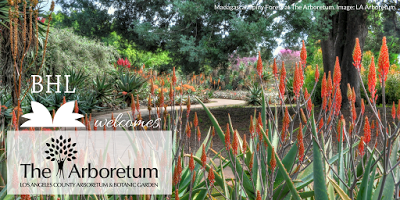 This quarter, the Biodiversity Heritage Library was pleased to welcome The Arboretum Library at the Los Angeles County Arboretum and Botanic Garden as its newest Affiliate. The BHL consortium, which has grown substantially over the past year, now consists of 17 Members and 16 Affiliates.
The Arboretum Library holds an extensive collection of books, magazines, government documents, pamphlets, and audio-visual materials covering a wide range of topics, including gardening and garden design, plant lore, medical botany, botanical art, ethnobotany, California native plant life, and Mediterranean-climate botany.
Twenty-four magazine titles published by the Los Angeles County Arboretum and Botanic Garden are already available through BHL as a result of The Arboretum Library Good Family Foundation Digitization Project, a collaboration between the Arboretum, BHL, and the Missouri Botanical Garden. The publications, dating back to the 1950s, include information about the institution's history, Los Angeles area horticulture, and research conducted by Arboretum staff. The articles have been indexed for author, title, date, and subjects (including people and plant names), all of which are searchable.
The articles in the Arboretum publications have both a scientific and popular appeal. For example, among the many interesting topics covered is the history of coffee, which Leonid Enari explores in the June 1976 issue of Lasca Leaves.

According to the article, coffee was used as food at least by 800 AD, but the "habit of coffee drinking seems to have started in Arabia in the 15th century" (Enari 1976). The first beverages created from the berries of the coffee plant were likely alcoholic, made from the pulp of the berries. It is unknown when the practice of roasting the seeds (beans) and using them to prepare today's familiar coffee beverage was discovered, but its consumption in Europe was popularized through coffeehouses that were often regarded, particularly in England, by the church and state as "centers of political agitation."
The Arabian coffee tree (Coffea arabica) is used for the majority of the world's commercial coffee production. The all-important coffee beans are the seeds of the coffee plant (found inside the plant's fruit) which have been dried and roasted. After being roasted and ground, coffee will lose most of its aroma and flavor within 10 days. You can learn more about the history of coffee and its commercial production in the Lasca Leaves article.
The existing and future contributions from the Arboretum Library will provide valuable access to information about the history of botany and horticulture, botany in Southern California, and the Arboretum's impact on these research areas. We look forward to working with our newest Affiliate to enhance BHL's collections and expand our service to the global botanical, horticultural, and wider research communities.