This year, five NDSR residents will help us plan the next generation of BHL. You can stay up-to-date with their progress and findings on the new NDSR at BHL blog!
As part of "Foundations to Actions: Extending Innovations in Digital Libraries in Partnership with NDSR Learners," the BHL NDSR residents, stationed at geographically-dispersed BHL partner institutions, will work on interrelated projects to improve the discoverability and functionality of the Biodiversity Heritage Library. This project is a National Digital Stewardship Residency (NDSR) program led by the Ernst Mayr Library of the Museum of Comparative Zoology, Harvard University and funded by the Institute of Museum and Library Services (IMLS).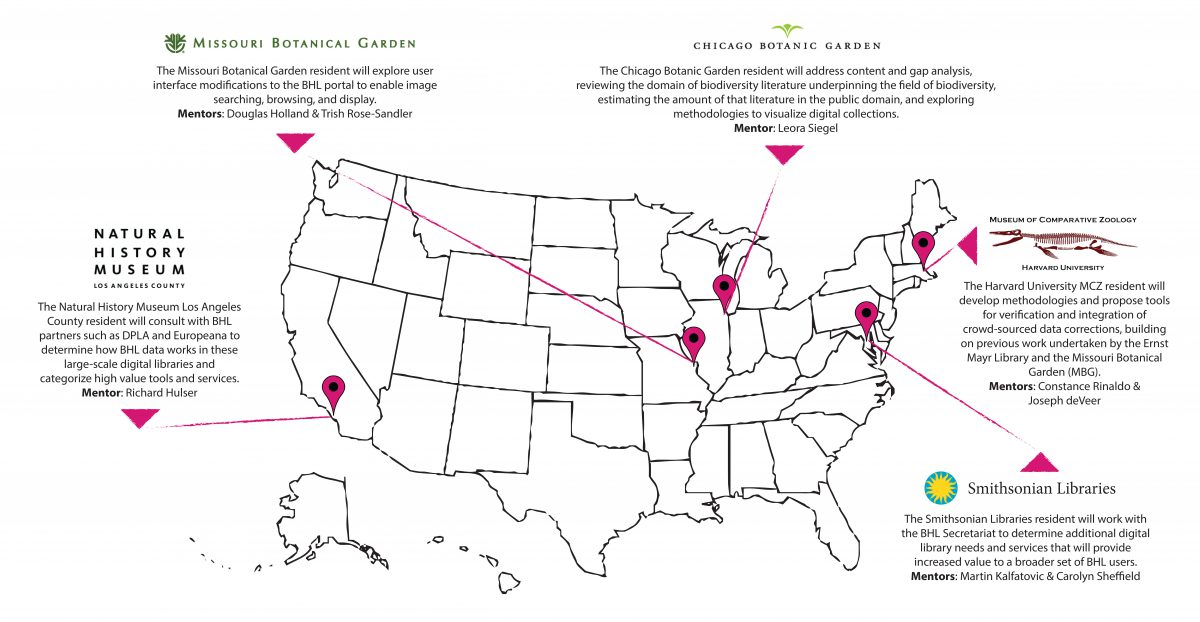 Map is from a poster presented at Digital Preservation 2016 by Joseph deVeer , Christine Giannoni , Douglas Holland , Richard Hulser , Martin Kalfatovic, Constance Rinaldo, Trish Rose-Sandler, Carolyn Sheffield, and Leora Siegel. Graphic by Grace Costantino.
The NDSR at BHL blog will features posts from the residents about project developments, successes, and challenges as well as discussions about biodiversity librarianship and content and data management in digital libraries. The residents also hope that the blog will help facilitate communication between librarians, archivists, and others interested in BHL and digital librarianship.
Click here to explore the NDSR at BHL blog. You can follow the blog to receive email notifications about new posts.
The residents and their respective host institutions and mentors are: Alicia Esquivel (Chicago Botanic Garden, mentor Leora Siegel); Marissa Kings (Los Angeles County Natural History Museum, mentor Richard Hulser); Pamela McClanahan (Smithsonian Libraries, mentors Carolyn Sheffield and Martin R. Kalfatovic); Katie Mika (Harvard University: MCZ, mentors Constance Rinaldo and Joseph deVeer); and Ariadne Rehbein (Missouri Botanical Garden, mentors Doug Holland and Trish Rose-Sandler). You can learn more about each of the residents in the bios below.
Alicia Esquivel
Alicia Esquivel is the NDSR resident at Chicago Botanic Garden working on a content analysis of BHL. She graduated from the University of Texas' School of Information in 2016 with a MS in Information Science. While at UT she worked as a graduate research assistant at the Fine Arts Library and at the Harry Ransom Center as a digitization specialist working with audio materials. She discovered the world of bioinformatics while working on her capstone project with the UT entomology department. Alicia is enthusiastic about transforming data into useful information to facilitate research.
Marissa Kings 
Marissa Kings is the NDSR Resident at the Natural History Museum of Los Angeles County. Her project, "Digital Library Best Practices Analysis", focuses on identifying high value tools and services used by large-scale digital libraries which might be applied to the next generation of the Biodiversity Heritage Library.
Marissa graduated with her MLIS degree from the University of Wisconsin-Milwaukee in 2015, where she concentrated in Archival Studies. She has previously worked and interned with organizations including the Martin County Library System, Florida Institute of Technology, the Seminole Tribe of Florida's Ah-Tah-Thi-Ki Museum, University of Oxford Institute of Archaeology, and the Bodleian Libraries. Marissa's professional interests include digital preservation, community archives, and crowdsourcing. She also holds an MA in Maritime Archaeology from the University of Southampton, United Kingdom and a BA in Social Sciences (concentrating in Anthropology) from Flagler College, St. Augustine, Florida. In her spare time, she enjoys exploring Los Angeles, watching tennis, and thinking about going for a run.
Tweet @marissakings with cool digital humanities projects, crowdsourcing stuff, and things to do in L.A.!
Pamela McClanahan 
Pam McClanahan holds a MLS specializing in Archives, Records and Information Management from the University of Maryland ischool and has completed library and archival assessments and usability studies for local cultural heritage institutions. Her background is in the nonprofit fundraising field and environmental conservation, but is making a switch to the information profession.
For the National Digital Stewardship Residency program, Pam's host site is Smithsonian Libraries where she will be working on a user needs and usability analysis to define recommendations and requirements for expanding the Biodiversity Heritage Library digital library functionality. Pam enjoys spending time with family and friends, being on the Chesapeake Bay, and working on craft projects. You can connect with Pam on Twitter here: @Pam_McClanahan!
Katie Mika 
Katie Mika graduated from Simmons College in 2015 with Masters' degrees in History (MA) and Library and Information Science (MS). Katie previously held positions as a Digital Archivist and an Archives Processing Assistant. Her professional interests are focused on providing open and reliable access to information and issues related to intellectual freedom. Katie is carrying out her Residency at the Ernst Mayr Library at Harvard University's Museum of Comparative Zoology where she will develop tools and methodologies for importing crowdsourced data and corrections to enhance discovery in the Biodiversity Heritage Library. Before moving to the Boston area for Graduate School, Katie worked as a Ski Instructor, and she enjoys cooking, skiing, and trail running.
Ariadne Rehbein 
Ariadne (Ari) Rehbein earned her Master of Library Science and Master of Information Science from Indiana University Bloomington and a B.A. with High Honors in English Literature from UC San Diego.
Ariadne brings her skills in digital collections interface design and development, outreach, and metadata to the "Treasures Unlocked" project, developed through her work for Indiana University's Lilly Library and Library Technologies division, the University of Virginia Library, and the Society of American Archivists Students and New Archives Professionals Section. She is currently serving as a DPLA Community Rep.
As an NDSR Resident at the Missouri Botanical Garden, her work focuses on natural history illustrations sourced from digitized biodiversity literature. The direct results of her project will be user interface requirements and a report on image discovery best practices. She is excited to study the use of digital natural history illustrations across disciplines, by scholars and the public, to build upon the successful work of the "Art of Life" team members and citizen scientists, to gain from the expertise of digital library and botanical library professionals at the Garden, and to become more engaged in the realm of openly accessible biodiversity and cultural heritage collections.
Talk to Ariadne about #BHLib, #biodiversity, #digitalcollections, and #ndsr on Twitter @ari_rehbein!