Take Our Survey and Share Your Feedback About BHL!
The Biodiversity Heritage Library (BHL) needs your feedback!
Take our survey and tell us what improvements and new features you'd like to see in BHL.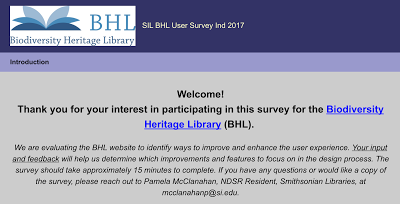 We will be updating the BHL website to improve and enhance the researcher experience. As members of the BHL community, your feedback is valuable. Your input will help us identify which improvements and features to focus on in the design process.
We appreciate any thoughts or suggestions you may be able to provide. If you have any questions or comments, please submit them via our feedback form.
This survey is being conducted as part of the BHL NDSR Foundations to Actions project, which is helping to plan the future of BHL. Learn more.