Teaching with Historic Biodiversity Publications
Can science increase agricultural productivity and support food security?
The founders of the Royal Agricultural Society of England believed so. In 1838, a group of individuals with varied agricultural interests united to establish the Society with the purpose to promote the scientific advancement of English agriculture. Just two years later, in 1840, Queen Victoria granted the Society its Royal Charter, and the Society has played a significant role in agricultural progress in England ever since.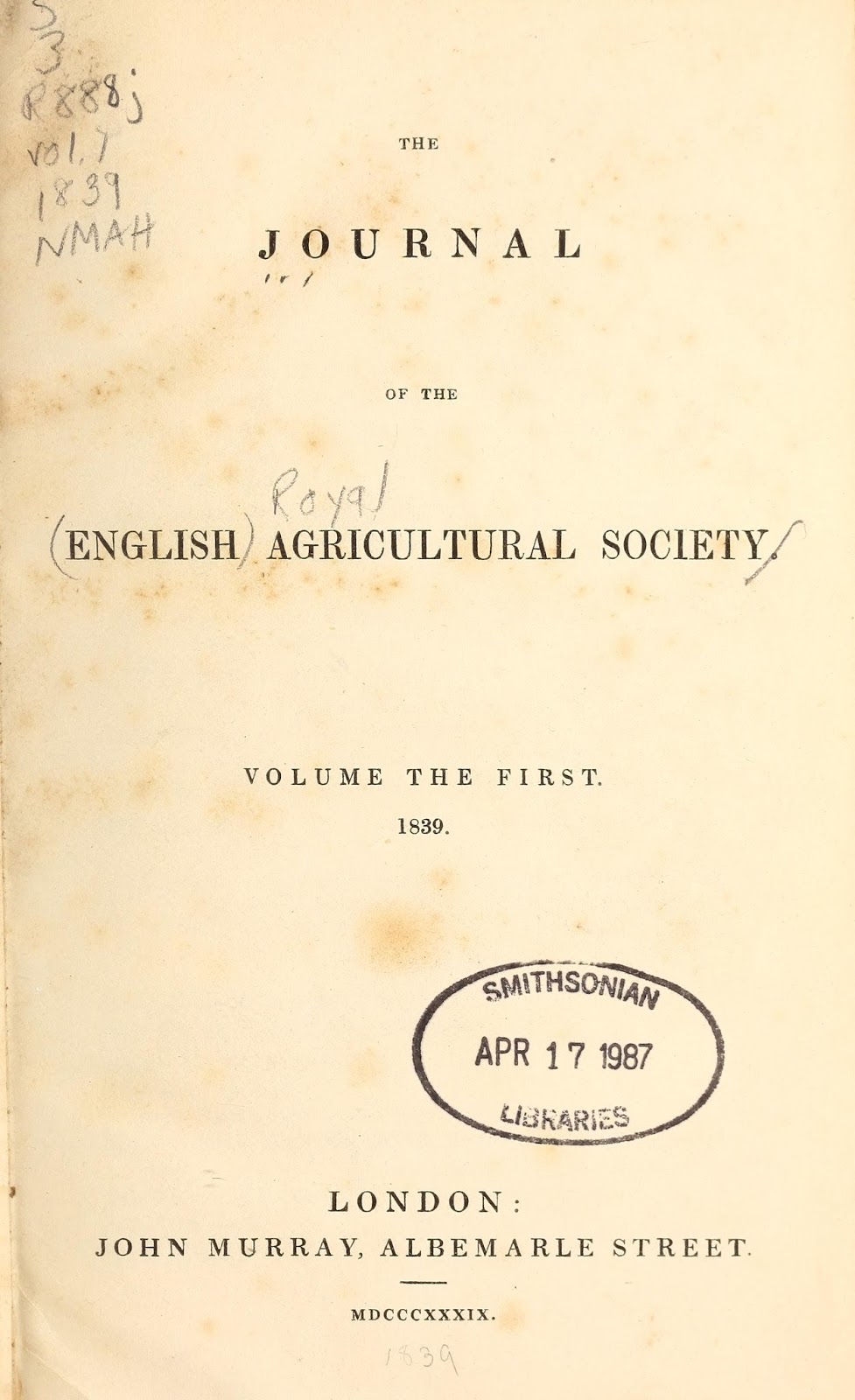 Title page for Volume One of the Journal of the Royal Agricultural Society of England. 1839. Digitized by Smithsonian Libraries. http://s.si.edu/2nqmWdu.
The Journal of the Royal Agricultural Society of England was used to communicate the Society's activities and disseminate information useful to those in agricultural fields. Since the publication of the first volume in 1839, the Journal has shared practical advice on soil cultivation; advances in agricultural implements, structures, and pest control; discoveries of new crop varieties; land management guidance; improvements in veterinary care related to livestock; and the results of agricultural experiments.
The Journal is useful not only for research in agricultural science, but also other fields like environmental history. For Dr. Karen Sayer, Professor of Social and Cultural History at Leeds Trinity University, it is an invaluable resource.
"The Journal of the Royal Agricultural Society of England is a crucial source in my field, and I have easy access to it thanks to the Biodiversity Heritage Library."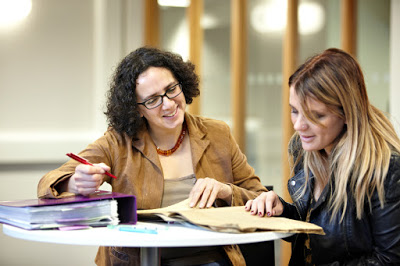 Dr. Karen Sayer (left) with a student. Image Rights: Leeds Trinity University.
Sayer's research focuses on conceptualizations of rural communities, landscapes, and environments; human and animal relations in agriculture; and agricultural labor, landscapes, and structures in a social and cultural context. Thanks to BHL, which she discovered whilst searching for primary sources nearly ten years ago, Sayer has easy access to the references she needs to support her research.
"BHL is an incredible resource," affirms Sayer. "It provides access to material that is otherwise hard to get and enables me to undertake detailed searches of these sources. I use it frequently, often weekly, especially when I'm teaching as it is also a great resource for my students."
Sayer's favorite feature within the library is the ability to generate custom PDFs of specific pages, which allows her to download just those articles relevant to her research. This feature is also useful within the classroom, allowing her to share articles with her students for reading and commenting.
Having digital access to publications such as the Journal of the Royal Agricultural Society of England also allows Sayer and her students to easily explore elements of agricultural and rural society and the dissemination of information at different cultural levels.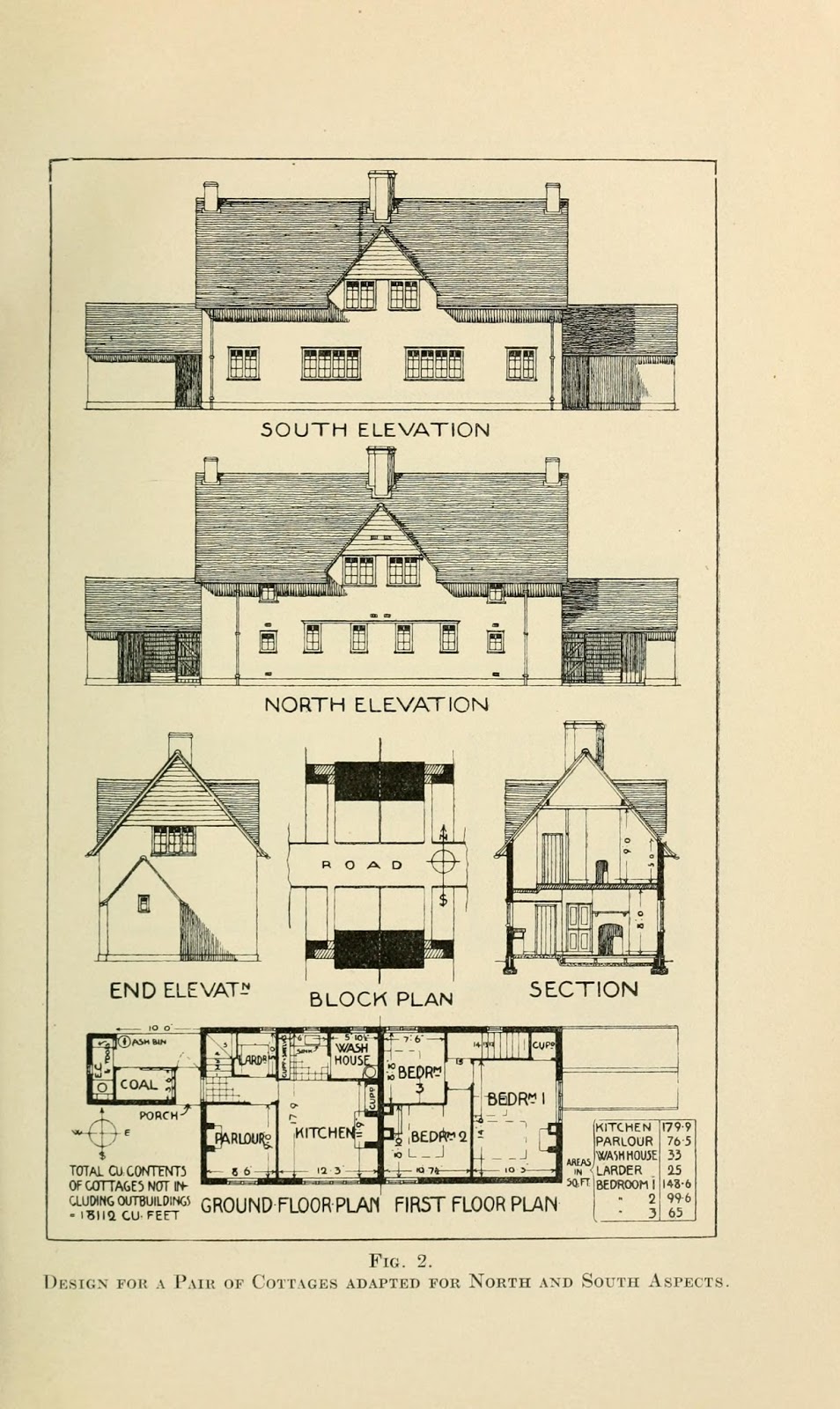 Plans for cottages within the article "The Housing of the Agricultural Labourer." Journal of the Royal Agricultural Society of England. v. 75 (1914). Digitized by The New York Botanical Garden. http://s.si.edu/2BF3VsT.
"I like being able to pull up a whole text online for teaching, as I can project it on a Smart Board in the classroom and as a group we can scroll through it to explore ideas, juxtapositions, etc." explains Sayer. "My students can see that articles about French or German agriculture were being published alongside detailed explorations of wheat yields at agricultural research stations and reports on machinery exhibits at a county level. They can see how knowledge circulated at the time and the ways in which issues and ideas were debated."
To further facilitate her research, Sayer would love to be able to search the full text of the collection and specific holdings to more easily identify articles related to specific topics and get a sense of the development of an idea or debate over time.
We are thrilled to confirm that full text search is currently under development. Through increased research efficiency, full text search will enhance BHL's ability to inspire discovery through free access to biodiversity knowledge. Stay tuned for more information on this new service.
As Dr. Sayer's experience demonstrates, historic natural history publications provide a wealth of information beyond scientific data. These works also document important cultural information, providing insight into the emergence of ideas and the spread of knowledge through society and time. We are thrilled to know that BHL's collections support research across a wide array of disciplines.
Source
Royal Agricultural Society of England. 2018. "History." Accessed January 30, 2018. http://www.rase.org.uk/history/.