BHL and Our Users: John Pittman, the Mad Natural Historian!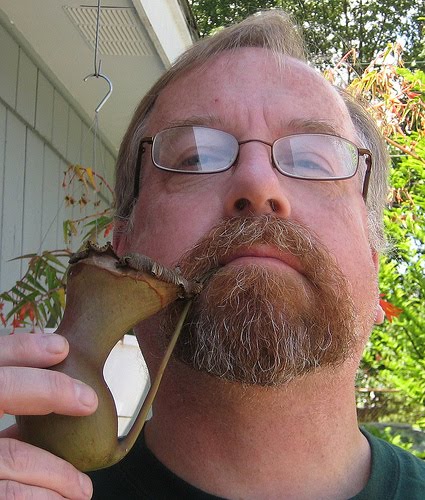 Several weeks ago, we featured as our book of the week the Album of Abyssinian Birds and Mammals (1930), by Louis Agassiz Fuertes. In that post, we referenced one of our faithful BHL users, John Pittman (known to the Twitter universe as @drhypercube), who writes a blog entitled Diary of a Mad Natural Historian. This week, we have the pleasure of highlighting John as our BHL featured user. So enjoy the ruminations of a "Mad Natural Historian!" Oh, and if you're wondering about the picture, it's John as Sherlock's Natural Historian brother, Nepenthiphilous Holmes 🙂
Q: What is your title, institutional affiliation (or alternative place of employment), and area of interest?
A: Like April 26th's user, Mathew Louis, I'm a recreational (but passionate!) natural historian. Hands-on interests include carnivorous plants, species orchids, poison dart frogs and birds of prey. I have a small dart frog collection, a growing plant collection and am a falconer. More bookishly, I'm fascinated by Asian flora, fauna, and landforms. Oh, and hummingbirds. My primary blog is Diary of a Mad Natural Historian.
Q: How long have you been in your field of study?
A: I've been peeking and poking since at least the early 60's, when an adult told me that I should always kick rocks before picking them up in case there was a scorpion underneath (this was in the Arizona desert). Unsurprisingly, many rocks were kicked that day – sadly, no scorpions were discovered – and metaphoric rock-kicking behavior persists to this day.
Q: When did you first discover BHL?
A: I'm guessing, but I think about six months ago via Twitter – maybe a retweet of @BioDivLibrary? My apologies for the imprecision – I really need a Memex with automatic associative trails.
Q: What is your opinion of BHL and how has it impacted your research?
A: I have a very high opinion of BHL – it is an incredible resource. I typically do a search on a species name to see what I can turn up. By way of example, my last search was for Eurycantha calcarata (a large stick insect) – i have a long simmering fly-tying project involving these critters.
Q: How often do you use BHL?
A: Approximately twice a week for searches and whenever a new blog post comes out.
Q: How do you usually use BHL (read the titles online/download whole PDFs/Selecting Pages to Download/etc.)?
A: I almost always read the titles online.
Q: What are your favorite features/services on BHL?
A: Book of the Week, hands down. For a dilettante/bibliomane like me, it's like open stack serendipity with curation.
Q: If you could change one thing about BHL, what would it be, or what developmental aspect would you like the BHL team to focus on next?
A: Natural history art and scientific illustrations are such a wonderful merger of precision and filtering (what aspects of the specimen are most important, etc.) – I'd love to see an image search. I sure hope one doesn't exist already and I just haven't figured it out!
Q: If you had to choose one title/item in BHL that has most impacted your research, or one item that you prefer above any other in BHL, what would it be and why?
A: I'll twist the question slightly and answer with my favorite author – William Beebe.
Thank you, John (or should we say @drhypercube) for sharing your passion with us! And while we do not yet have image search functionality in BHL (though we are working on grant proposals that may allow us to add something along these lines), we've recently been busy building our BHL Flickr account with images from our books. Check them out, and consider tagging the images with any keywords that may help others locate and enjoy the images as well!
And be sure to check out John's blog! You may find yourself transforming into a "Mad Natural Historian" yourself 😉