Book of the Week: Serendipity, Twitter, and Louis Agassiz Fuertes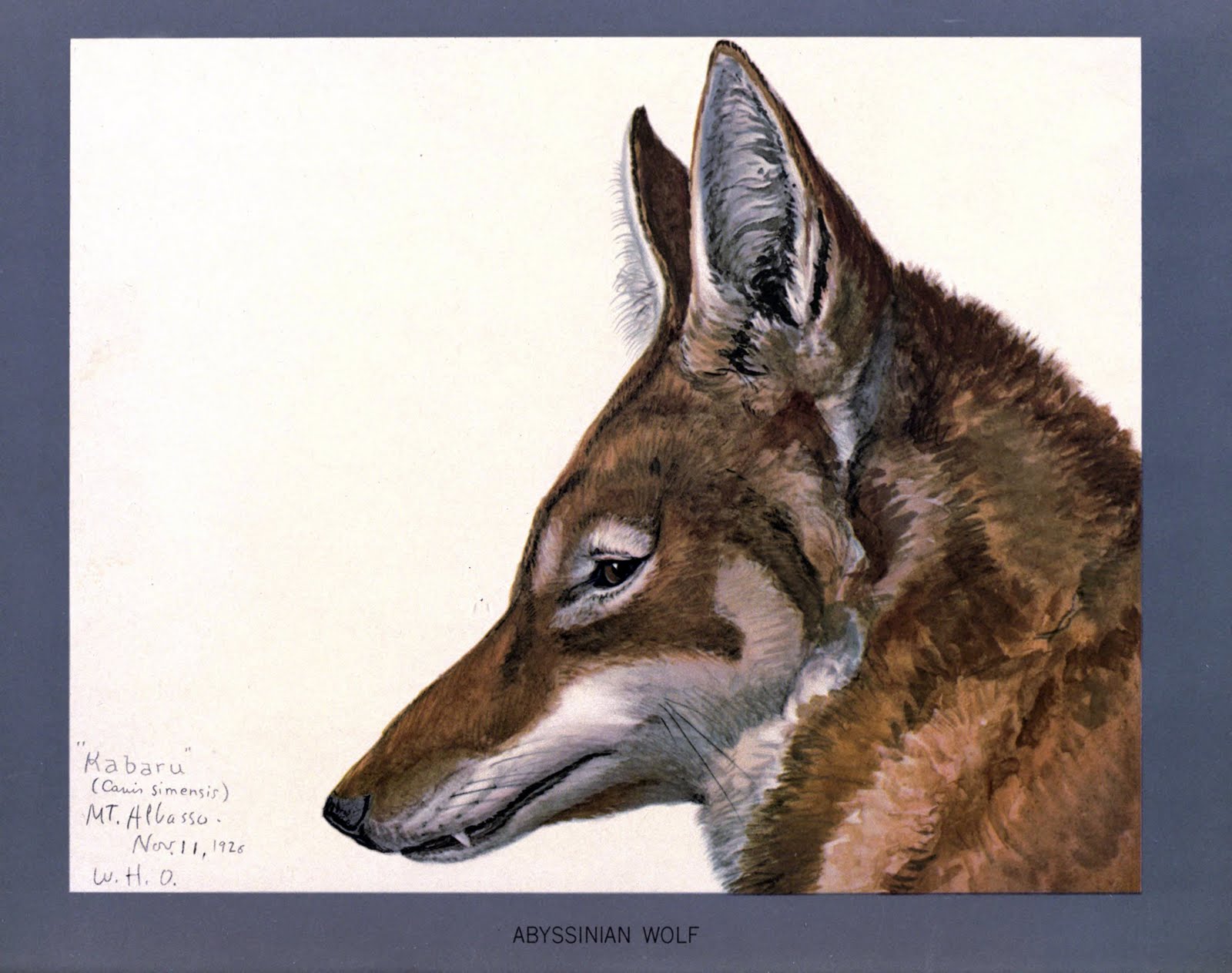 Earlier this week we did a Species of the Day tweet on Twitter (@BioDivLibrary) about the Abyssinian or Ethiopian Wolf – the most endangered canine in the world. For the tweet, we linked to a lovely portrait of the animal in Album of Abyssinian Birds and Mammals (1930), illustrated by Louis Agassiz Fuertes. Little did we know what a fascinating work this actually is. One of our followers on Twitter, John Pittman, known to the Twitter universe as@drhypercube, responded to our tweet with a link to his blog. Made aware of this book on BHL by our tweet & subsequent posting of the illustration to our Flickr account, John's post highlights the genius of this ornithologist and painter – a genius that we had only partially appreciated when we did the original tweet. As John writes,
"This is the peanut butter cup of Biodiversity Heritage Library serendipity – two wonderful things that are even better in combination. Via the BioDivLibrary Flickrstream, the Album of Abyssinian Birds and Mammals from Paintings by Louis Aggasiz Fuertes.
Fuertes, for those who don't know him or his work, was an ornithologist and painter. I've loved his art since I first encountered it (I was maybe 10 years old?) in a coffee table book that was, at that point, way out of my price range. His National Geographic article, Falconry, the Sport of Kings is still a favorite…"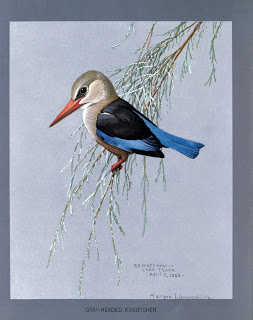 Intrigued by John's post, we decided to feature this work as our book of the week. We started by contacting John to get a little more information about Louis Agassiz Fuertes. He obliged by telling us that, not only was Fuertes an accomplished ornithologist and painter, but he was actually one of the members on the 1899 Harriman Alaskan trip, an expedition that spent two months voyaging from Seattle, along the Alaskan coast to Siberia, and back to Seattle. The accomplishment included discovering approximately 600 new species, 38 of which were new fossil species, charting the geographic distribution of Arctic species, discovering an unmapped fiord, and naming several glaciers. There were also important studies and documentation done of the indigenous people of the region, including a recording of a Tlingit song on a graphophonic recording machine brought along by Harriman.
This expedition was not the only one that Fuertes took part in. Indeed, our book of the week was the result of Fuertes' involvement in a Field Museum expedition to Ethiopia, for which he not only painted, but personally collected, prepared, labeled and packed "no less than one thousand bird skins" for the Museum. Known as the Field Museum – Chicago Daily News Abyssinian Expedition (1926-27), the participants "traversed a large part of Abyssinia (Ethiopia), making collections which cover a wide range of conditions." Wilfred H. Osgood, a curator of zoology at the Field Museum who wrote the introduction of our book of the week, said of Fuertes,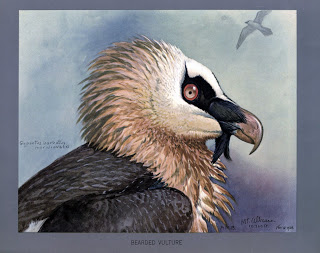 "The opportunity [the expedition] gave Fuertes for life studies of African birds was varied and unusual. Theretofore engaged solely in painting American birds, he found tremendous enthusiasm in a new field and plunged into it with joyous abandon and tireless energy…The painting was in almost all cases done in the tent, the artist sitting on his sleeping cot and his materials and specimens scattered about him."
Fuertes produced 108 painting and sketches for the expedition. After his death, Mr. C. Suydam Cutting purchased these works and gave them to the Field Museum. As Osgood wrote,
"The great popularity and the prominence of Mr. Fuertes as the leading American painter of birds, together with the opinion freely expressed that these final studies represented the height of his power, brought a demand for their reproduction in some form that would make them available to a wide circle."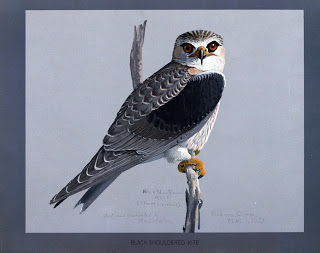 Thus came our book of the week, which presents 32 of these paintings "reproduced by offset lithography." We've featured only a few of these in our post today. We invite you to take some time to look at the rest, and visit John Pittman's blog for more illustrations and information. We send out a special thanks to Mr. Pittman for inspiring this book of the week and providing us with such valuable additional information. There's no limit to the things you can learn via social media conversations!