Cataloging the World's Aphids (and Their Relatives!)
In the 1950s, an introduced population of hemlock woolly adelgids (Adelges tsugae), native to Japan, was discovered on the East Coast of the United States. Since its introduction to the US, it has become a major destructive pest that is causing widespread mortality to hemlock trees. A member of the Adelgidae family, Adelges tsugae is closely related to aphids.
Another close relative of the aphids, Daktulosphaira vitifoliae, has also caused extensive damage as a destructive pest. The grape phylloxeran (D. vitifoliae), originally native to eastern North America, feeds on the roots of Vitis vinifera grapes, stunting the growth of or killing its vines. In the late 19th century, after the species was accidentally introduced to Europe by botanists collecting American vine specimens, a phylloxera epidemic destroyed most of the wine grape vineyards on the continent. The species, a member of the Phylloxeridae family, remains a pest to worldwide commercial vineyards to this day.
But while both the Adelgidae and Phylloxeridae families include species of great economic importance, until recently, neither had been fully cataloged. Fortunately, thanks to help from the Biodiversity Heritage Library, comprehensive catalogs for both have now been published through Zookeys and can be accessed via BHL (Adelgidae and Phylloxeridae).
Three different galls, each representing a different species of Phylloxera, on a leaf of shagbark hickory in the Montreal Botanical Garden: P. caryaevenae (along the vein in front), P. caryaesepta (cut open in the middle), and P. caryaeglobuli (in back). Photo take in June 2016 by Khalil Abas, used with permission.
According to co-author Dr. Colin Favret, it's no surprise that science went so long without these comprehensive catalogs.
"Until BHL, the original literature for these groups was particularly hard to access," explains Favret.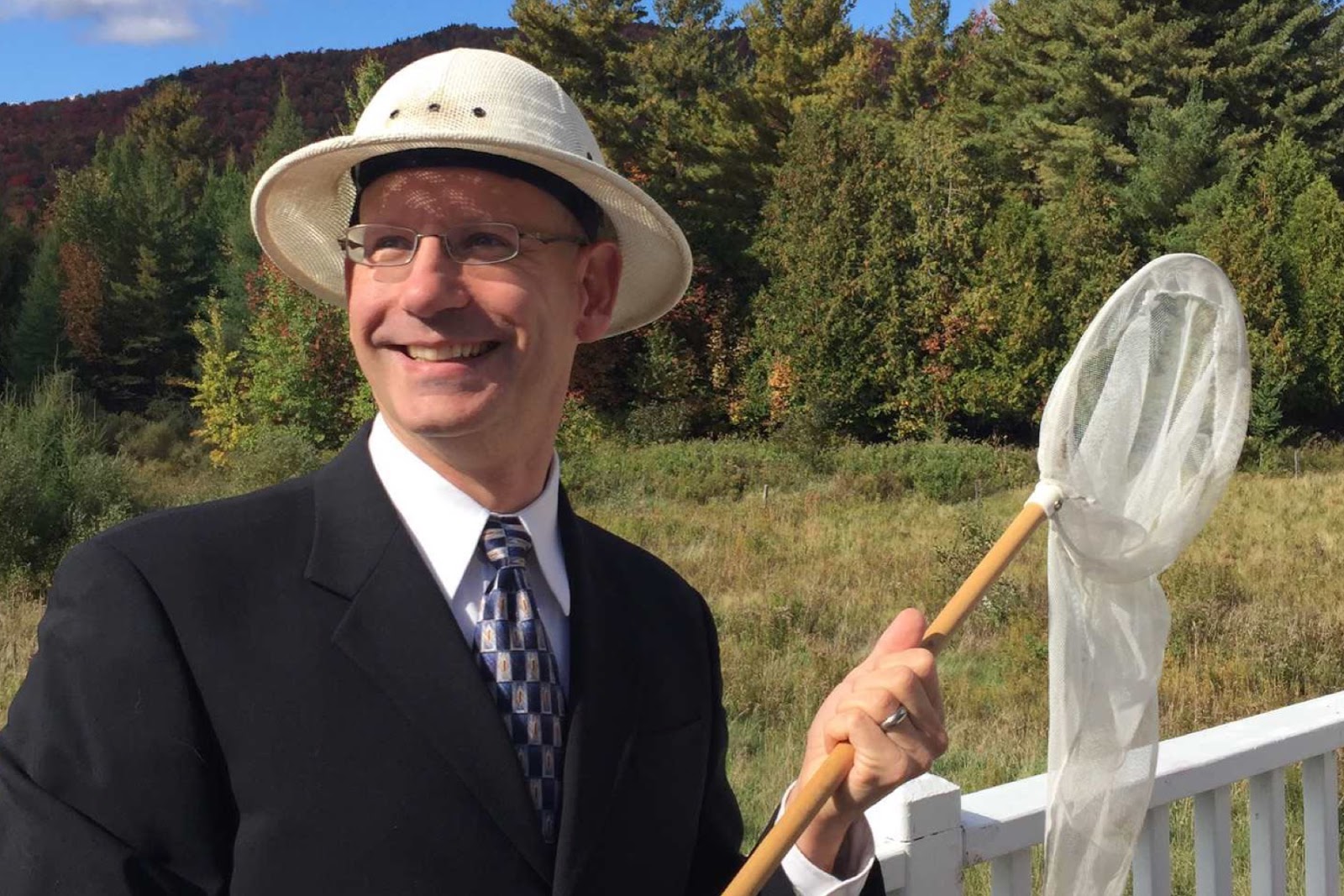 Colin Favret, October 2016. Photo by Karen Favret, used with permission.
Favret, an assistant professor of insect systematics and biodiversity at the University of Montreal, studies insect diversity patterns, with a particular research focus on the evolution and systematics of aphids. In 2008, he began comprehensively cataloguing aphid taxa. This work led him to BHL. Since then, it has become integral to his research.
"BHL has become indispensable and is one of the most important literature resources I use. It may even be as important as the sum of the subscriptions in my employer's library," lauds Favret. "It has significantly improved the caliber of my literature research, and I can point to a number of my publications that would not have been written if not for BHL content."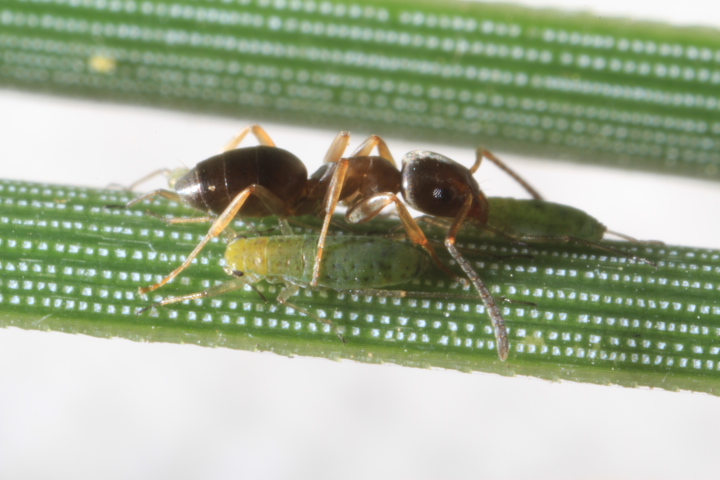 An aphid, Essigella sp., tended by an ant while feeding on the needle of a Californian Coulter pine, June 2013. Photo by Colin Favret, used with permission.
BHL has had a significant impact on one of Favret's primary research projects – the Aphid Species File, a database containing taxonomic, nomenclatural, and bibliographic information for all the aphids of the world, including all extant and fossil taxa.
"What makes this project unique is that I'm going back to the historical literature to confirm every original description and the validity and correct spelling of every name," explains Favret. "It is amazing how many errors in the secondary literature I'm able to correct."
Favret's use of BHL is usually prompted by research for a nomenclatural or taxonomic paper and directed by the need for a specific article, which he downloads using BHL's custom PDF generation service. He also uses BHL for teaching, linking to Haeckel's phylogeny in his first-year animal diversity course and to Hooke's flea in his second-year entomology course.
Of all the services offered by BHL, not surprisingly, it is the literature itself that is most important to Favret. He hopes collection development will remain a priority.
"Simply having the literature available for examination and download is hands down the most important and my favorite feature of BHL," expresses Favret. "Although there are any number of novel developments that might be interesting, I'd say adding new titles should always be BHL's top priority."
Some of Favret's favorite finds in the BHL collection are species descriptions that predate Linnaeus, such as those by French scientist René Antoine Ferchault de Réaumur. de Réaumur's Memoires pour servir a l'histoire des insectes not only includes many aphid descriptions that were later cited by others like Linnaeus, but it also features, as Favret points out, "some really old aphid illustrations."
Be it delighting the world through free access to historic literature and "really old" #SciArt, or supporting the creation of comprehensive taxonomic catalogs and databases, we're thrilled to see the many important ways that BHL is supporting global research.
And to all you invasive Adelgidae and Phylloxeridae species, watch out. Science is coming for you.
______________________________________

This post may contain the personal opinions of BHL users or affiliated staff and does not necessarily represent the official Biodiversity Heritage Library (BHL) position on these matters.