Celebrating Sir Joseph Dalton Hooker at 200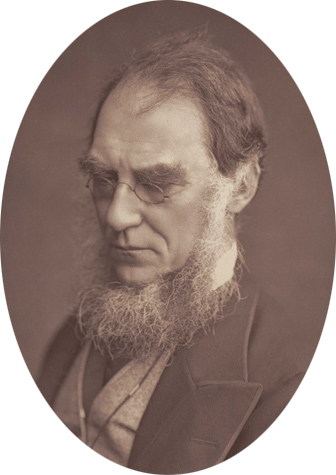 On the 30th June 1817, Joseph Dalton Hooker was born in Halesworth, Suffolk. The second child of William Jackson Hooker, Joseph would, during the course of his life, become a 'botanical trailblazer' – traveling across the globe to collect plants and theorizing on plant species diversity and geography. Joseph Hooker would also become Kew Gardens' second and most illustrious Director, overseeing the establishment of the first dedicated botanical Laboratory at Kew, the Marianne North Gallery and the expansion of the Gardens' herbarium and economic botany collections.
To celebrate the bicentenary of his birth this year, BHL is joining the Royal Botanic Gardens, Kew to highlight Hooker's works and contributions to science. Follow #JDHooker2017 on social media this week (26-30 June) to learn more about J.D. Hooker and explore his publications and archival materials. You can browse his publications in the BHL book collection and see related artworks from those publications in our Flickr collection. Learn more about the BHL content here.
A special aspect of the campaign is Hooker's archival material, which is being made available online thanks to Kew Gardens. Hooker was a prolific correspondent – writing to family, friends and colleagues up until his death in 1911. We are fortunate at Kew to hold an extensive archival collection reflecting both his personal papers – such as his letters to his family during his travels in India – and those created during his tenure as Assistant Director and then Director of Kew.

The Joseph Hooker Correspondence Project is currently working on digitizing and transcribing a large selection of Joseph Hooker's correspondence, and we are delighted to announce that over 1,000 of his letters are now available to view online. This portal allows visitors to search the letters and, where available, read the summaries and transcripts of the letters. We also plan to release further letters and data in the coming months – so watch this space.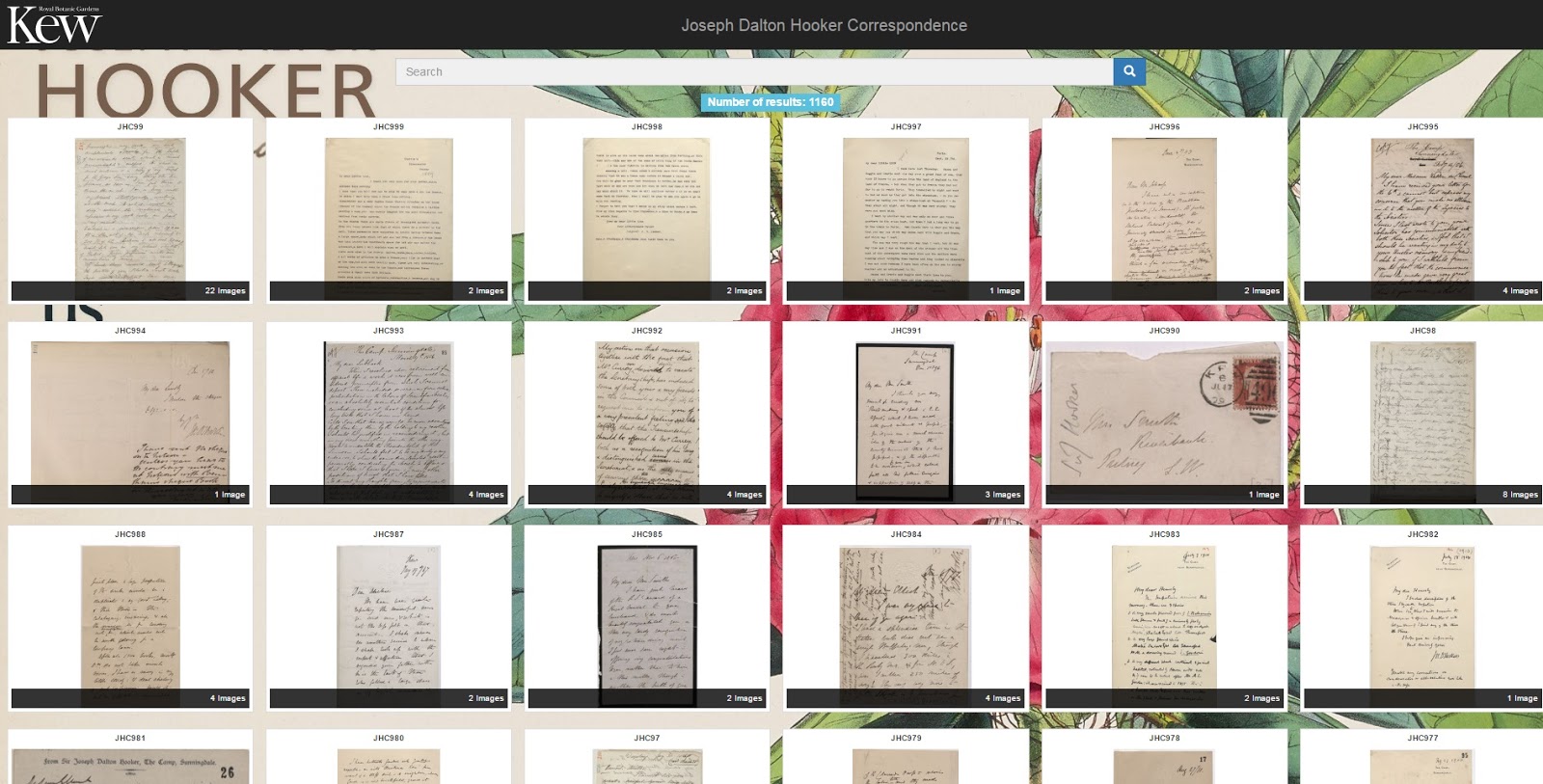 Joseph Dalton Hooker's correspondence online.
Highlights of the current online collection are the letters written by Hooker to Charles Darwin, a long-time friend and confidant, as well as those to his family during his adventures in Antarctica and India. These letters provide wonderful insights into the hardships of botanical collecting and the trials of travel during the first half of the nineteenth century.
2017 is an important year for Kew as it marks the 200th Anniversary of Joseph Hooker's birth. Not only is the correspondence project continuing to scan, transcribe and make publicly available the previously unpublished letters written by Joseph Hooker, but we are also working with colleagues from across the gardens and beyond with our partners such as BHL to further raise awareness of Hooker and his important work.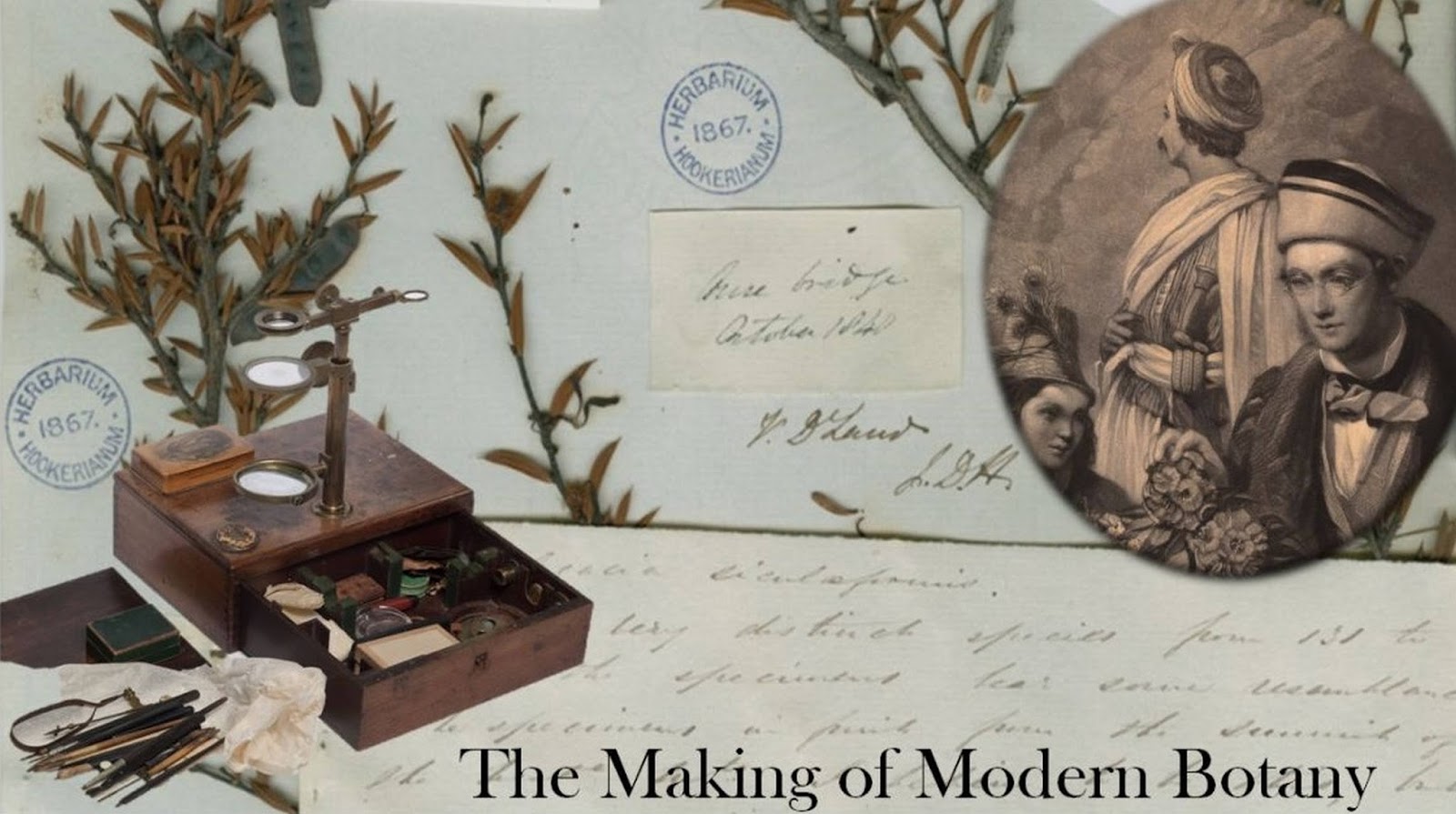 Kew will be hosting a conference celebrating the ongoing impact Joseph Hooker has had on modern botanical science. The 'Joseph Dalton Hooker Bicentenary Meeting: The Making of Modern Botany' will be held on the 30th June at the Royal Botanic Gardens, Kew and will bring together experts on subjects such as botanical illustration, Antarctic flora and botanical classification.
In addition to this conference, currently on display at the Shirley Sherwood gallery is the exhibition 'Joseph Hooker: Putting plants in their place', which brings together archival, three dimensional and illustrative material from the Kew collections to explore Joseph Hooker's life and work. The exhibition will be open until the 17th September 2017 and various tours and talks are also being held.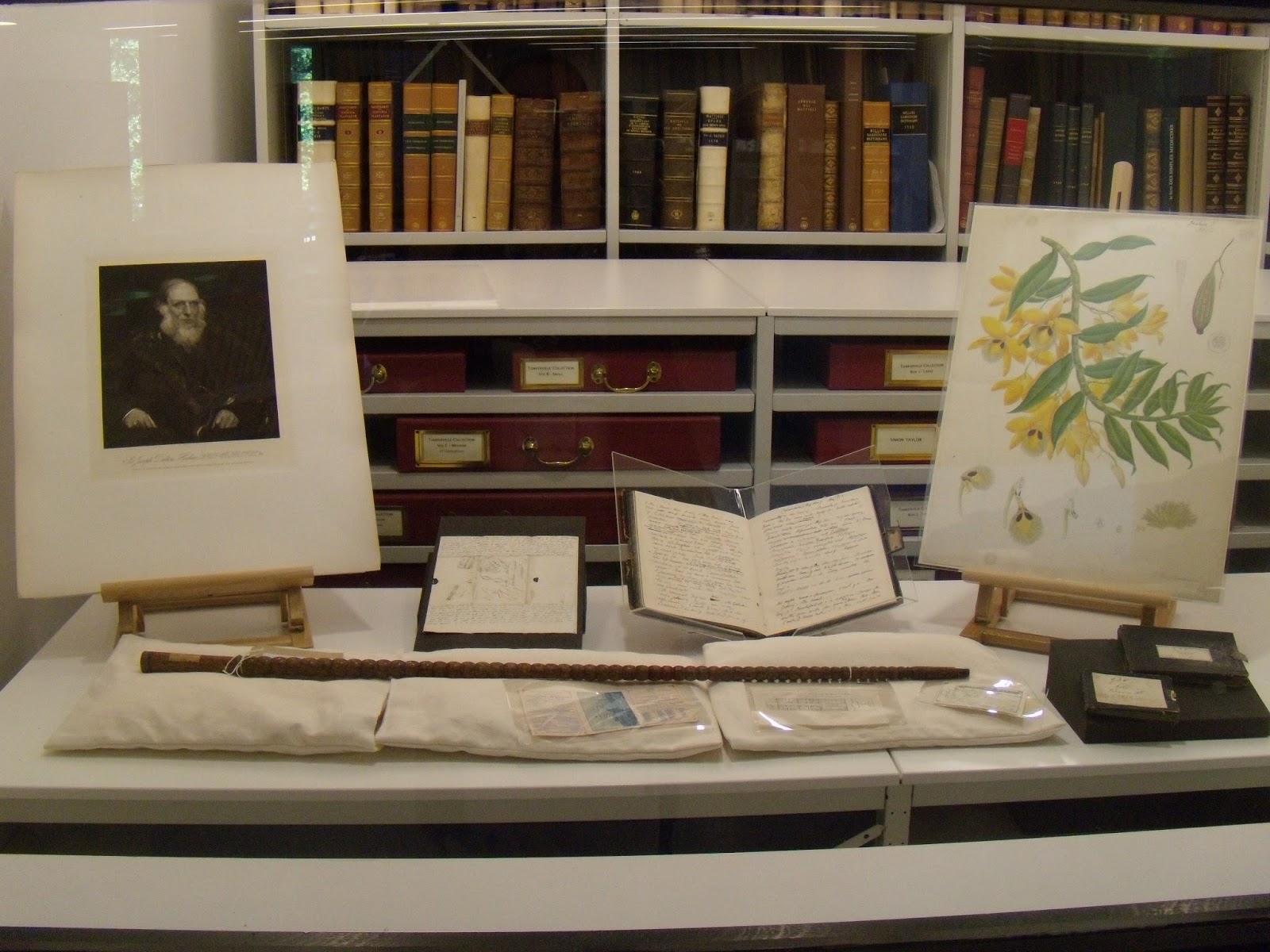 Selection of material on display on the Wolfson Reading Room at the Royal Botanic Gardens, Kew.
The Library, Art & Archives department has also prepared a display in the Wolfson Reading Room in the Herbarium, Library, Art & Archives building, which has just opened and is free to view. Drop in Monday-Friday 10am-4pm to see more material from our Historic Joseph Hooker collections, including material relating to his (entirely scientific!) interest in opium.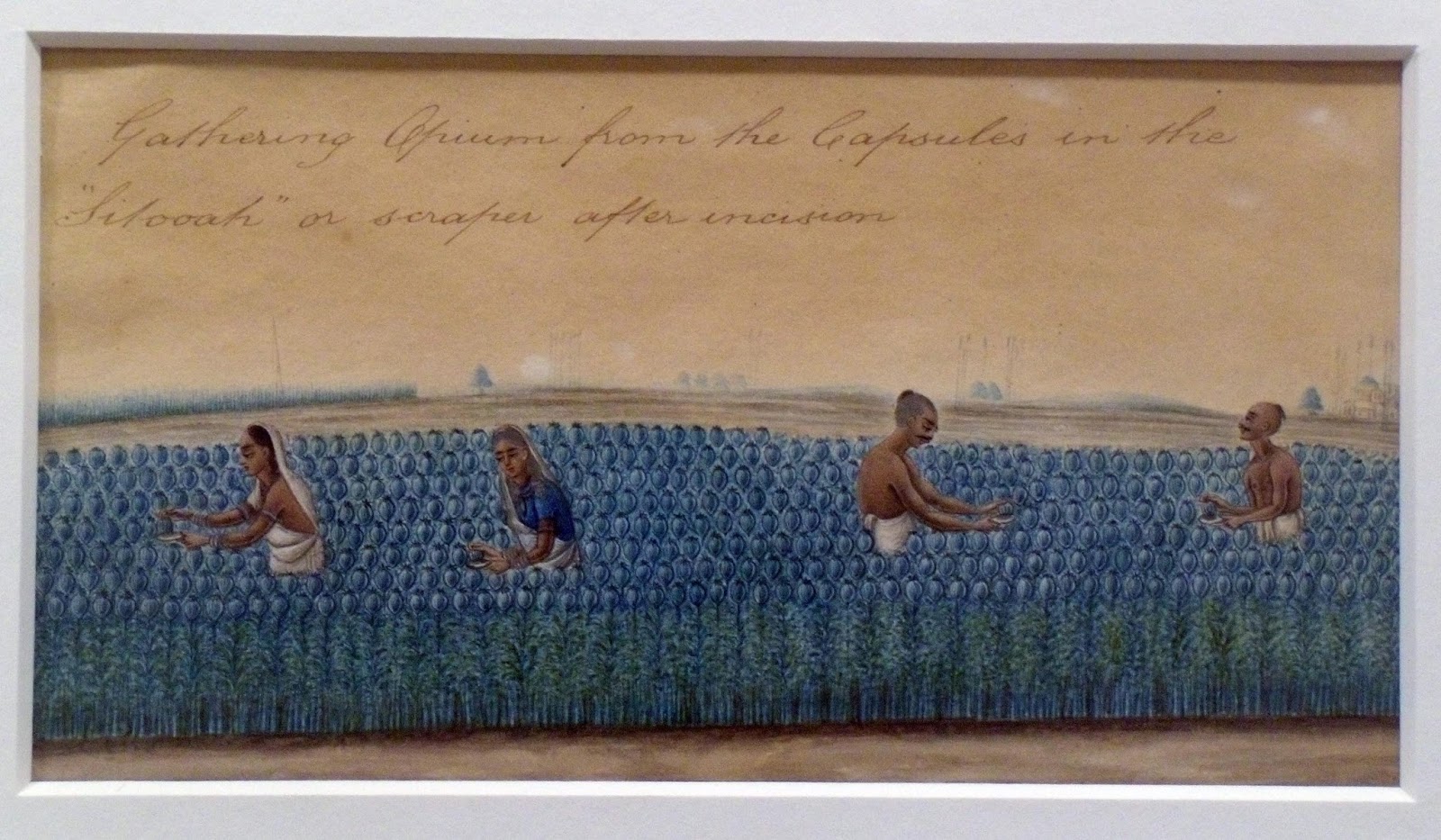 One of a series of illustrations depicting the cultivation and manufacture of opium. Collected by Joseph Hooker during his visit to the Patna opium manufactory in India in 1848.
In the gardens, the Kew volunteer guides will be providing walking tours, allowing visitors to find out how instrumental Joseph Hooker was in shaping botany and the landscape at Kew. On the weekend of the 1st and 2nd of July, the gardens will host a Joseph Hooker Bicentenary celebration with family activities, explorer's camp and talks. The Shirley Sherwood Gallery will also be hosting a 'Kew After Hours' event on the evening of the 29th June. Further details of these events and others related to Joseph Hooker can be found on the main Kew website.
Further afield, the Botanic Survey of India has been hosting an exhibition on Joseph Hooker's legacy in Indian botany. The exhibit is curated jointly with Kew staff and will shortly go on tour to other locations in India.
Visit the BHL website to learn more about the #JDHooker2017 campaign, and follow the hashtag all this week for more great highlights.
Related Links
Joseph Hooker Correspondence Project
View the Joseph Hooker letters online
Joseph Dalton Hooker Bicentenary Meeting: The Making of Modern Botany
Joseph Hooker: Putting plants in their place 
Walking tours around the gardens