Book of the Week: Welcome to the Orchid Family, Bulbophyllum nocturnum!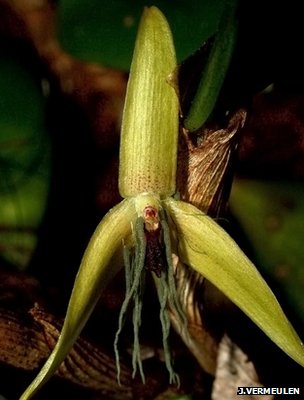 While there are many species of plants that flower at night, and among those are many orchids, scientists researching in New Britain just discovered the only orchid species that flowers exclusively at night. Meet
Bulbophyllum nocturnum
, discovered by Ed de Vogel during a field trip to the lowland rainforest of the island, which is located near Papua New Guinea.
Dr. de Vogel, after taking a specimen of the plant home to the Netherlands with him, discovered that it only flowers a few hours after dusk and closes a few hours after sunrise. While this is a remarkable discovery, the purpose for the flower's nocturnal preference remains a mystery. According to Andre Schuiteman, a co-author of the paper detailing the find, which was published in the
Botanical Journal of the Linnean Society
, "related species are pollinated by tiny flies that think they are visiting fungi," with the smell and physical appearance of the flower appearing like fungus in the eyes of the insect. The insects visit the flower searching for a place to lay their eggs and unwittingly pollinate it. There is a strong possibility that a night-foraging fly species may thus be the pollinator of
B. nocturnum
and the reason for its unique behavior.
The authors of the paper stipulate that it will take much more research before some of the questions surrounding this species are answered. These are questions best answered in the field. However, as the BBC article (from which this information comes) articulates, examining the flower in the wild may be difficult in the future. The orchid was discovered in a previously-inaccessible portion of the island, which, thanks to recent roads constructed for the purposes of logging, has only lately been opened up for scientific discovery. While the logging thus made the find itself possible, it also threatens the long-term survival of the species. Schuiteman affirmed that it is necessary for the local government to protect the habitat of the species from the potential damages caused by logging.
To celebrate the discovery of our new orchid friend, for this week's book of the week we're featuring a book full of stunning orchid illustrations. Abbildungen der in Deutschland und den Angrenzenden Gebieten Vorkommenden Grundformen der Orchideenarten (1904), by Friedrich
Kränzlin, features 60 gorgeous plates by Walter
Müller. While of course
Bulbophyllum nocturnum

is too new to science to be included in this work, we're happy to know that future publications will highlight this species just as beautifully as this book does for the species included within its pages.
For our post, we're featuring some of our favorite illustrations from the work. You can enjoy all of the images from this title on our Flickr site, which now has over 21,000 natural history images. Hopefully one day we'll be able to pull in an illustration of
Bulbophyllum nocturnum

as well!