A Report from the MBLWHOI Library: BHL Supports the Research of Recent Catherine N. Norton Fellows
The MBLWHOI Library is a founding BHL institution. This post is a brief look at how two of the Library's most recent Catherine N. Norton Fellows have used books from BHL's collection to support their research.

Beatrice Steinert
In 2016, Beatrice Steinert, a recent BA in Biology (2016) from Brown University, was an inaugural Catherine Norton Fellow. Steinert's project, in conjunction with the History of the Marine Biological Laboratory Project, studied Edwin Grant Conklin's (1863-1952) work in embryology and cell biology.
Conklin documented the stages of embryo development in the marine slipper snail Crepidula fornicata using a camera lucida device. The camera lucida projects the image of a specimen being viewed through a microscope onto paper, which can then be drawn. Steinert duplicated Conklin's work also using a pencil and a camera lucida. This painstaking process involves successively focusing on portions of an image, thereby gathering 3 dimensional visual data.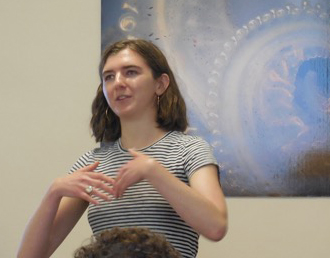 Beatrice Steinert speaking at the MBLWHOI Library about drawing cells of marine slipper shells (photo: Matthew Person).
Steinert used both physical texts and BHL content to inform the above mentioned duplication of experimental work performed almost 120 years ago. Conklin's handwritten Johns Hopkins University digitized doctoral dissertation, The embryology of Crepidula (1891), can be contrasted with the later published full version of the same title (Journal of Morphology v.13 (1897)), by which time Conklin held a professorship in comparative embryology at Johns Hopkins University. Plate IV below is an interesting example of the finished drawings produced using Conklin's camera lucida sketches.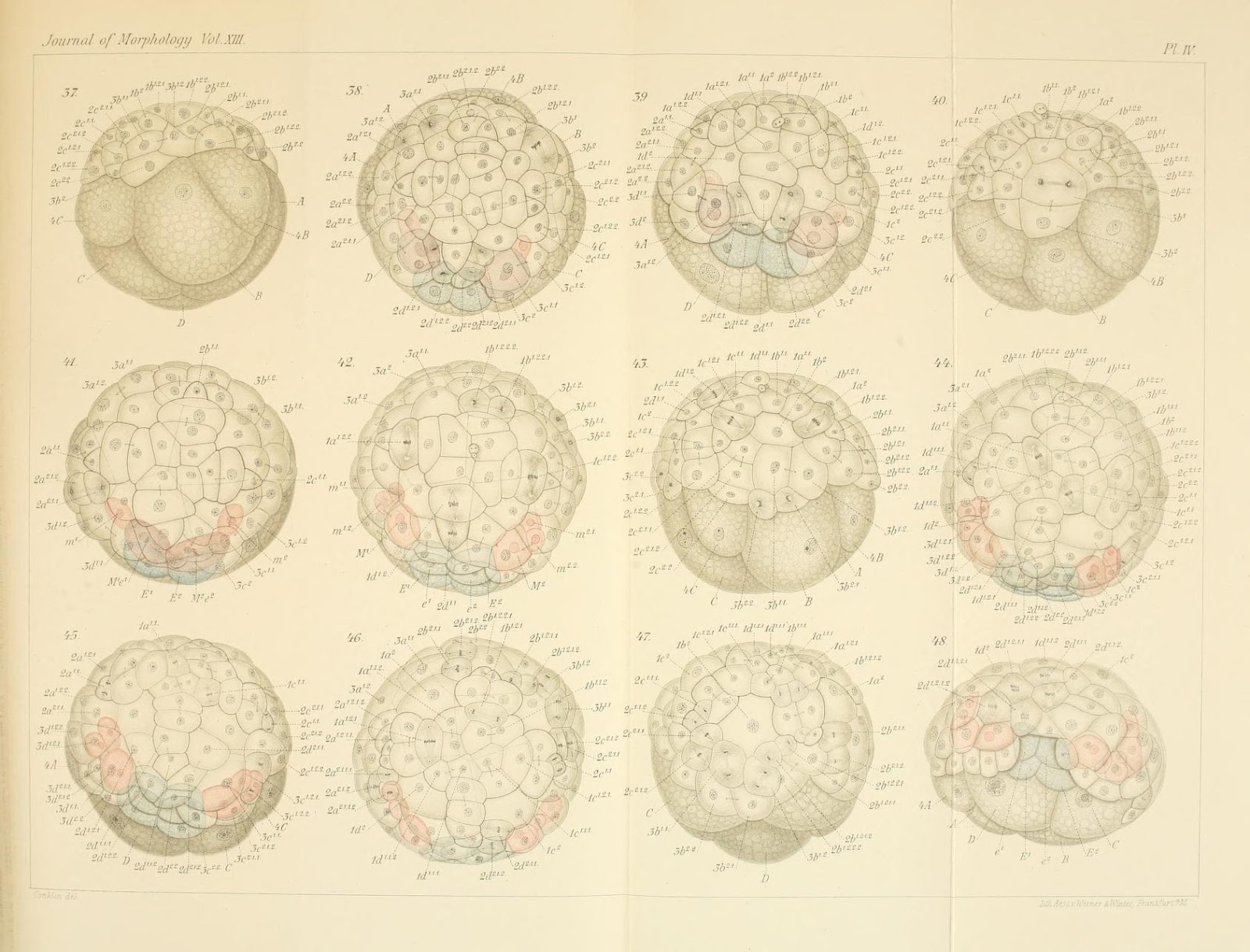 Stages of embryo development of the marine slipper snail Crepidula fornicata. Conklin, Edwin Grant. Journal of morphology. v. 13 (1897). Digitized by Harvard University, Museum of Comparative Zoology, Ernst Mayr Library. http://s.si.edu/2v0NqZj.
To get a sense of how Conklin worked with a microscope and what he thought about the role of drawing in observational practice, Steinert points to the "Notes and Drawings" section within Conklin's Laboratory Directions in General Biology:
"Even though this was written [after the publication of his thesis] (there is no date on it, but I think it was written somewhere around 1905-1915) and for pedagogical purposes, it briefly describes in Conklin's own words his approach to seeing/observing through the microscope. Since my project was all his visualization of development in Crepidula, this work was helpful in understanding his process."
Regarding Conklin's scientific illustration, Steinert writes:
"While drawing by hand is no longer necessary to generate images of developing embryos, its role as an aid to observation, either from photographs or specimens themselves, still makes it a valuable and relevant skill. Especially for those wanting to learn or develop observation skills, drawing greatly enriches the experience of interacting with an embryo. It actively engages the hand in the act of seeing, heightens spatial awareness, and draws the eye to subtle details that may otherwise be overlooked."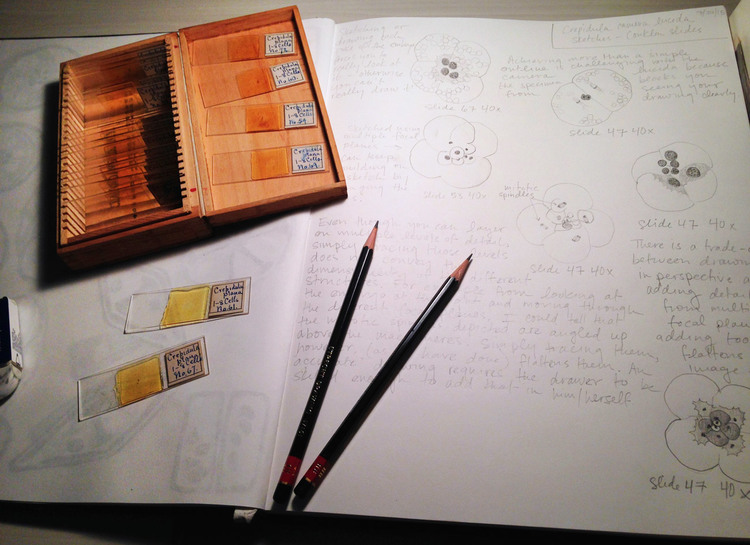 Beatrice Steinert's sketches from Conklin's Crepidula fornicata slides (Photo by: Beatrice Steinert).
To learn more about Conklin's process and Steinert's work, see this fascinating video produced by the news website STAT:
This video and an accompanying article (by Hyacinth Empinado at STAT News) were published in STAT and Scientific American on February 22nd, 2017.
Sean Cohmer
Sean Cohmer is the 2017 Catherine Norton Fellowship recipient. He is a PhD candidate and historian at the Center for Biology and Society at Arizona State University. Cohmer studies how the act of making choices about what to bring into the laboratory was rooted in a dramatically shifting context in the late 19th and early 20th century.
As an illustrative example, Cohmer looked closely at the marine organisms that Thomas Hunt Morgan was manipulating and putting under the microscope in the late 19th century before he turned to studying fruit flies. Morgan received the Nobel Prize in 1933 for his work in genetics.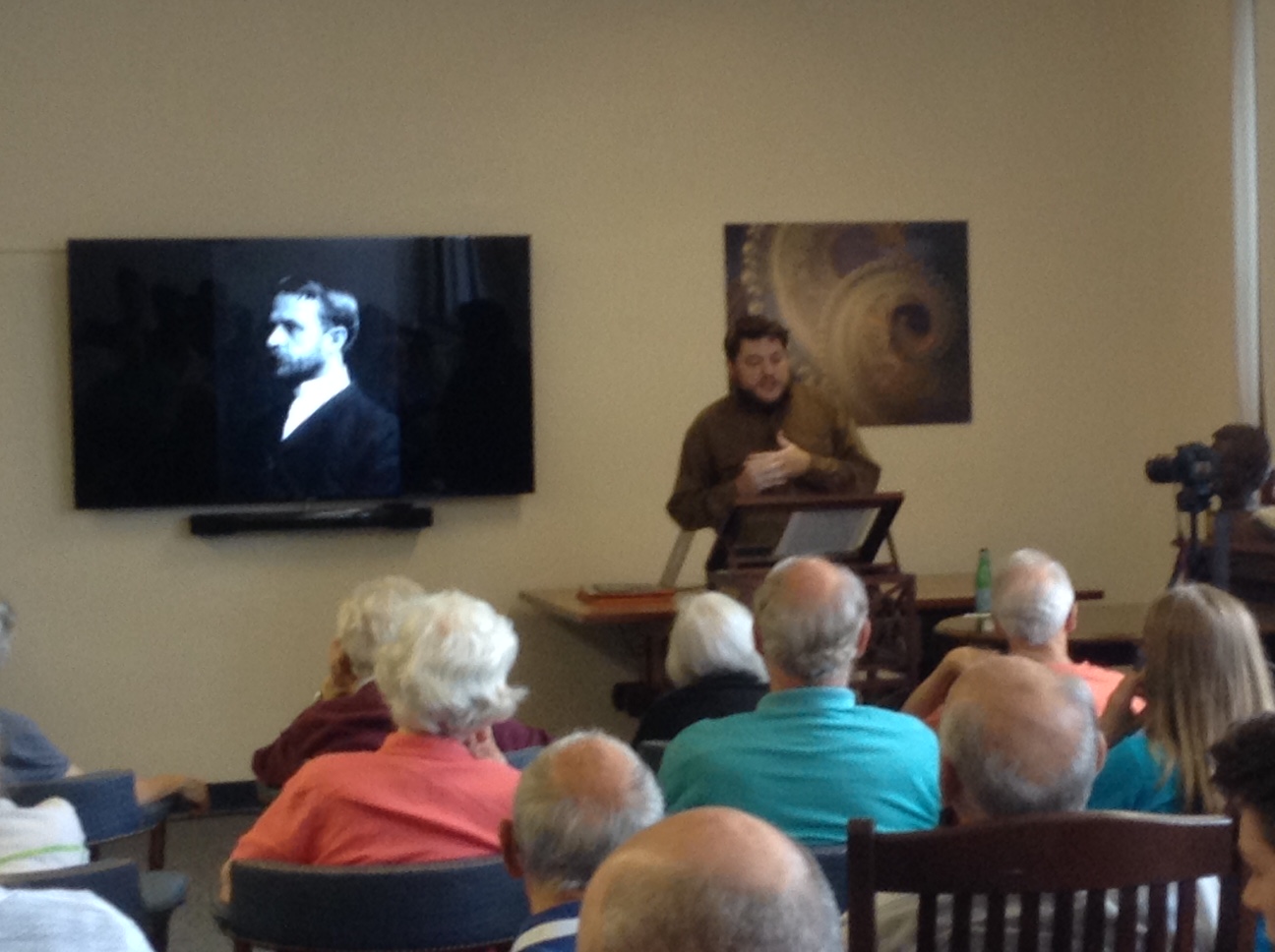 Sean Cohmer speaking at the MBLWHOI Library about Thomas Hunt Morgan (photo: Matt Person).
Cohmer writes:
"I continually look to the Biodiversity Heritage Library for early work published by Thomas Hunt Morgan in the 1880s and 90s. For example, Morgan's dissertation work was on the embryology and phylogeny (evolutionary relationships) of three genera of sea spiders commonly found in and around Woods Hole, Massachusetts. These were Pallene empusa, Phoxichilidium maxillare, and Tanystylum orbiculare.
During this era of scientific publication, scientists commonly included lithographic plates as 'fold outs', which typically were diagrams or illustrations. What is so impressive and useful about the books digitized by MBLWHOI Library for the Biodiversity Heritage Library is that they have digitized full-page scans of these wonderful lithographic plates from the original publications. Many other libraries have chosen not to digitize these fold outs and so have missed an opportunity to fully represent the original publication in its entirety. For this reason, I look to the BHL first when doing research in the history of science."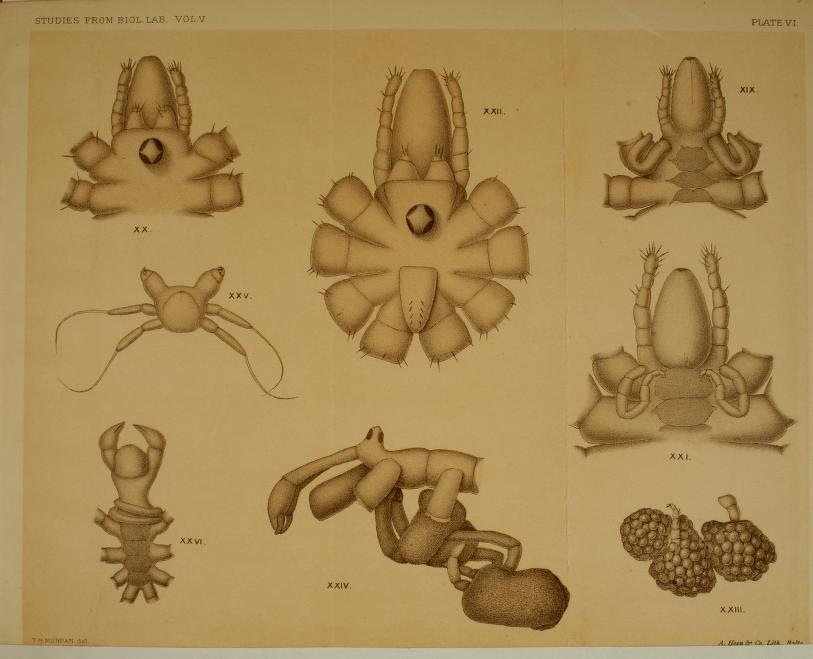 Morgan's doctoral dissertation: "Contribution to the embryology and phylogeny of the Pycnogonids." From Studies from the Biological Laboratory v.5:1 (lithograph) Plate 4 (1891). Digitized by the MBLWHOI Library. http://s.si.edu/2uSvlvt.
As Cohmer points out above, the care that BHL has taken to scan all of the "cover to cover content" in books and journals is noticed by researchers who expect digitized copies to reflect the full content of a physical book.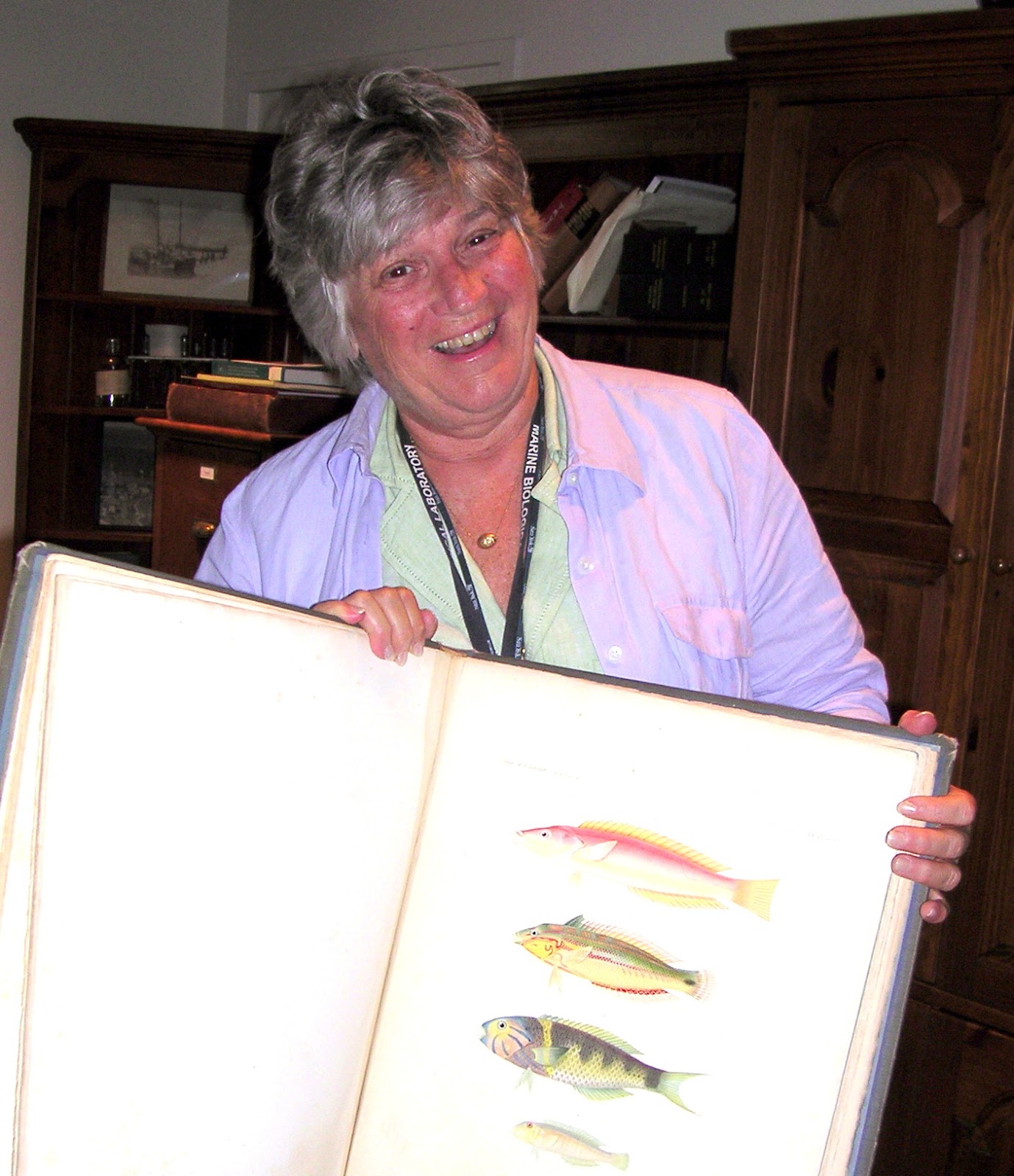 Cathy Norton. Founding Vice-Chair of the Biodiversity Heritage Library and former Director of the MBLWHOI Library.
The late Cathy Norton was the founding vice-chair of the BHL and the Director of the MBLWHOI Library (of the Marine Biological Laboratory and the Woods Hole Oceanographic Institution). Funding for the Norton Fellowship was endowed by Cathy's colleagues, friends, and family soon after her passing. The Fellowship celebrates Cathy's commitment to sharing knowledge and information, her ability to inspire, her "just do it" attitude (an attitude veteran BHL staff members still fondly recall), and her love of a challenge.
The digital History of the Marine Biological Laboratory Project is a collaboration between the MBLWHOI Library and the Center for Biology and Society at Arizona State University. The Project, which celebrates its fifth anniversary in 2017, reflects a decades-long collaboration between Cathy Norton and Professor Jane Maienschein (Director of the Center for Biology and Society at Arizona State University). This relationship promoted history of science research from the physical library stacks to the digital realm in very much the same way the BHL has done for the global corpus of legacy biodiversity literature.