Ukrainian Українська Collection
Through ongoing collaborative collection building and digitization, the United States Department of Agriculture's National Agricultural Library (NAL) is partnering with the Biodiversity Heritage Library to support biodiversity and scientific research in Ukraine with the release of the Ukrainian Українська Collection. BHL and NAL stand with the people of Ukraine and echo the support of its consortium partner institutions in their condemnation of the Russian Federation's invasion.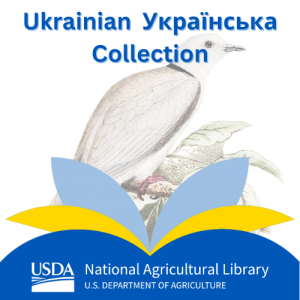 The threat to Ukraine's cultural heritage materials remains substantial during the wartime humanitarian crisis. Many libraries and cultural heritage institutions throughout Ukraine have been severely damaged or destroyed, resulting in the permanent loss of culturally and scientifically significant content. Through the digitization of historic materials related to biodiversity research in Ukraine, this project will help support Ukraine's scientific community by providing access to these important resources.
Significance of the Material
The Ukrainian Українська Collection includes rare and unique titles covering biodiversity research in Ukraine over the past two centuries, including previously uncataloged material. These items have been selected for their cultural and scientific significance to the biodiversity research community, and include an array of topics from wheat production, agricultural economics, soil management, animal breeding, and rural electrification, to arbovirus ecology. Geographically, the material covers a range of areas, including the historic Bukovina and Bessarabia regions.
This collection will contribute to and expand the cumulative digitization and preservation efforts of Ukrainian cultural heritage material across the globe, including the Saving Ukrainian Cultural Heritage Online (SUCHO) initiative, and the Smithsonian Cultural Rescue Initiative (SCRI).
Increasing Discoverability through Collaborative Transcription
In addition to providing enduring access to these valuable items, a major goal of the project is to facilitate increased discoverability through transcription and translation. NAL welcomes volunteers with Ukrainian and Russian language expertise to assist in interpreting these important cultural materials. Join us on FromThePage or reach out to NAL's Transcription Program Manager, at Special.collections@usda.gov for more information.
Going Forward
BHL will work with its Partners to continue to add to the Ukrainian Українська Collection. Beyond the work of identifying eligible open access materials within their holdings, Partners are encouraged to pursue cataloging, digitization, and transcription projects to support the collection. Particular attention will be paid to Ukrainian Українська Collection materials as part of BHL curation efforts, such as enhancing descriptive metadata and improving access to article information where possible.
In organizing this collection of materials, BHL is adding to the efforts of many cultural and natural heritage organizations to preserve pieces of Ukraine's invaluable history and culture. Bit by bit, as librarians, technologists, researchers, people, BHL offers its support to the monumental global challenge to save cultural and natural heritage from the destruction of war and humanitarian crises, regardless of borders.