BHL and Our Users: Dr. Frank Ferrari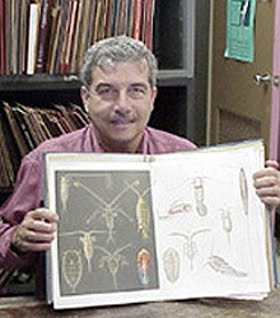 Today we feature another of our BHL users, and, in response to a question raised, reveal a little more about our content selection process. So, meet Dr. Frank Ferrari, a curator of Copepoda at the Smithsonian Institution!
Q: What is your title, institutional affiliation, and area of interest?
A: Research Zoologist in the Department of Invertebrate Zoology at the National Museum of Natural History (Smithsonian Institution). Specific areas of interest include the development of Copepods and related Crustaceans, patterning of Crustacean limbs, and taxonomy of Deep-Sea Copepods.
Q: How long have you been in your field of study?
A: Forty years
Q: When did you first discover BHL?
A: Shortly after it was established (2007)
Q: What is your opinion of BHL and how has it impacted your work?
A: An excellent resource. Particularly valuable for making available older publications/documents, especially those outside the immediate area of my expertise.
Q: How often do you use BHL?
A: On average, about once a month; more often when writing.
Q: How do you usually use BHL (read the titles online/download whole PDF/Select Pages to Download/etc.)
A: I usually read the publications/documents online and, as needed, download whole PDFs plus High Resolution Images.
Q: What are your favorite features/services on BHL?
A: Immediate access to the search engine upon accessing the website, and the clarity of the pages associated with a search.
Q: If you could change one thing about BHL, what would it be, or what developmental aspect would you like the BHL team to focus on next?
A: Add an explanation of the strategy guiding the selections that have been scanned. Explain how publications/documents are selected to be scanned, and particularly what kinds of publications/documents are NOT scanned.
Thank you, Dr. Ferrari, for your feedback! In response to your final request to learn more about the BHL content selection process, we have created a BHL Content Selection Page on our public wiki that describes our process. You can also learn why certain items may be removed from our collection on our Deaccession Policy page. We hope this brings some light to our project and processes.
To learn more about Dr. Ferrari, and see a list of his publications, visit his page on the National Museum of Natural History Invertebrate Zoology website.