BHL and Our Users: Highlighting EOL Fellows!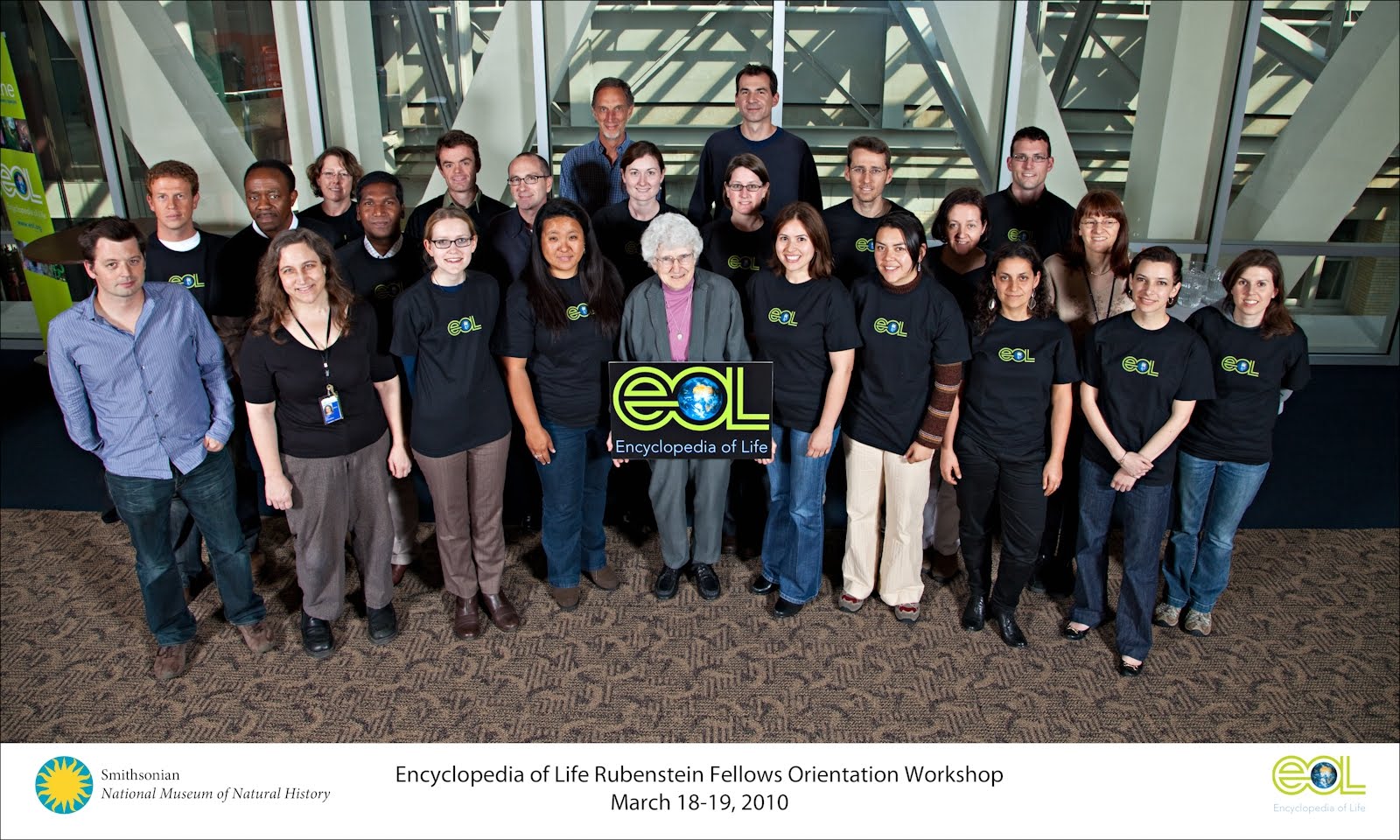 (2010 EOL Rubenstein Fellows. Photo Credit: James Di Loreto)
For quite some time now, we've been doing a series on our blog entitled BHL and Our Users, in which we feature one of our users in each post and highlight how their work and BHL intersect. We find the users we feature in a variety of ways, such as targeting those users that send us regular feedback, are top content downloaders on our site, are actively involved on our social media platforms, or are curators or researchers at one of the various BHL institutions. One community that we have not yet explored, but that most certainly deserves to be highlighted, considering in particular BHL's close relationship with it, is the EOL community.
The EOL is "a sweeping global effort to gather and share the vast wealth of information on every creature – animals, plants, and microorganisms – and make it available as a web-based resource." The goal is to create a web page for every species on the planet, presenting a plethora of information on each species from a variety of sources, all aggregated into one easily-accessible location. And in case you didn't know, the BHL is one of the five working groups comprising EOL. If you've spent any time on EOL, you may have noticed that each species page includes a tab for literature references from the Biodiversity Heritage Library, including links back to pages in BHL mentioning that species.
One of the aspects of the EOL project that is of particular interest to us for the purposes of this blog series is the EOL Rubenstein Fellows program. An international competition, the program supports the work of scientists interested in taking advantage of online collaboration and outreach possibilities for scientific research and information. Each year, the program awards fellowships to a select number of applicants – primarily early-career scientists – providing them with "partial funding for up to one year to translate biodiversity research, databases, and media into rich, online resources through the Encyclopedia of Life." EOL Fellows are expected to distribute their research through EOL, performing activities that will "add new content, such as images, maps or descriptions, to EOL pages." Over the four years of the program, which began in 2010, over 60 Fellows are expected to be named. The fellowships are made possible through a donation by David M. Rubenstein to the Smithsonian Institution's National Museum of Natural History, and Fellows are selected by the Species Pages Group of EOL.
While it is not required for applicants of the 2012 EOL Rubenstein Fellows competition, for which EOL is now taking applications, former Fellows, as part of their fellowship, were required to have a mentor. These mentors were responsible for supporting the Fellows "throughout their fellowship, supervising and reviewing their work and helping them connect with others in their scientific community." Fellows were instructed to choose mentors with whom they already had a working relationship and were more experienced scientists than themselves.
We were delighted to find that many of the EOL Fellows spend a great deal of time on BHL, taking advantage of the freely-available literature and our various services to support their own research and contribute to the work they do for EOL. This being the case, we thought it only fitting that these Fellows should be highlighted on our blog. Thus, beginning this week, we're starting a short "mini-series" on EOL Fellows. We hope you've enjoyed this brief introduction to EOL and the Fellowship, and be sure to check in tomorrow for the first of our featured Fellows!