Examining the History of Paleoanthropology Using BHL
In the middle of the nineteenth century, the scientific community was engrossed in discussions about evolution and the origin of species. The publication of Darwin's On the Origin of Species in 1859 fueled extensive scientific debate and prompted further questions regarding human evolution. A key figure in these debates was Thomas Henry Huxley, an English biologist and comparative anatomist.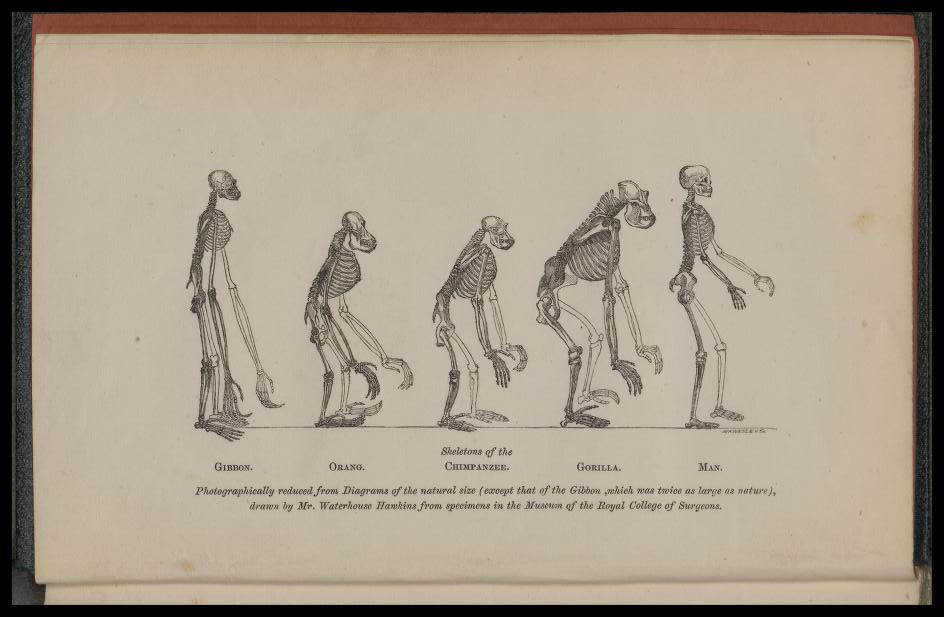 Frontispiece. Huxley, Thomas Henry. Evidence as to Man's Place in Nature. 1863. Digitized by Cambridge University Library as part of Charles Darwin's Library. http://s.si.edu/2inaol1.
A close friend of Charles Darwin and a staunch public supporter of the theory of natural selection, Huxley used his expertise in embryology, paleontology and comparative anatomy to demonstrate an evolutionary relationship between humans and apes. In a series of public lectures between 1860-62, he presented research on anatomical similarities between humans and apes and discussed hominin fossil discoveries, including a skullcap from the first recognized Neanderthal Man which was unearthed in Germany in 1856.
These oral discourses were collected into a single volume and published in 1863 as Evidence as to Man's Place in Nature.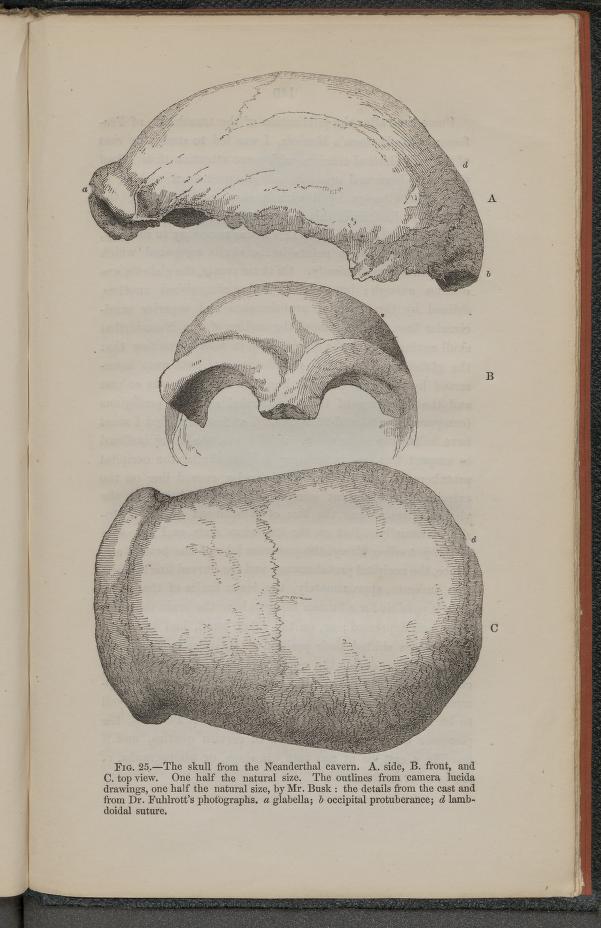 Huxley, Thomas Henry. Evidence as to Man's Place in Nature. 1863. Digitized by Cambridge University Library as part of Charles Darwin's Library. Page 139. http://s.si.edu/2B12Tvx.

Paige Madison, a PhD candidate studying the history of paleoanthropology at Arizona State University, identifies this publication as a vital reference for her doctoral research.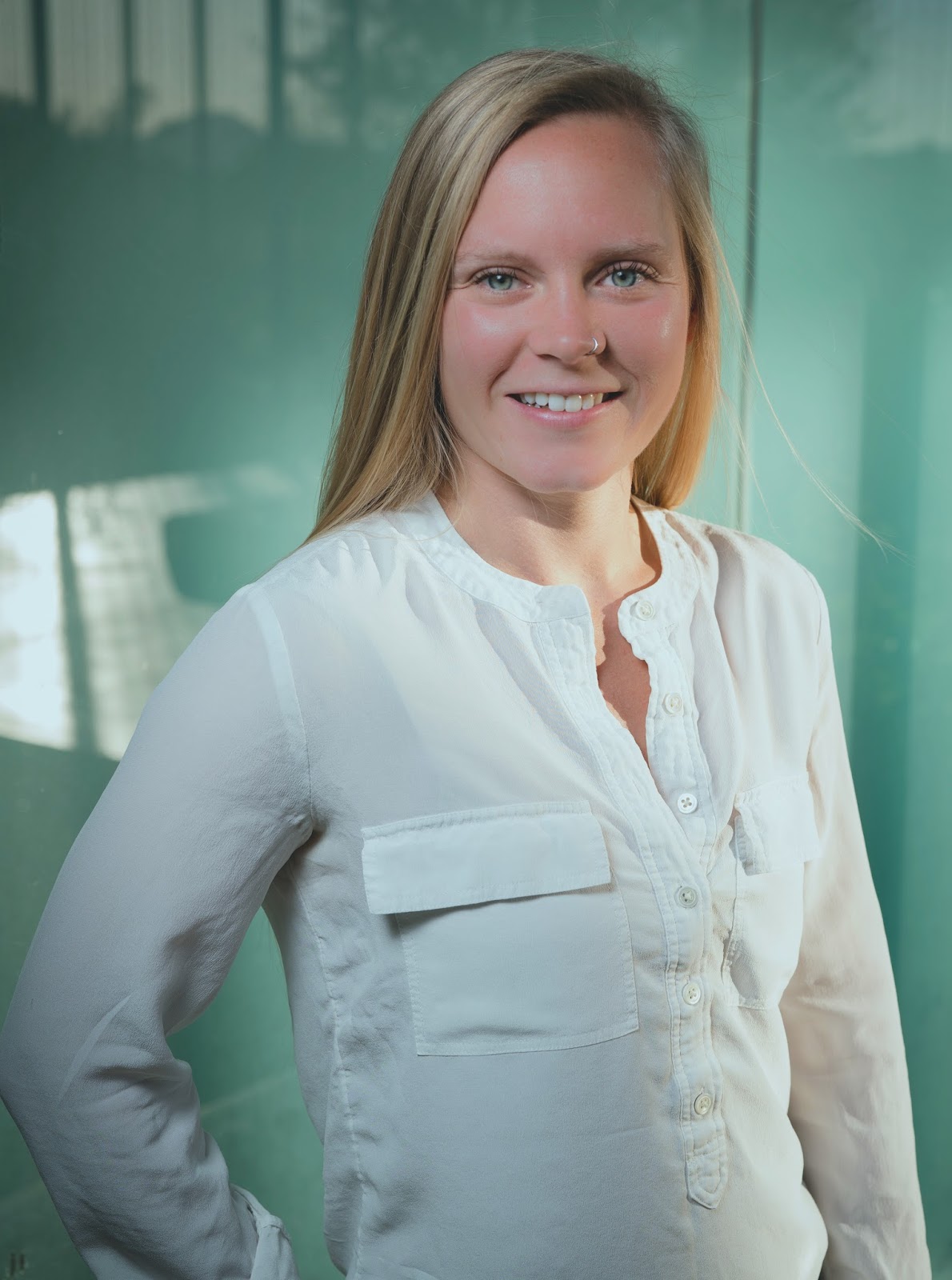 Paige Madison, PhD candidate at Arizona State University. Photo Credit: Alex Reynes.
"This was one of the pioneering works in the history of paleoanthropology," explains Madison. "Huxley's argumentative strategy is wonderful. At a time when it was hard to get away from preconceived notions about human evolution, Huxley asks his readers to take a step back and imagine they were visitors from Saturn, 'happily free from all personal interest.' He lays out the facts concerning humans' similarities to other apes and then asks the impartial scientific Saturnians, 'Is Man so different from any of these Apes?'"
For her dissertation, Madison is examining a series of case studies on the history of paleoanthropology spanning well over a century. This research requires examination of numerous historic publications, such as Huxley's Man's Place in Nature. Thanks to the Biodiversity Heritage Library, she has easy access to the necessary references.
"BHL has been central to my research," asserts Madison. "It allows me to quickly access a wealth of material online, so I can spend my time researching rather than running back and forth to the University library."
After first being introduced to BHL by fellow graduate students five years ago, Madison now uses the library almost weekly to access the research of key scientists in her field. By downloading entire PDFs of relevant publications or selecting specific pages using BHL's custom PDF generator, she is able to guarantee easy offline access to important references. She also uses the library to gather images, which she finds useful both for her research and when creating presentations.
"The images I can download from BHL are high quality," says Madison. "I know exactly where they came from and how they were used to illuminate a particular aspect of a scientist's overall argument."
While she finds BHL's collections invaluable, Madison notes that the consolidation of duplicate author names would greatly improve the user experience. As a request voiced by many users, name authority control is indeed high on BHL's list of development priorities.
For Madison, exploring the history of hominin fossils and our understanding of their place in the evolution of Homo sapiens is a passion that is greatly facilitated by the Biodiversity Heritage Library. We are proud to know that BHL's open access collection is helping to illuminate the history of science to accelerate research today and empower future discoveries.
You can follow Paige Madison's research on Twitter at @FossilHistory.
Reference
Hauserman, Samantha. 2013. "Thomas Henry Huxley (1825-1895)." The Embryo Project Encyclopedia, November 26. Accessed December 5, 2017. https://embryo.asu.edu/pages/thomas-henry-huxley-1825-1895.
______________________________________
This post may contain the personal opinions of BHL users or affiliated staff and does not necessarily represent the official Biodiversity Heritage Library (BHL) position on these matters.