On January 4, 2018, in the midst of a memorable storm in the Northeastern US, approximately 30 intrepid travelers met to celebrate the successful completion of the BHL National Digital Stewardship Residencies developed for the IMLS, Laura Bush 21st Century Librarian grant submission: Foundations to Actions: Extending Innovations in Digital Libraries in Partnership with NDSR Learners.  The program plan included hiring five geographically-distributed residents, all graduates of LIS or related master's programs, to work on collaborative projects to improve tools, curation, and content stewardship for BHL. This work supported BHL development plans for the next generation portal for the world's largest open access digital library for biodiversity literature.
The Capstone event was beautifully hosted by the Smithsonian Libraries at the Natural History Museum in the room where the first DC planning meeting for BHL occurred. Martin Kalfatovic (BHL Program Director and Associate Director, Digital Program and Initiatives for the Smithsonian Libraries) and Dr. Nancy Gwinn (Director of the Smithsonian Libraries) welcomed the group.  Robin Dale (Deputy Director for Library Services at IMLS) described the NDSR program within the context of the IMLS goals for a national digital platform, mentoring digital library leaders and developing communities of practice.  Dr. Scott Miller (Deputy Undersecretary for Collections and Interdisciplinary Support at the Smithsonian Institution) congratulated BHL on its accomplishments in making biodiversity literature accessible but also suggested further work on linking content, mobile access and establishing standards.
Constance Rinaldo (Librarian of the Ernst Mayr Library of the Museum of Comparative Zoology, Harvard University and Chair of the BHL Members' Council) gave an overview of the grant and process emphasizing the importance of ensuring the development of a strong cohort with leadership capacity among the geographically dispersed residents. Leora Siegel (Senior Director, Lenhardt Library of the Chicago Botanic Garden and a BHL NDSR Mentor) reflected on the past year and how rewarding it was to be a mentor to a recent graduate, wrestle with how to push the project forward, and connect with colleagues mentoring related projects with residents across the United States.  Mentors wished for more time, more opportunities to meet face to face with all participants and more professional meeting opportunities.
Katie Mika (BHL NDSR Resident at the Ernst Mayr Library) reflected on being a resident, struggling with the contrary thrusts of independence yet adherence to a partially defined project in a tight time frame.  Residents wished for more time, more structure and an in-depth technical introduction to BHL, yet all were successful in their work and learned more than they expected.
Trevor Owens (Head of Digital Content Management in Library Services at the Library of Congress) wrapped up the event with a keynote that focused on the push towards a National Digital Platform for digital data and his thoughts on digital preservation.
Although the final grant report looms large for the mentors, the Capstone event was an engaging send-off for the residents and we all look forward to following their future accomplishments.
Scott Miller presenting the
opening keynote

Katie Mika presenting the
BHL NDSR Resident Reflection

Trevor Owens presenting the
closing keynote
For specific information about the work of the residents, see their blog
and related BHL blog posts.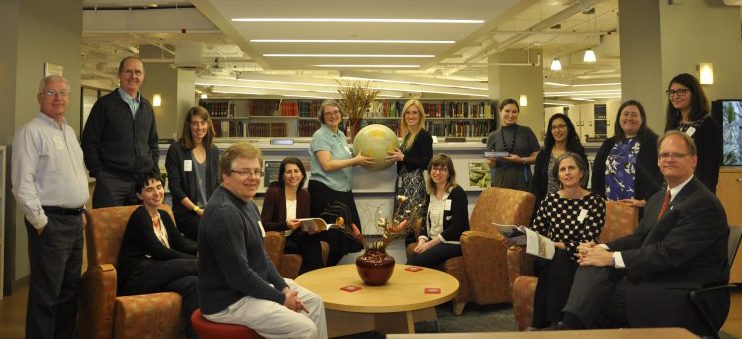 BHL NDSR Residents and Mentors
Alicia Esquivel, Resident at Chicago Botanic Garden, focused on Content Analysis.
Leora Siegel, Senior Director, Lenhardt Library
Marissa Kings, Resident at Natural History Museum, Los Angeles County, focused on Digital Library Best Practices.
Richard Hulser, Chief Librarian
Pamela McClanahan, Resident at Smithsonian Libraries, focused on User Needs and Usability.
Carolyn Sheffield, BHL Program Manager
Katie Mika, Resident at Ernst Mayr Library, Harvard University Museum of Comparative Zoology, focused on Crowdsourced Data Corrections and Enhancements.
Constance Rinaldo, Librarian, Ernst Mayr Library
and Program Director, BHL-NDSR Program
Joseph DeVeer, Project Manager and Museum Liaison, Ernst Mayr Library
Ariadne Rehbein, Resident at Missouri Botanical Garden, focused on Enhancing Image Discovery.
Doug Holland, Library Director, Peter H. Raven Library
Trish Rose-Sandler, Project Manager, Center for Biodiversity Informatics
Thank you to the speakers, external and internal to the grant project, for providing us with encouragement, support and reflections that we can take forward in our day to day work.  I want to especially thank Carolyn Sheffield (BHL Program Manager and Mentor to the Smithsonian Libraries resident) for managing the logistics of the Capstone event and ensuring its excellence.