BHL and Our Users: Wendy Wasman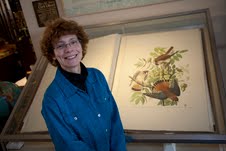 When most people think of BHL's users, they think of scientists accessing literature for research. However, one of our largest user communities is librarians, which use BHL to fulfill requests from patrons, saving their libraries time and resources by having immediate, free, online access to our material. One such librarian is Wendy Wasman, a librarian at the Cleveland Museum of Natural History, who graciously agreed to give us a peek at the way she uses BHL to support her work activities.
What is your title and institutional affiliation?
Librarian, Cleveland Museum of Natural History
How long have you worked in a library environment?
I've been a professional librarian since 1988, but I have worked in libraries since I was 16! I started as a page in my public library, and then I worked in my college library (Oberlin) for 4 years. I'm on my second 'tour of duty' at CMNH – I was the Librarian from 1988-1994, and then moved to Philadelphia, where I was the Science Librarian at Haverford College from 1995-1999. I moved back to Cleveland in 2000, and have been back at the Museum since 2008. I tell people I'm the "renewed librarian."
When did you first discover BHL?
I first heard about BHL back in 2008 from the listserv of the Natural History Caucus of the Special Libraries Association, and I followed its progress by reading various articles and blogs.
What is your opinion of BHL and what impact has it had on your duties as a librarian?
I can more easily meet the research needs of the Museum curators by using BHL to find articles. One of the curators was doing research on a specific salamander and needed old taxonomic literature. I was able to use BHL to find every article he needed for his research.
How often do you use BHL?
It really depends on the project. Sometimes I use it several times a week, and sometimes just once a month.
How do you usually use BHL (read the titles online/download whole PDFs/Selecting Pages to Download for a custom PDF/Downloading High Resolution Images/Generating Taxonomic Bibliographies/etc.)
I usually select pages to download for a custom PDF. I also downloaded a lot of high resolution images for a recent presentation I did on scientists and artists of the 19th century. It was a real treat being able to find and download images from the old Transactions of the Zoological Society of London, and it saved my library's set from the wear and tear of scanning the pages I needed.
What are your favorite features/services on BHL?
Being able to select and download pages for a custom PDF is a wonderful feature.
If you could change one thing about BHL, what would it be, or what developmental aspect would you like the BHL team to focus on next?
I would love to be able to search for individual images; I know that is something that BHL is focusing on now.
Is there a specific item on BHL that is most often requested by your patrons/that you use more than any other to fulfill ILL requests?
Not really, since my use of BHL is very project-dependent right now.
____________________________________________________
Thank you, Wendy, for sharing your experiences with BHL with us! As you indicated, BHL is currently working on improving access to BHL images through work supported by our recent NEH grant. You can find out more about the grant and our project progress on our wiki. In the meantime, enjoy the thousands of BHL images freely available on the BHL Flickr!
As a final note, a recent addition to the Biodiversity Heritage Library is volumes from the Scientific Publications of the Cleveland Museum of Natural History! Be sure to check them out in BHL.