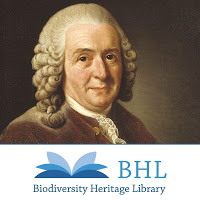 He has been dubbed "The Father of Modern Taxonomy," "The Father of Modern Ecology," Princeps botanicorum (Prince of Botanists), "The Pliny of the North," and "The Second Adam." He is credited with creating the classification schema known as binomial nomenclature, and today, he turns 305 years old. Of course, we're talking about Carl Linnaeus, and we're celebrating his birthday with the release of our latest iTunes U collection dedicated to him.
Carl Linnaeus was born May 23rd, 1707, in Småland, Sweden. As evidenced by his later publications, his first and primary passion was botany. At an early age, he took an interest in plants, eventually coming under the tutelage of Johan Rothman, the state doctor of Småland. Linnaeus first learned to classify plants under Rothman's direction, using the system developed by Joseph Pitton de Tournefort, which, though based on artificial similarities between organisms, nevertheless was the first system to make a clear distinction between genus and species.
In 1728, Linnaeus enrolled at Uppsala University, where he made quick progress in the field of botany and, by only his second year, was himself giving lectures. During these years, Linnaeus began to question Tournefort's classification system, and thus decided to develop his own. Linnaeus' system arranged plants according to the number of stamens and pistils each possessed. This new system formed the basis of his work in the critical publication Genera Plantarum (first edition published 1737). A young German botanical draughtsman named Georg Dionys Ehret crafted a visual representation of this system, which Linnaeus included in Genera Plantarum (though without acknowledgement to Ehret). The image represents the earliest illustration of Linnaeus' classification system for plants.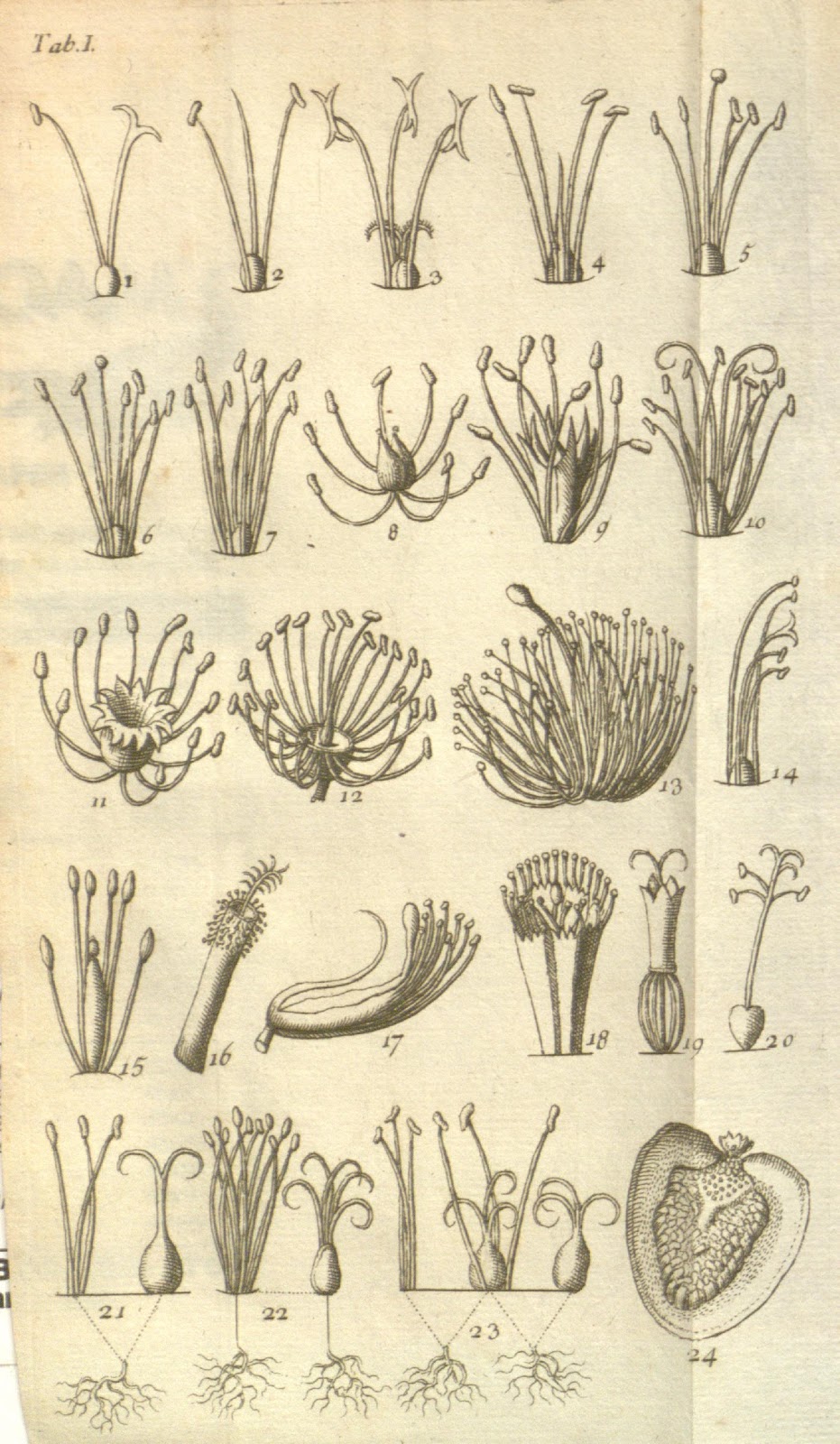 Ehret's illustration of Linnaeus' classification system
Linnaeus continued to revise Genera Plantarum, publishing a total of five editions (fifth edition published 1754). During the years between the publication of the first and fifth editions of this work, Linnaeus also published Species Plantarum (first edition published 1753), which arranged all plants known to him into orders, classes, and genera according to the Genera sexual system. Species Plantarum provided formal, multiple word descriptions in Latin of each species, as well as an additional epithet for easy reference. The combination of the genus and epithet quickly became a popular method by which to refer to a plant species. Species Plantarum is considered the inception of botanical nomenclature, and the use of a consistent naming structure based on the methods presented in Species and Genera was a vital step in the maturation of Linnaeus' binomial schema.
In 1735, even before the publication of the first edition of Genera Plantarum, Linnaeus published the first edition of Systema Naturae. This first edition outlined Linnaeus' ideas for the hierarchical arrangement of the natural world, dividing it into the animal, plant, and mineral kingdoms. His classification of the plant kingdom followed the sexual system he presented in Genera. However, it was not until the tenth edition of Systema Naturae that the binomial classification system we so readily associate with Linnaeus came into its own. While Species Plantarum had already established a binomial naming system for plants, the tenth edition of Systema Naturae (published in 1758) organized, for the first time, the animal kingdom according to this system – Kingdom, Class, Order, Genera, and Species. Thus, it represents the beginning of zoological nomenclature and, together with the first edition of Species Plantarum, is considered the starting point of binomial nomenclature.
Today, we highlight Linnaeus' contributions to science with the release of our newest iTunes U Collection: The Carl Linnaeus Collection. The collection features 13 of Linnaeus' publications (including the first edition of Species Plantarum, the tenth edition of Systema Naturae, and the fifth edition of Genera Plantarum), as well as two additional items about Carl Linnaeus and his sexual classification system (Carolvs Linnaevs by Edward Lee Greene and New illustration of the sexual system of Carolus von Linnaeus by Robert John Thonrton). You can download all of these titles directly onto your iPad, iPhone, or iPod Touch for free through iTunes. And, of course, you can download them directly to your computer through the BHL interface.
So Happy Birthday, Carl Linnaeus! Our present to you: Your very own iTunes U collection!