Basionyms, Synonyms, Authorities: Tracking the Names of Macro- and Micro Algae Through Time
As part of our BHL & Our Users series, we recently caught up with Dr. Roberta Cowan, a specialist in Phycology (taxonomy) and information management. Over the last 19 years, Dr. Cowan has been actively involved in nomenclatural work, notably for Australian algal species.  Dr. Cowan was kind enough to provide some background on her work and the role BHL has played in making that work both quicker and easier over the years.
Roberta Cowan, PhD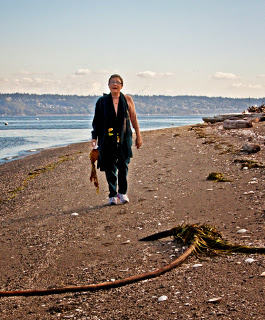 Dr. Cowan collecting on Whidbey Island,
Washington State

 
In the 1980s a number of countries had nomenclatural plant databases. There was the famous Index Kewensis from Royal Botanic Gardens, Kew  and the Gray Cards from the Harvard University Herbaria. In Australia the Australian Plant Name Index (APNI) was being prepared. In the early 1990s proposals were put forward to the Australian Government to create a database for the marine macroalgae (Australian Marine Algal Name Index, AMANI) and the freshwater algae. Later the marine microalgae were included in AMANI. All of this information is now being updated and transferred to the Atlas of Living Australia (ALA).
I began work on AMANI in 1994. At that time, in order to check the accuracy of information regarding binomials cited in literature about Australian algae the original literature had to be sourced via the inter-library loan system. By definition much of the literature was contained in monographs and journal runs that were considered rare by the lending library. This invariably meant that the item was not available for photo-copying. Often the full bibliographic details for original literature was not entirely clear and so a 'catch 22' situation occurred in that an item may well be sourced to a particular library but could not be copied until the full bibliographic detail was supplied. The detail could only be supplied by accessing the item. Access to the item therefore had to wait until I could travel to the lending library. This meant waiting until travel to the libraries on the other side of Australia–or the other side of the planet–could be afforded.
In 2007, with the founding of the Biodiversity Heritage Library the problems of access and the problems of confirming bibliographic details became increasingly rare. My work changed from submitting inter-library loan forms and waiting for weeks for a requested item to arrive to searching BHL, selecting the item for download, filling in the information: title, author, keywords and waiting a very short time for the pdf to appear via a link in an email.
I am presently editing the algal data relevant to the nomenclature of all names cited in Australian taxonomic literature and all taxonomic literature citing Australian algal names for the Atlas of Living Australia. BHL is one of my most important tools.