Book of the Week: 1000 Hints in Gardening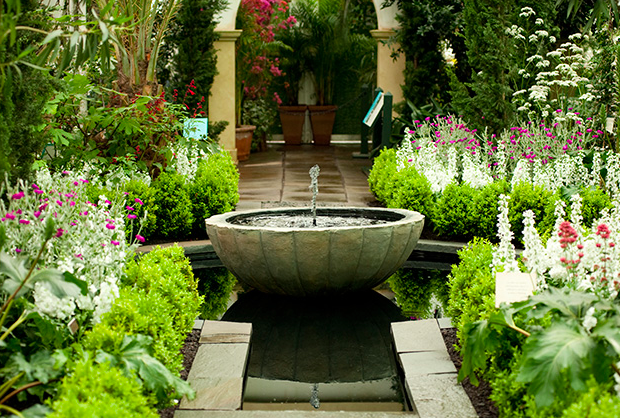 Summer is in full swing and that means all the gardeners have already started coming out of the woodwork to get their hands dirty. We came across this book in BHL and thought it would be an appropriate book of the week for all of our garden-loving friends: 1000 Hints on Flowers and Birds (1917), by Mae Savell Croy.
In case you had any doubts as to whether you should believe anything that Ms. Croy has to tell you in this book, the title page carefully points out that she is the author of "1000 Shorter Ways About the House," "1000 Things a Mother Should Know," and "1000 Hints on Vegetable Gardening." Her obsession with the number 1000 is sure to provide the reader with plenty of tips and ideas for application in their own gardens.
And these tips range in subject from general topics like "The Art of Growing Flowers" and "Essentials in Gardening" to more specific discussions of fertilization, rock gardens, weeds, and house plants. She even includes an entire chapter entitled "The Plea for the Birds," which discusses bird houses, food and water, and a cryptic "Bits of Information" section. For our post, we're going to highlight some of our favorite tips that we gleaned from this title, but there are many more that you can find yourself if you dig a little deeper into the 1000 hints provided.
Tip # 1: Plan the Garden on the Spot
"While to put it down on paper will be most helpful, the paper design should be made in the garden itself, otherwise there is likely to be confusion when it comes to working out the plan with actual plants. The size of the plants to be grown should always be taken into consideration when setting aside a certain space."
Tip # 2: In Planning a Garden, Quadruled Paper Should be Procured
"Draftsmen use a paper ruled in quarter-inch squares, and in using this, each quarter-inch square should represent a foot of ground."
Tip # 3: In Every Garden, However Small, There Should be a Seat
"In a small garden, the seat should be small, but where there is plenty of space, a large seat or a group of seats, a summerhouse or a pergola with seats can be placed to advantage. Let a garden look as if it had human beings taking a personal interest in it."
Tip # 4: Plant Plenty of White Flowers in the Garden
"They are not only beautiful in themselves but they tend to emphasize the color of the other flowers near. No other one color aids so in emphasizing the color scheme in the garden."
Tip # 5: Barnyard Fertilizer is Among the Most Valuable of Fertilizers
"It should be six months old and be well worked into the soil."
Tip # 6: Deal Only with a Reliable Seedsman
"A seed house which has built up a reputation on the produce from its seed is not going to keep in stock old seed which will tend to endanger its reputation. It pays to purchase the best of seeds."
Tip # 7: House Plants Often Fail to Thrive from No Apparent Reason
"House plants often fail to thrive from no apparent reason when what they really need is repotting. Having eaten all the food from the old soil, they require entirely new soil and the addition of fertilizer alone will not answer the problem."
Tip # 8: A Pit is Simply a Large Hotbed
"A pit is simply a large hotbed and is constructed along the same principles, except that as it is in the form of a greenhouse buried under ground, there need be no layers of manure. It should, however, have good drainage and should have a sash covering. It may be made of either concrete or wood, though concrete is highly recommended as it will not permit any water to ooze through the earth surrounding the walls. The depth of excavation depends upon the needs of the individual who is to use it, but it should always be deep enough to give good standing room."
Tip # 9: A Unique Bird House Can be Constructed Out of a Number of Cigar Boxes
"The strips taken from the boxes should be nicked and the other pieces slid into them, and few tacks will be necessary."
Tip # 10: Crows, Blackbirds, Magpies and Bluejays are Doubtful Benefits to a Neighborhood
We hope you enjoyed our top 10 favorite tips, a collection of both useful and entertaining tidbits, from our book of the week. Find your own favorite hints from the book and be sure to let us know what they are! We're dying to know what else a pit might be.
Picture from BHL Partner Institution, New York Botanical Garden's Spanish Paradise: Gardens of the Alhambra exhibit.