BHL and Our Users: Dr. Chris Mah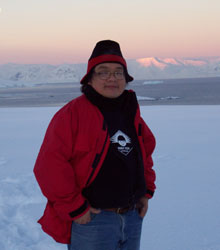 Meet Dr. Chris Mah, Research Collaborator at the Smithsonian's National Museum of Natural History. His specialty is starfish, and he's been using BHL in combination with Google Translate to efficiently conduct research involving foreign monographs.
What is your title, institutional affiliation, and area of interest?
Greetings! I am a Research Collaborator in the Invertebrate Zoology Dept. at the Smithsonian's National Museum of Natural History. I am one of the world's only experts in the evolution and classification of starfish (aka sea stars). As a consequence I study a hybrid of taxonomy, paleontology, deep-sea biology and macroevolution as they pertain to asteroids.
How long have you been in your field of study?
Although I received my PhD in 2005, I have been working on starfishes since the late 90s. My first publications were in 1996 and 1998 but most of my pubs came in the early 2000s.
When did you first discover BHL?
I first discovered the BHL when I began my first post-doc at the Smithsonian's NMNH. Honestly, I think I may have met some of the BHL staff before I actually began using the data from the website.
What is your opinion of BHL and how has it impacted your research?
BHL is an awesomely useful resource! As a person who works from a lot of classical taxonomic literature from before the 20th Century, the accessibility of these resources as online PDFs just amazes me. While rooting through old libraries trying to find 200 year old books can be fun, it's often just easier and more time efficient to be able to pull up the document or monograph, download it to my desktop and get to it.
It can also be very helpful to have the BHL when I'm traveling away from "home base." No need to carry around a rare 120 year old book if you can just open a scanned file of it on your computer. Lots of different situations where this has been a life-saver. Sometimes it happens overseas and sometimes simply at a university or school without a very large library.

How often do you use BHL?
Using BHL is often dictated by need, so sometimes I'm using it every day and other times there are weeks without using it – but if I were to average it out? Maybe once every week or two?
How do you usually use BHL (read the titles online/download whole PDFs/Selecting Pages to Download for a custom PDF/Downloading High Resolution Images/Generating Taxonomic Bibliographies/etc.)
While I haven't completely explored all of BHL's tools, I am pretty happy with downloading PDFs of monographs and papers that are either hard to find or just convenient to look up online. Again, as a tool for "taxonomy on the go," it's nice to be able to access the plates and figures without having to carry along a friable old book on a long trip.
What are your favorite features/services on BHL?
One of my favorite features works best with foreign monographs! You can use the BHL to download content as text, which you can then throw into translation software, such as Google Translate! While this does not always "cleanly" translate it does save a substantial amount of work from having to transcribe the whole thing word by word!
If you could change one thing about BHL, what would it be, or what developmental aspect would you like the BHL team to focus on next?
I guess the most important aspect about BHL other than more coverage of older, useful content is a more powerful or at least, smarter search engine. I usually have to take at least two approaches to locating papers among the many journals archived on the BHL. If its not listed under "asteroidea" or some subject word, I usually have to then find the exact citation and track it down.
I realize cross-indexing to that degree is rather difficult and will be imperfect, but sometimes I think that it can be better emphasized when individual monographs are entered into the BHL.
Might also be useful to emphasize how individual citations or pages can be linked with other major biodiversity websites such as the World Asteroidea Database, part of www.marinespecies.org, and so on..
If you had to choose one title/item in BHL that has most impacted your research, or one item that you prefer above any other in BHL, what would it be and why?
Scans of the older content in the BHL are probably the most meaningful to my research. These often represent rarely circulated monographs and books that I often don't find outside of the main "hub" libraries. It is my hope that more of these rarities can be scanned and made available to everyone…and that they can be better advertised so that researchers around the world can tap into them.
_____________________________________________________
Thank you so much, Dr. Mah, for taking the time to share your experiences with BHL with us! We're pleased to announce that recently BHL implemented new search functionality, allowing for more Google-like, fuzzy search matching. Rather than having to enter exact citations, users can now submit keyword combinations (and even title abbreviations!) to retrieve results from BHL. Hopefully, this will make your research much more efficient, and we look forward to continually improving these features in the months to come.