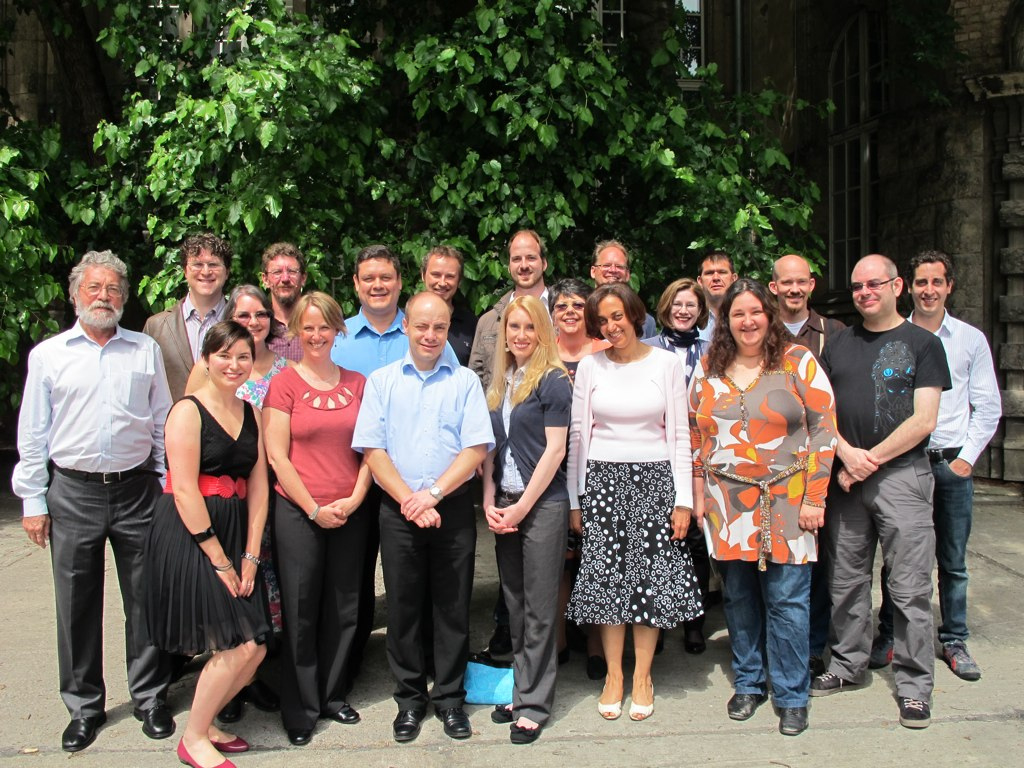 Representatives at the Third Annual Global BHL Meeting. Berlin, Germany
June 2012 was an eventful month for BHL. Among them, following the tradition of previous meetings in Woods Hole(2010) and Chicago (2011), the Third Annual Global BHL Meeting in Berlin, Germany brought together representatives from nearly all BHL members (BHL-China was regrettably unable to attend) to present last year's achievements, discuss current challenges and share plans for the future.
First, each BHL program gave a progress report.  BHL-Australia has scanned approximately 100 volumes, equaling 20,500 new pages, prioritizing literature containing high numbers of species citations. The digitization is carried out by Museum Victoria volunteers under supervision of Joe Coleman (watch him presenting BHL here). Collaboration with developers at the Smithsonian Libraries, using software called Macaw, will soon allow previously-scanned literature to be ingested into BHL. Using OCR text from Internet Archive, BHL-Australia has also implemented a literature tab on the Atlas of Living Australia website that links scientific names and synonyms from the Australia National Species List with pages in the BHL corpus. Current funding from the Atlas project ends in June 2012, so for the next six months, a transition stage will make sure that the digitization process remains as active as it has been up to now.
In Brazil, the BHL-SciELO network is digitizing essential works of biodiversity related to Brazil under Open Access principles, with plans to expand to some of the 16 other Latin American countries active in the SciELO program.  After a recent meeting of BHL-SciELO Brazil and BHL-US/UK staff in Washington D.C., the BHL-SciELO network is now working on the implementation of equipment, software tools and procedures to facilitate digitization and share content through the Internet Archive.  BHL-SciELO is also working on a thesaurus on biodiversity that includes nearly three thousand terms in Spanish, Portuguese and English.
In the Middle East, Bibliotheca Alexandrina (BA) is implementing BHL in Egypt, working on digitization and ingestion of Arabic content and some Latin books. BA is also building a repository that mirrors the current content of BHL.  Currently, almost 20,000 books, out of the 104,000 volumes received from the BHL corpus, are published through a BHL collection in their Digital Assets Repository, which showcases an Arabic-aware (right to left) book reader that allows full-search text on the book's OCR content and handles annotations, highlighting and underlying. A customized website for BHL, featuring Arab region content and new book viewer features designed to extract names information, is under development.
The BHL-Europe project aims to collect all content previously scanned by European consortium members and serve it via one platform, hosted in London.  With the implementation phase now complete, BHL-Europe is one step closer to making European biodiversity knowledge freely available to everyone through a community portal, the Global Reference Index to Biodiversity (GRIB), Europeana, and the Biodiversity Library Exhibitions (BLE).  Ingestion of BHL-US and BHL-Europe monographs, which includes generating OCR, derivative files, and species name finding, is now underway. The ingestion process should be complete by Fall, after which content will be served via Europeana and the BHL-Europe portal, where scientific and common names of species, acronyms and suggested related terms can be searched within the text.  Two particularly valuable products from the BHL-Europe project are the Best Practice Guidelines and Standards, created with the experience learned from the entire workflow implementation process, and the BLE, a great educational tool that adds humanity components to biodiversity literature, built on open source code available to all partners.
Although the BHL-Europe project officially ended in April, 2012, partners are committed to continuing project work. Vienna will continue to provide ingest management, technical support, and software maintenance. Berlin will continue coordination, network management, fundraising and dissemination.  NHM will continue to provide IT infrastructure management, including a technical director.  Partner libraries will continue to help with in-kind contributions, including continued content digitization.  The project will continue to pursue additional funding opportunities.
BHL-US/UK content is growing steadily, boasting nearly 40 million pages, 105,000 volumes and 55,000 titles.  One significant technical development this year has been the consolidation of Macaw, a scanning workflow and ingest management tool, which supports the creation of robust page level metadata and content ingestion.  The software is being utilized by USGS, Museum Victoria and the Smithsonian, with additional partners planning installations in the future. BHL-US/UK's presence on iTunes U has also proved to be a valuable outreach activity, allowing the project to reach audiences outside of the taxonomic community.
Additional BHL-US/UK outreach activities this year include several presentations and booths hosted at major conferences like the American Library Association and dynamic social media activity on Facebook, Twitter, Flickr, and the blog.  BHL's Flickr site has been particularly successful, with 30,000 images and more than 390,000 views in just 10 months.  Related to this effort, BHL was awarded an NEH grant to develop tools to automatically identify images in the BHL corpus and push them into Flickr and other environments. This grant will help BHL achieve the goal of creating linked data objects around these images and crowd-source the associated information needed to make them available to new audiences.
Just like a natural ecosystem, the projects that comprise the Global BHL (gBHL) develop and adapt in different areas but collaborate to support an incredible initiative.  The way forward couldn't be more exciting and promising, as technological agreements were reached among partners at the Global Meeting to use Internet Archive as BHL's common repository. Each BHL project can upload content to and synchronize against IA, allowing the entire BHL initiative to share content and metadata.
Finally, a major milestone resulting from this meeting was the approval of the Global BHL Coordinating Committee bylaws and the election of the new officers for the gBHL Executive Committee (gBHL-EC):  Ely Wallis (MV) as Chair, Henning Scholz (MfN) as Vice-Chair and Nancy Gwinn (SIL) as Secretary.  Their first agreement as new gBHL-EC: next Global BHL Meeting will be held in Australia in late 2013!