Biologia Centrali-Americana & Hispanic Heritage Month
Book of the Week: Biologia Centrali Americana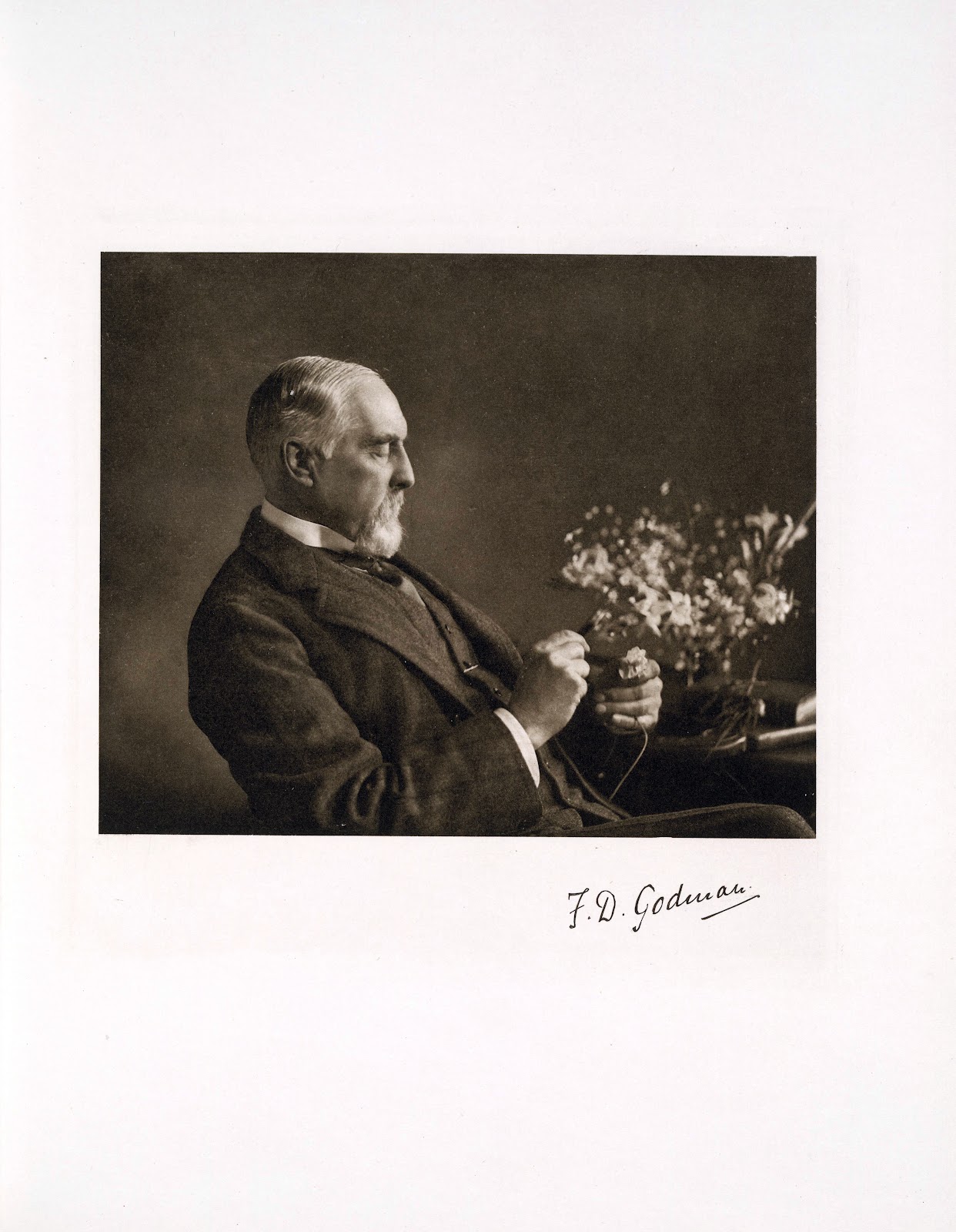 Biologia author Frederick Godman
In 1876, two men by the names of Frederick Godman and Osbert Salvin began work on perhaps the most comprehensive account of the flora and fauna of Mexico and Central America ever undertaken. Entitled Biologia Centrali Americana, this 63 volume work, published over the course of 36 years, relates nearly all information known at the time on the mammals, birds, fish, mollusks, insects, arachnids, and botany in the region. Accompanied by over 1,600 lithographic plates, 900 of which are colored, Biologia Centrali Americana is arguably the single most authoritative work on Mexico and Central America's turn-of-the-century biodiversity and constitutes a perfect candidate to help us celebrate Hispanic Heritage Month!
Great Things have Small Beginnings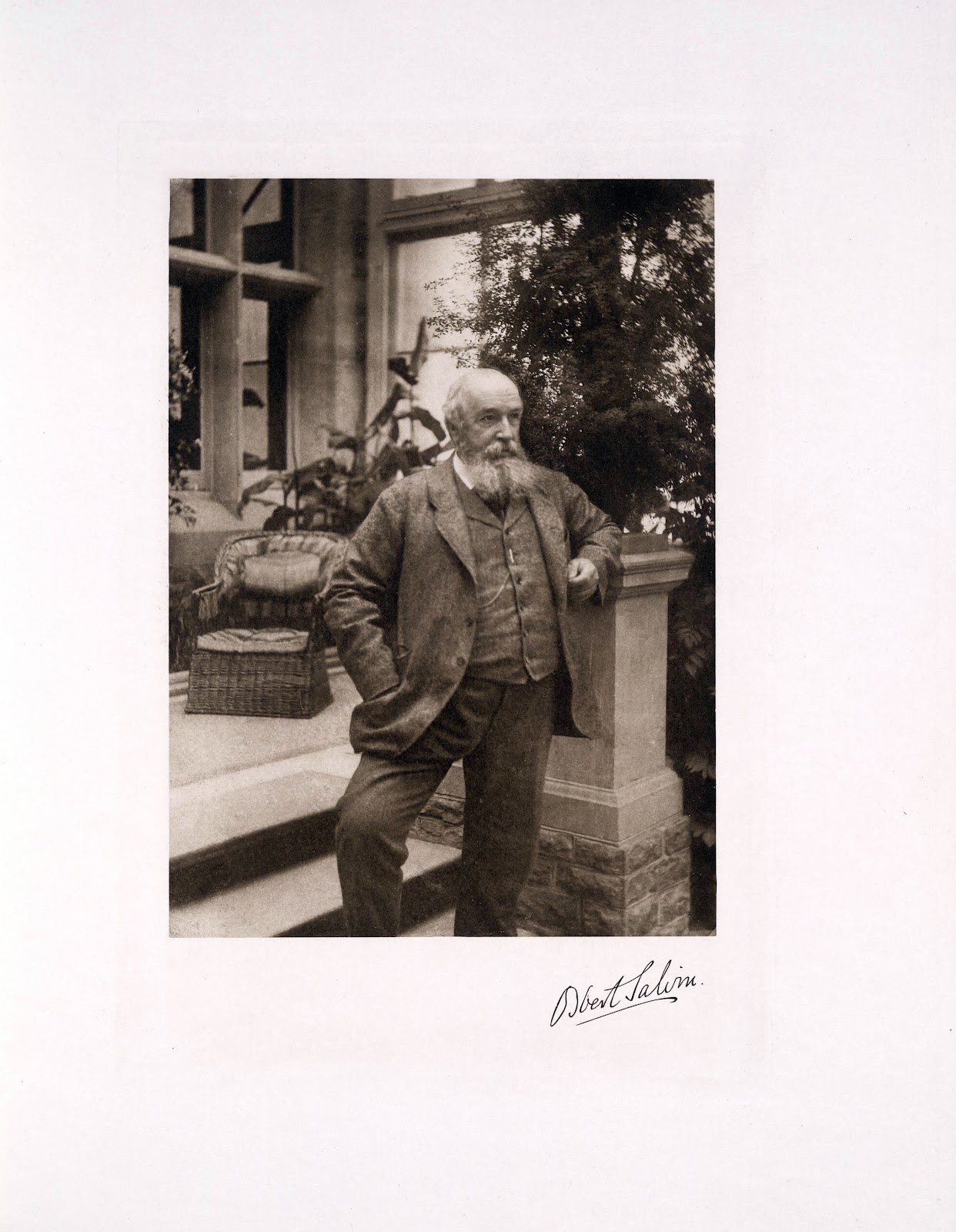 Biologia author Osbert Salvin
Godman and Salvin became fast friends while attending Cambridge, where their mutual enthusiasm for natural history solidified their lifelong friendship. Early interest in ornithology prompted them, along with 18 other friends and young ornithologists, to establish a new, and ultimately extremely influential, journal dedicated to ornithology, the Ibis (learn more about the Ibis in our previous book of the week post).
Welcome to the New World
In Fall, 1857, the pair's first interaction with Central America transpired, when Salvin visited the area to study palm nuts and their potential application in candle making. Finding the inquiry disappointing, Salvin spent the remainder of his time studying the birds and insects of the region, which ultimately led to a publication detailing the 381 known bird species of Central America in the first volume of the new Ibis journal.
Though Salvin returned to England in 1858, he was forever mesmerized by the biodiversity he encountered in Central America. He quickly returned to the area in 1859 and continued collecting bird and insect specimens, which he initially detailed in an article written for the Ibis.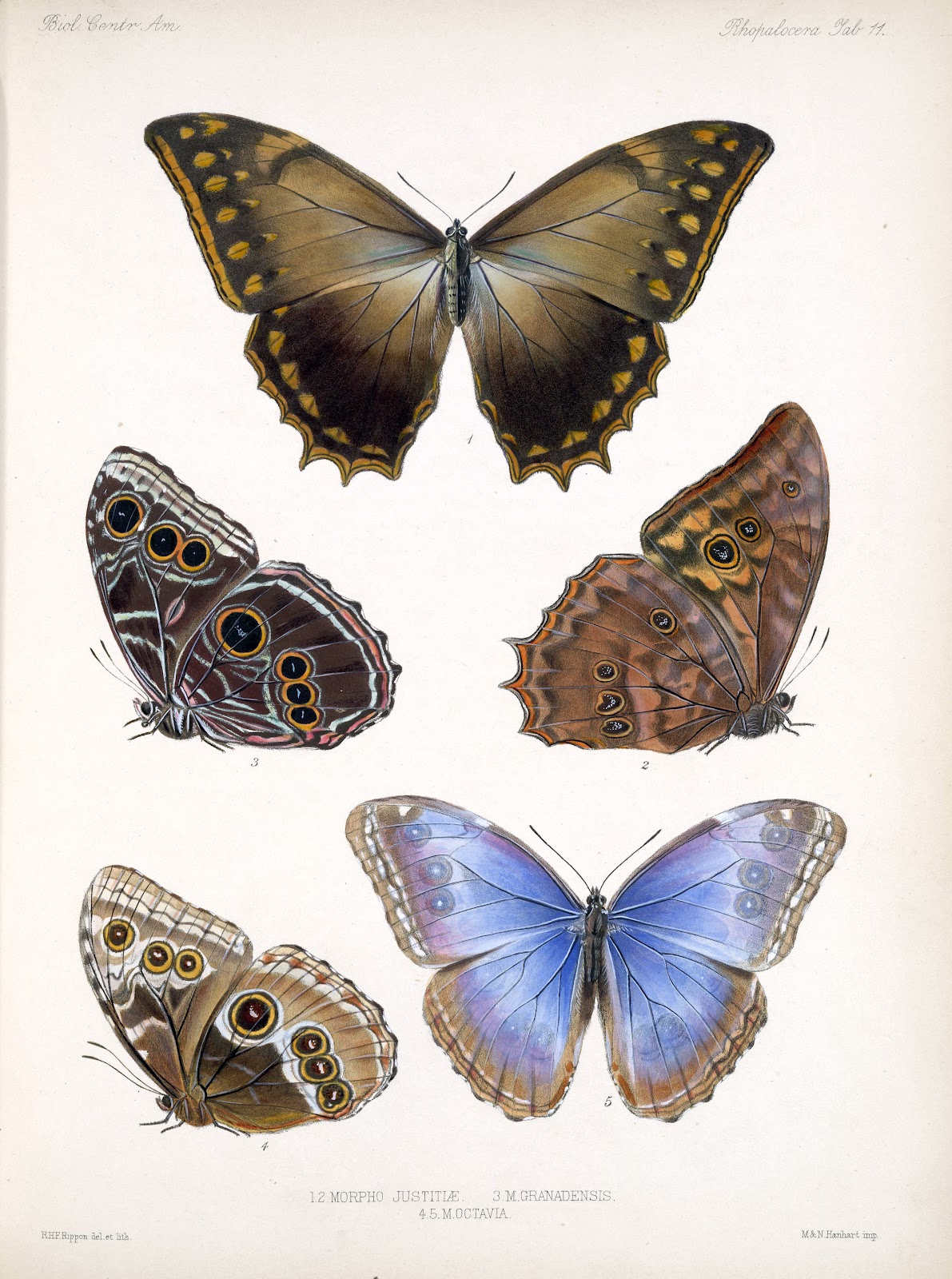 Members of the Morpho genus in Biologia
In August, 1861, Godman joined Salvin on his third expedition to Central America. It was in Yzabal, where the expedition originated, that Godman had his first magical encounter with the region's biodiversity:
This place will, however, always be associated in my mind with my first sight of a living example of one of the most striking and gorgeous of all butterflies, Morpho peleides. I was sitting on the trunk of a fallen tree in the forest, when it came floating past me, but I was so overcome with astonishment and delight at this wonderful vision that, although I had a butterfly net in my hand, I was utterly unable to rise in pursuit until it was too late to capture it.
Godman and Salvin spent nearly two years trekking through Central America, exploring, to name a few, Quirigua, Zacapa, Guatemala City, Duenas, Escuintla, San Germonimo, Coban, Cubilguitz, and Choctum, and collecting a wide range of specimens, including birds, butterflies, and fish. Salvin describes the pragmatic method by which he obtained fish specimens in the Rio Grande:
…I employed Indians to poison some nine miles of the water in order to make a collection of fish…The method adopted for this purpose was to beat the plant (Tephrosia toxicaria) on the rocks until a froth not unlike soap-suds was formed, this when mixed with the water caused the fish to sicken and some to the surface…Vast numbers were obtained, and from them I made a selection and preserved a good many specimens in spirit (aguardiente), but was somewhat disappointed to find there were but few species represented.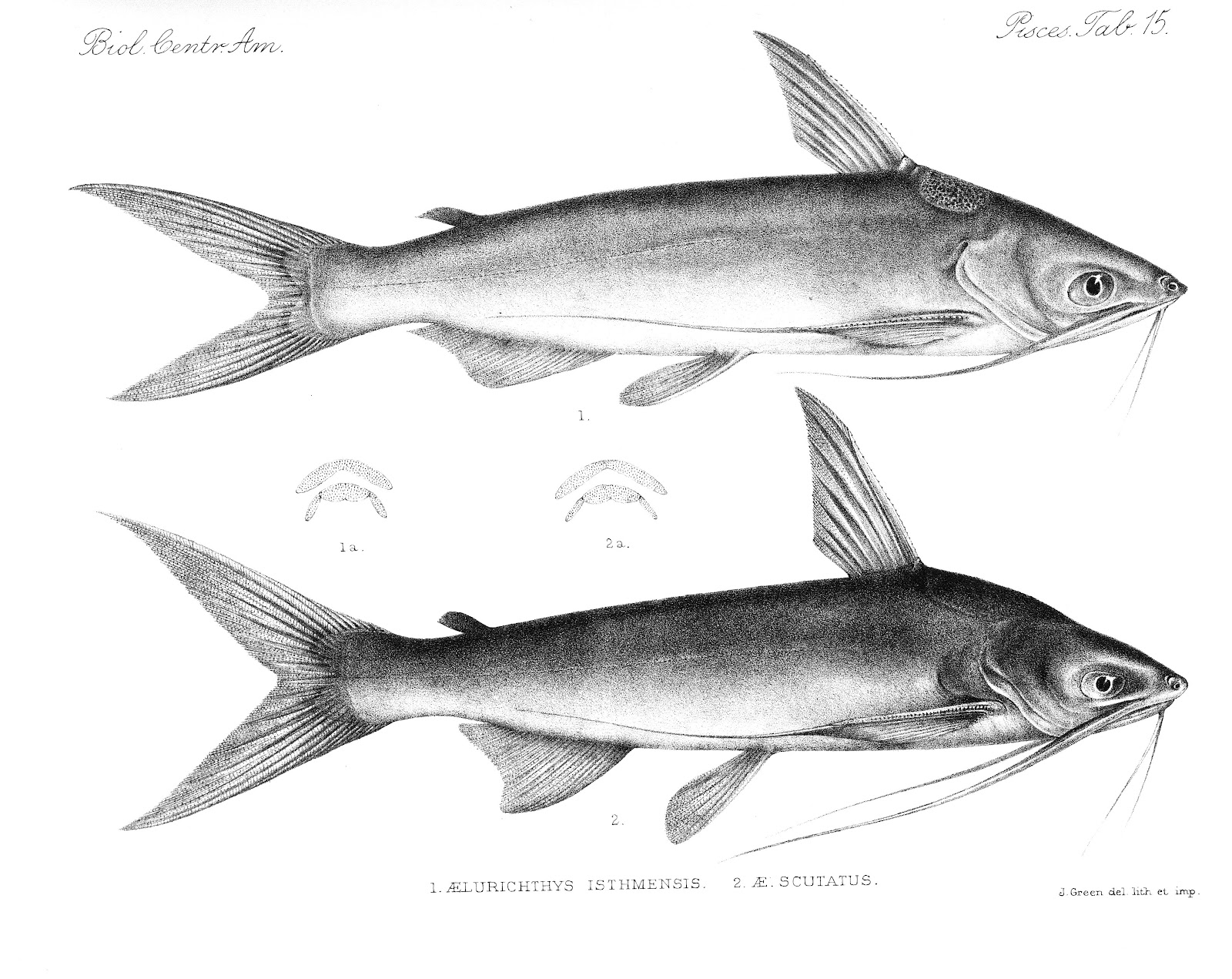 Fish of the genus Ailurichthys in Biologia
Though this first joint expedition ended in 1863, Godman and Salvin traveled back to the New World many times to study and accumulate more specimens (including trips to Mexico in the late 1880s), often bringing along additional subject specialist. Salvin's wife, Caroline Maitland, accompanied Salvin on his final voyage to Central America, during which time she painted the illustrations of the flora found in the botanical volumes of Biologia.  The pair also employed various collection experts to gather specimens in specific region for their growing body of preserved Central American wildlife.
A Monumental Undertaking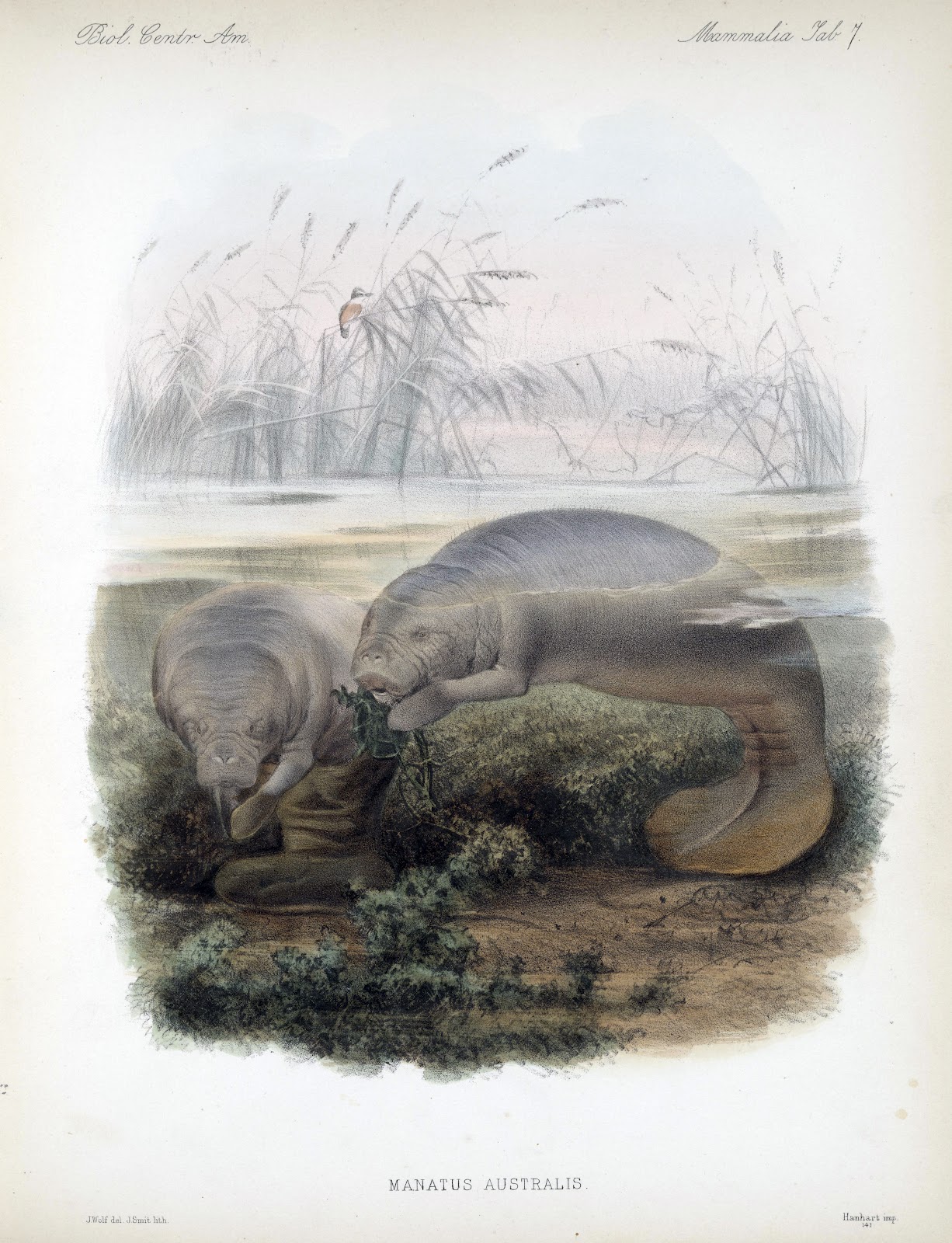 The Manatee in Biologia
In 1876, the suggestion to publish a comprehensive work describing the biodiversity collected in Central America sparked the origins of Biologia. Originally intended to be published in six quarto parts a year, each supplemented with six colored plates, resulting in a total of 60 parts over 10 years, the continuous supply of fresh specimens, and abundance of material to be published, necessitated a total of 215 parts in zoology, 5 volumes in botany, and 17 parts in archaeology, spanning 36 years of publication.
Godman and Salvin worked diligently on the title until June 1, 1898, when Salvin unexpectedly died. At the point of his death, only 141 of the 215 parts of Zoology and 8 of the 17 parts of Archaeology had been completed (all botany volumes were completed at the time of Salvin's death). With help from additional authors, Godman persevered "with a heavy heart," and in 1915, the final part was issued, bringing this monumental undertaking to a close.
New World Feathers
As Godman and Salvin were both avid ornithologists, and as their publishing enterprises together began with an ornithological journal, we thought it fitting to feature the Aves Atlas from Biologia Centrali Americana in our post. The Atlas contains 79 plates illustrating the species found in the three previous bird volumes.
Godman relayed particular frustrations, and ultimate triumphs, with describing the birds of Mexico. As he outlines:
In working out the Mexican Birds we found ourselves hampered for want of an authentically named collection of North American species for comparison, which did not exist in Europe at that time. In order to remedy this, I acquired the Henshaw collection, numbering 13,326 specimens, and this was rendered still more valuable through the courtesy of the authorities at the United States National Museum, who allowed Mr. Ridgway, the highest authority in America, to go through and verify all the names on the labels attached.
As the Smithsonian (National Museum of Natural History) paid a key role in deciphering the ornithological specimens contained in this work, it is no wonder that they, in collaboration with many of our other BHL partners, would build a virtual exhibition dedicated to Biologia.
We've presented a few of our favorite illustrations from the Aves Atlas below. Be sure to check out all of the images on Flickr and the entire set of Atlases in BHL. Delve even further into these illustrations with our Book of the Week Pinterest board.
Finally, check back on our blog, Twitter, Facebook and Flickr for more posts celebrating Hispanic Heritage Month!
We hope you enjoyed this post. Interested in guest-blogging for BHL? We'd love that! Natural history, biodiversity and conservation topics are especially welcomed. Email us your ideas at feedback@biodiversitylibrary.org.