BHL and Our Users: Dr. Dieter Oschadleus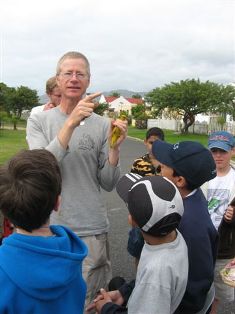 Dr. Oschadleus with a male Cape Weaver
In June, 2012, six BHL-US/UK staff members, representing three BHL member institutions, traveled to Cape Town, South Africa, to attend an organizational meeting for BHL-Africa. In addition to the U.S. participants, the meeting also brought together twenty African colleagues from six countries, all dedicated to participating in our newest global initiative. Many of these colleagues are librarians themselves, and share BHL daily with patrons at their own home libraries.
One such individual, whom we interviewed several months ago, is Margaret Koopman, a librarian at the ornithological department at the University of Cape Town. She suggested that we also interview one of her patrons, a frequent user of BHL: Dr. Dieter Oschadleus. Dr. Oschadleus was gracious enough to agree to the interview, which we are proud to present below.
What is your title, institutional affiliation (or alternative place of employment), and area of interest?
I am a Doctor in the Animal Demography Unit at the University of Cape Town. I am interested in all aspects of the weaver family Ploceidae.

How long have you been in your field of study?
About 2 decades.

When did you first discover BHL?
Several years ago.
What is your opinion of BHL and how has it impacted your research?
Brilliant! It has helped me to obtain many references quickly and easily and for free, particularly those with historical / early references to weavers.

How often do you use BHL?
A lot, but on an irregular basis – sometimes days or weeks may go by without using it, but sometimes I may spend hours searching or downloading references.
How do you usually use BHL (read the titles online/download whole PDFs/Selecting Pages to Download for a custom PDF/Downloading High Resolution Images/Generating Taxonomic Bibliographies/etc.)
Mostly download whole PDFs.
What are your favorite features/services on BHL?
I like the fixed web address for journals, eg www.biodiversitylibrary.org/bibliography/8115 for Ibis; The map function is great (recently discovered)!
If you could change one thing about BHL, what would it be, or what developmental aspect would you like the BHL team to focus on next?
Filling gaps where they sometimes exist in journal series (I realize that few copies may exist in some cases, but all the more reason to get them digitized!)
If you had to choose one title/item in BHL that has most impacted your research, or one item that you prefer above any other in BHL, what would it be and why?
There are many. To give one example: Die Vögel Afrikas, von Ant. Reichenow
As we continue to dedicate efforts to bringing BHL and its resources to all reaches of the globe, we're excited to hear from our global users about the impact BHL has on their work. We send a sincere thanks to Dr. Oschadleus for his participation in this series. Thanks for tuning in to BHL and Our Users, as we strive to bring you more insight from our international users in the months to come!
If you're interested in being interviewed on our blog, leave a comment on this post, send us feedback, or email us as feedback@biodiversitylibrary.org.
* Photo of Dr. Oschadleus by Lynne Roscoe