Celebrating Hispanic Heritage Month: Rafael Montes de Oca
Book of the Week: Ensayo Ornitologico de los Troquilideos ó Colibries de Mexico
Continuing our series for Hispanic Heritage Month, we are taking a look at a beautiful little treasure of a book by Mexican author, illustrator, teacher, and naturalist Rafael Montes de Oca.
Montes de Oca worked as a naturalist on the Mexican-Guatemalan Boundary Commission and collected many plant specimens which are now in the herbarium of the National Autonomous University of Mexico (MEXU). He collected throughout Mexico, including Soconusco (Chiapas), Oaxaca, Puebla and Xalapa (Veracruz). However, it is his work with Mexican hummingbirds that gained him popularity among the scientific and artistic communities.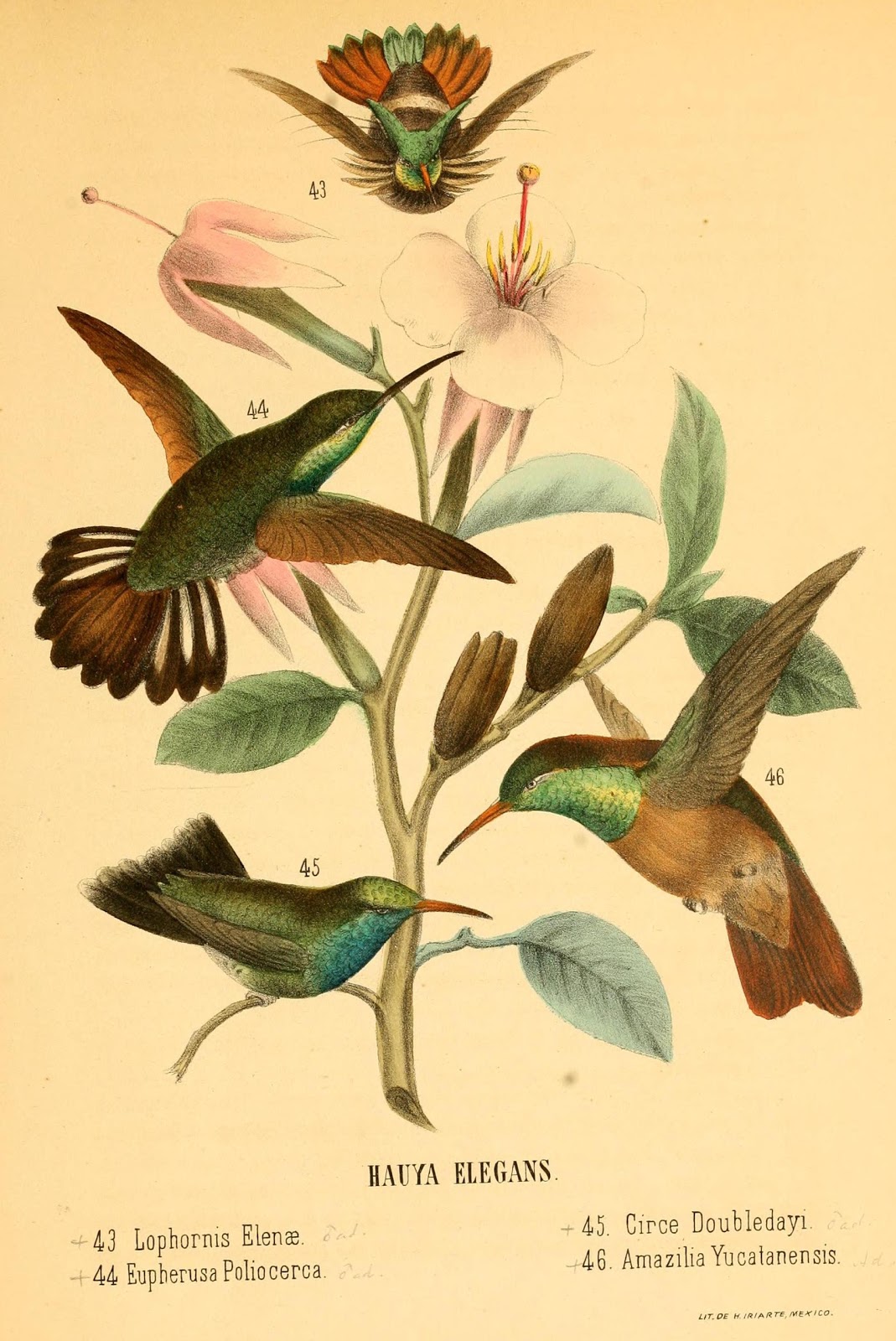 As early as 1860, Montes de Oca was published and recognized for his work on Mexican hummingbirds in the Proceedings of the Zoological Society of London and the Proceedings of the Academy of Natural Sciences of Philadelphia. Montes de Oca had several influential papers published in La Naturaleza, a scientific journal dedicated to the study of the natural history of Mexico and he had even included three plates from what would eventually become our Book of the Week.  In 1875, the first edition of Ensayo Ornitologico de los Troquilideos ó Colibries de Mexico was published with the descriptions of forty-eight Mexican hummingbird species, forty-six of which had beautiful accompanying illustrations. The illustrations are very reminiscent of John Gould's masterpiece, A Monograph of the Trochilidae or Family of Humming-Birds (which you can read more about from a previous BHL Blog).
What makes this particular copy, supplied by the Smithsonian Libraries to BHL, extra special is the dedication on the portrait page. It reads, "To the Smithsonian Institute of Washington, Mexico November the 30th 1875."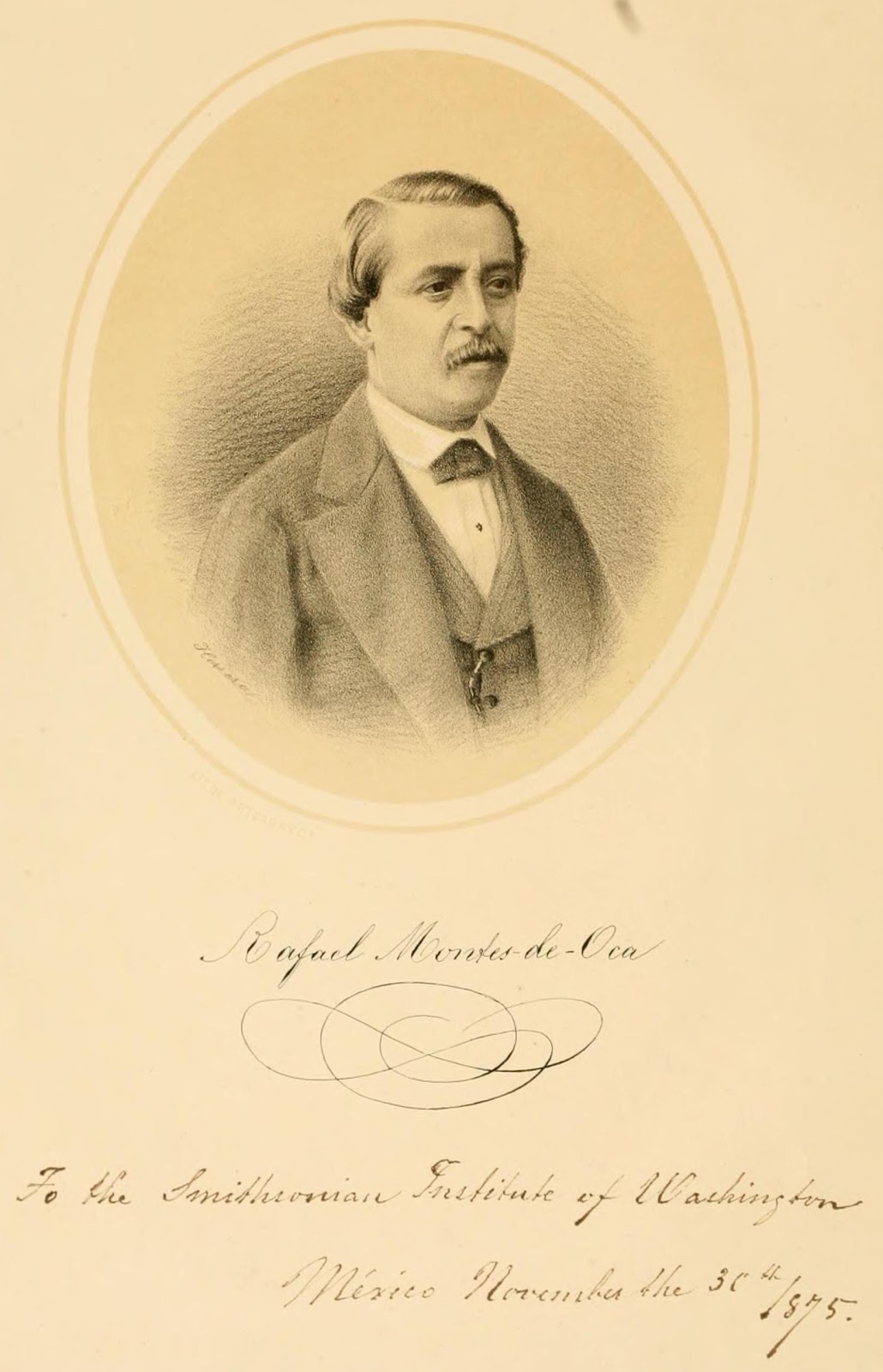 There is another surprising tidbit about Montes de Oca's phenomenal work.Montes de Oca had also created a series of watercolors of Mexican hummingbirds and orchids titled Monografía de los colibríes y apuntes sobre las principales orquídeas de México, which despite the positive response to Ensayo Ornitologico, he could not get published. This work would eventually be published posthumously in 1963 by Carolina Amor de Fournier, under the titleHummingbirds and Orchids of Mexico, about 90 years after its creation!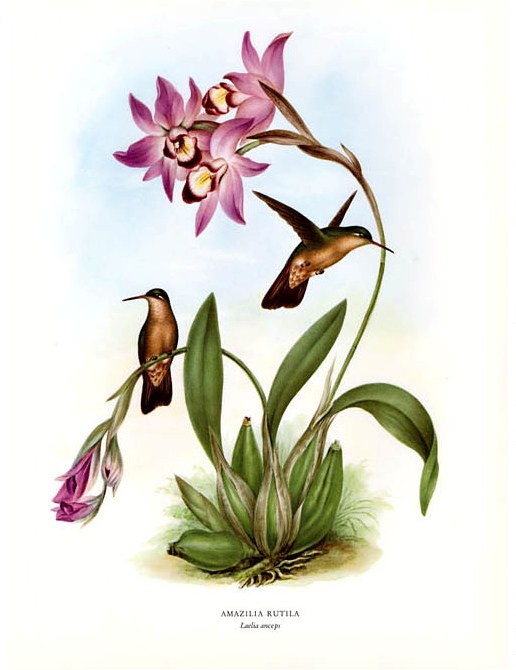 From Hummingbirds and Orchids of Mexico (Courtesy of StudioBotanika).
When he believed that it was never to be published, Montes de Oca had eventually given his watercolors and manuscript to Amor de Fournier's grandmother, his former student.  She kept it in the family until Amor de Fournier was able to get it publishing in limited editions.  Most of the illustrations can be seen at StudioBotanika. Both the scientific and artistic communities should be breathing sighs of relief that these beautiful images were not lost.
Be sure to check out all of the images from Ensayo ornitologico de los troquilideos ó colibries de Mexico on Flickr and check out more select images from this and other previous Books of the Week at BHL Pinterest!
Finally, check back on our Blog, Twitter, Facebook and Flickr for more posts celebrating Hispanic Heritage Month!
We hope you enjoyed this post. Interested in guest-blogging for BHL? We'd love that! Natural history, biodiversity and conservation topics are especially welcomed. Email us your ideas at feedback@biodiversitylibrary.org