Guess Whose 228th Birthday is Today?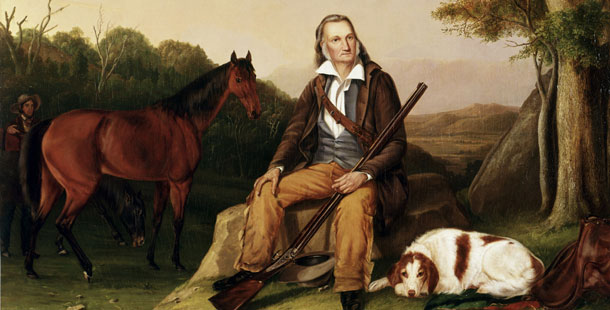 John Woodhouse Audubon, John James Audubon (1785-1851). Oil on linen.
It's time to take a break from work and celebrate John James Audubon's Birthday with the BHL! This was the man who is best remembered for his masterpiece Birds of America which is arguably the most prized Natural History work in existence. Just last year, the Smithsonian successfully digitized their entire set of all 435 copperplate etchings that contain 1,065 life-size birds representing around 500 species. Audubons' birds are now available to be enjoyed and freely downloaded by all.
Book of the week: The Birds of America by J. Audubon
Audubon, the man, has been immortalized in history books as a larger than life figure. His life-story transcends the typical ins and outs of human existence and mirrors more closely a Romantic era novel extolling the promise of the American dream. His story follows the monomyth plot, i.e. the "Hero's Journey", that we readers so delightfully relish in: French man is born of low-birth (his father's illegitimate child), called forth to adventure in the New World, undergoes a series of challenges and failures, overcomes a terrible rock-bottom, only to become wildly successful overnight and live happily ever after as a legendary ornithologist and illustrator, retiring on his wildlife sanctuary estate in America. Last year's Audubon birthday post covered some really important biographical details and is definitely worth a read. However, this year we decided to scrounge-up some lesser-known juicy tidbits to humanize this incredibly famous bird lover. He may have been one of America's great men, but he was also just like you and I. Well, sorta.
Lesser Known Facts About Audubon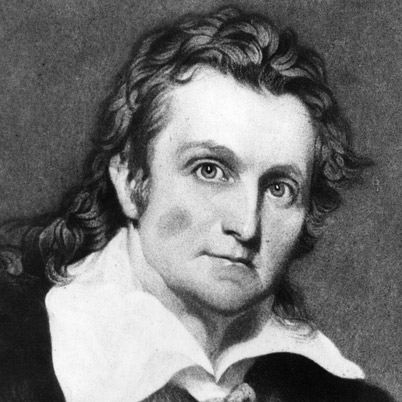 Laforest, the Popinjay
Audubon might have had better hair than you
Audubon was extremely handsome in his youth. And he knew it. He actually refers to himself as a "popinjay" in his journals. He and everyone else were particularly enamored with his hair: "My locks flew freely from under my hat, and every lady that I met looked at them and then at me until – she could see no more." We have to admit his hair was pretty fantastic and in no portrait of him is it ever seen shorn. Long hair, don't care!
Audubon had a secret codename
It was "Laforest." Okay, maybe it wasn't a secret codename but rather his second middle name that always gets dropped-off when people refer to him. Only his father and his wife ever called him by this name. In a letter to a Mrs. Rathbone in 1827 he writes, "My name is John James Laforest Audubon. The name Laforest I never sign except when writing to my wife, and she is the only being, since my father's death, who calls me by it." Evidently the name held sacred meaning for Audubon's most dearly beloved.
Audubon was jailed how many times? 
Three times that we were able to count, maybe more. Audubon was notoriously poor at managing his finances and was arrested for financial hardships and debts in the years of 1819, 1828 and 1833. These dates are according to several biographies that you may read on the BHL, however there may have been even more undocumented arrests. Clearly this man just wanted to chase birds; he certainly wasn't cut out to be hedge fund portfolio manager — but, aren't we all rather glad of it?
Rats not jail-time were the cause of Audubon's "rock-bottom"
Rats you say? Yes, the years between 1815-1820 were a very inactive period for Audubon in regards to ornithological endeavor. He pretty much turned his back on birds entirely. Many speculate that he gave-up on his dream for a time after he left hundreds prints in the care of a relative that remains unknown to this day. While his illustrations were in this relative's care, rats had decided to nest and make their new family using the box that held Audubon's bird illustrations as the material for their new home. Upon returning from a business trip, John James found his watercolor masterpieces shredded to bits. Naturally, he was crushed at the site of the ruined heap which represented thousands of observation and illustration hours in the field. Audubon needed a period of mourning, weeping, and insomnia before he resurfaced years later with the most incredible illustrations of birds the world had ever seen. Call him the comeback kid!
"Minnie's Land"
Where did this adventurous fellow call home?
Believe it or not you can still visit Audubon's home even though it was levelled in 1931 by a developer after it was deemed irreparable. Where? Online, of course. "Minnie's Land" was Audubon's final American home and it was located just outside of New York City along the Hudson at 155th and 156 Streets just west of Riverside Drive.
Historical price tag for Birds of America
The original cost of the double-elephant folio work of life- sized birds was $1000 for the entire subscription series. This was an exhorbitant amount at the time (1838) but, considering that the work sold at an auction in December 2010 for a record-breaking 11.5M, its original price seems like a bargain. According to Audubon he believed there to be about 175 copies of Birds of America in existence and that around 80 were in America. It's speculated that 119 complete sets have survived.
Audubon was a man of many talents
Besides being a walking bird encyclopedia, Audubon was a great dancer, marksman, fencer, musician, horseman, basket weaver, and of course quite the lady killer
Birds of America That Are Now Extinct
By the time Audubon was finishing his masterpiece he began to notice a decline in bird populations. Once an avid hunter, like Teddy Roosevelt, he quickly changed his tune and became a champion of conservation. In his writings, he often laments about decreasing species populations.  In fact, six species that were alive during Audubon's time are now considered extinct. Luckily, we have Audubon's depictions of these birds that once flourished here in America, as they no longer can be observed in wild: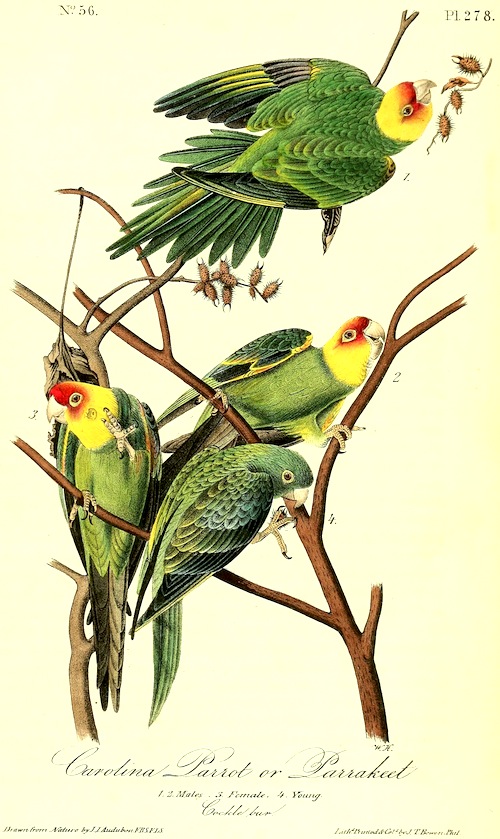 Carolina Parakeet = Conuropsis carolinensis (Linnaeus, 1758)

According to Audubon, the Carolina Parakeet was an avid fruit eater and thus found itself a favorite target for angry farm owners.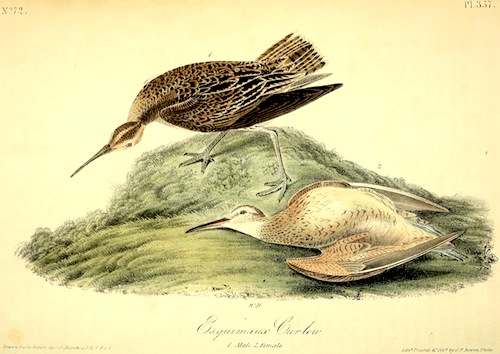 Eskimo Curlew = Numenius borealis (J. R. Forster, 1772)
Also called the "Dough Bird," because these birds were known to engorge themselves on their favorite foods:  grasshoppers and berries. These sea-shore dwelling birds thus became the favorite meal of hunters.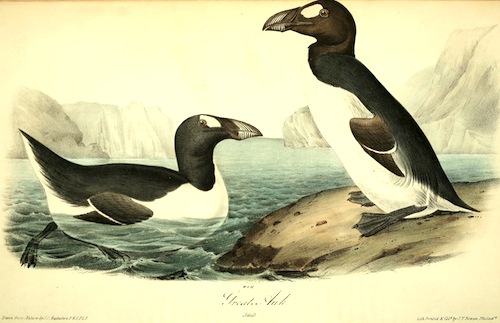 Great Auk = Pinguinus impennis (Linnaeus, 1758)
Of these six extinct bird species, the Auk is one that Audubon never actually was able to observe in the field. Their populations had already dwindled to near extinction in his time.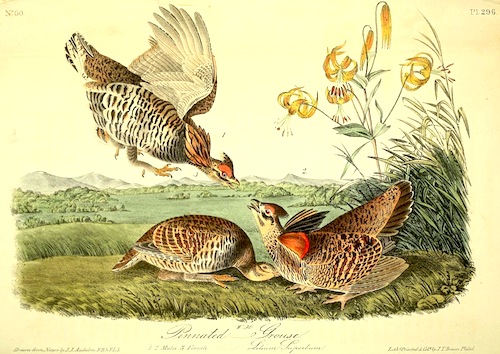 Pinnated Grouse = Tympanuchus cupido (Linnaeus, 1758)
Audubon's first observation of the Pinnated Grouse came 25 years before the publishing of Birds of America. He remarked in his accounts that once this species was incredibly common to see and was somewhat shocked at how quickly it was being driven to extinction. Some sub-species of this hen are still in existence so there is still some hope that they won't be completely wiped-out.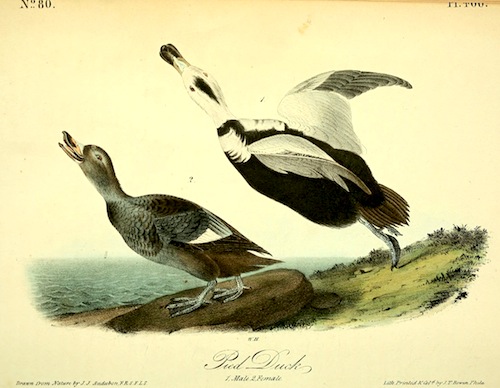 Pied Duck or Labrador Duck = 
Camptorhynchus labradorius (Gmelin, 1789)
According to hunters, this duck tasted bad and causes for their extinction remains a bit of mystery. Always a rare species, many speculate that a decline in their food supply of mollusks and mussels accounts for their eventual disappearance.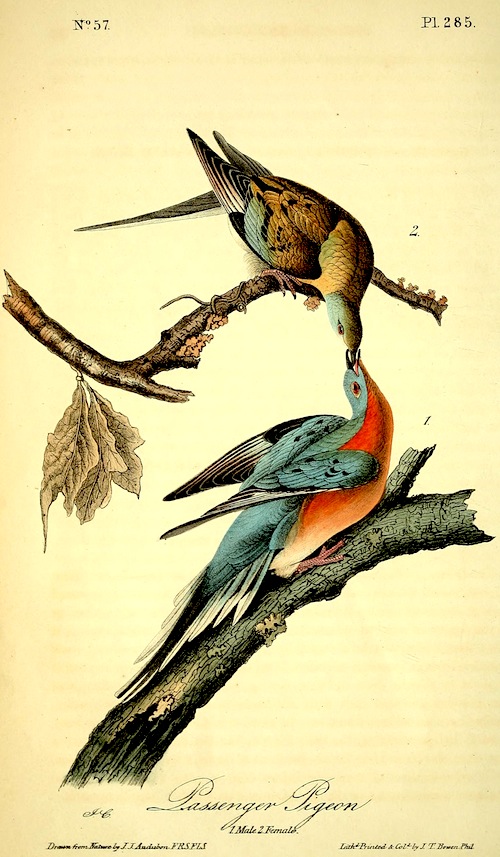 Passenger Pigeon = Ectopistes migratorius (Linnaeus, 1766)

The passenger pigeon was one of America's most amazing birds. Audubon calculated that they could travel between 300-400 miles in six hours which is almost a mile a minute. This means that the Passenger Pigeon would be able to travel from America to Europe in less than three days!
View all of Audubon's engravings @ Biodivlibrary's Flickr! Free downloads!
While it is very unfortunate that these six bird species no longer exist on this planet, there is still much YOU can do as a citizen scientist to save Audubons' birds of America that are on the endangered species list. These species include the Californian Condor, Bachman's Warbler, Red-cockaded Woodpecker, and the Whooping Crane.
Ornithologists and birders should take pause today to remember our dear Laforest, who like so many Nature lovers often looked to escape everyday life and venture deep into the wilderness in search of the sublime:
"Thus almost every day, instead of going to school when I ought to have gone, I usually made for the fields, where I spent the day ; my little basket went with me, filled with good eatables, and when I returned home, during either winter or summer, it was replenished with what I called curiosities, such as birds' nests, birds' eggs, curious lichens, flowers of all sorts, and even pebbles gathered along the shore of some rivulet" – Audubon and His Journals (1899)
Audubon, will be remembered as man who was adventurous, fearless, passionate, and incredibly talented but, also flawed and very human. He had much to teach us about how a life should be lived, reminding us that while we are given a short time here on this Earth we must make the most of it. He was man who lived in his work and his work will live on forever.
Birder Links
The Academy of Natural Sciences | Audubon Page Turning
The Viviparous Quadrupeds of North America.
New York Historical Society | Audubon's Aviary
Audubon Society | Citizen Science – Get involved!
Cornell Lab of Ornithology | Citizen Science
BHL Twitter: #Audubon #BirdsOfAmerica
Birds of America | State Bird Database
We hope you enjoyed this post. Interested in guest-blogging for BHL? We'd love that! Natural history, biodiversity and conservation topics are especially welcomed. Email us your ideas at feedback@biodiversitylibrary.org