Every year, approximately 10,000 librarians gather together in one place to network, learn about emerging library trends and technological developments, and share their knowledge and expertise with colleagues. They call it ALA Midwinter (ALA = American Library Association), and this year it's in Seattle, Washington, January 25-29, 2013.
Last year, we took advantage of this opportunity to showcase BHL to over 6,000 attendees and nearly 4,000 exhibitors at ALA Midwinter 2012 in Dallas, TX. Along with our friends at the Encyclopedia of Life (EOL), BHL staff co-hosted a booth during the four days of exhibits. We not only engaged in meaningful conversations, answered a multitude of questions about the projects, and highlighted our beautiful Flickr images, but we also gave away great goodies, including brochures, pens, notepads, Post-It notes, bags, cups, and, of course, candy.
The enthusiasm displayed by booth visitors prompted us to repeat the experience at this year's midwinter meeting. This time, we're bringing along our friends from the Smithsonian's Field Book Project.
The Field Book Project aims to "create one online location for scholars and others to visit when searching for field books and other field research materials." To do this, the project is building the Field Book Registry, which will serve as a single access point for field book content both at the Smithsonian and throughout the country. Currently, the project is focused on identifying, locating, and cataloging the field books at the Smithsonian. Recently, the Field Book Project released 6,679 detailed catalog records describing field books from over 542 Smithsonian collections. The project has also received funds to conserve and digitize a portion of these field books.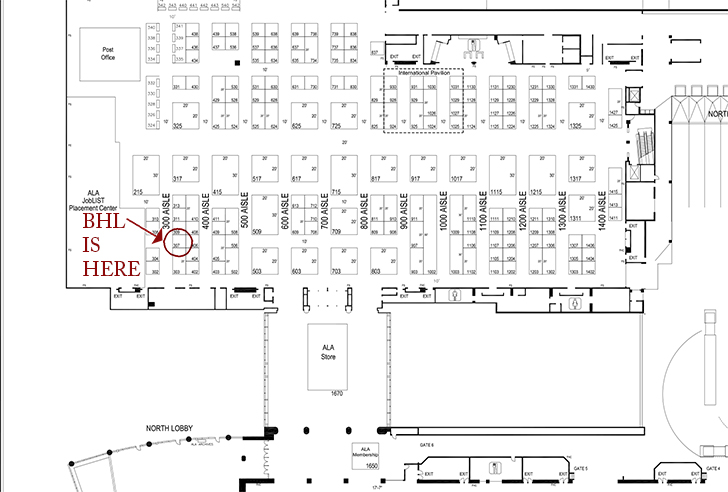 The BHL and Field Book Project booth, #307, at ALA Midwinter 2013
5:30pm, Friday, January 25, 2013, marks the opening reception of the ALA Midwinter Exhibits, which remain open until 3pm, Monday, January 28, 2013 (see full exhibits schedule here). You can find BHL and the Field Book Project at booth 307 (see booth location on exhibit floor plan, above). BHL Collections Coordinator Bianca Crowley and BHL Program Manager Grace Costantino, along with Project Manager for the Field Book Project, Carolyn Sheffield, will be on site for the duration of the conference. We'll be live demoing our website, showcasing our fabulous Flickr site, and handing out some great swag, including stickers, buttons, pens, brochures, business cards, and more. Plus, we'll be holdings raffles for even more snazzy things, including matted prints of BHL images and greeting cards featuring some of our favorite illustrations in the collection. And lest we forget, there will be candy!
Guest appearances from other BHL staff, including the Program's Director, Martin Kalfatovic, and Executive Chair, Nancy Gwinn, are also expected, so be sure to check back regularly for your chance to meet our celebrities in person!
We hope to see you at ALA Midwinter 2013, starting next week. We're eager to spread the word about the important work we do to help improve the efficiency of scientific research around the globe and ensure that the published record of biodiversity knowledge is freely available to everyone, everywhere.
What? BHL and Field Book Project booth at ALA Midwinter 2013, Seattle, WA, Jan. 25-29, 2013 (For more information on the booth, click here and search under "B" for Biodiversity Heritage Library/Field Book Project)
Where? Exhibit Hall = 4th Floor Halls, Booth #307
When? Booth will be open from 5:30pm, Friday, Jan. 25 – 3:00pm, Monday, Jan. 28 (see exhibit site for more details on hours)
Why? Learn all about BHL and the Smithsonian's Field Book Project with your chance to ask questions of staff, engage in lively conversations, and view live demos of the sites and affiliated content. Plus, we'll be handing out great free stuff! Don't miss it!