Celebrating Women's History Month: Jeanne Baret, the Man who was a Woman
March is Women's History Month, and BHL is celebrating by highlighting women that have made valuable contributions to biodiversity science.
All this week, we're publishing tweets and Facebook posts honoring notable women in natural history. We've also created a special collection in BHL featuring books written or illustrated by, or relating the contributions of, incredible female botanists, zoologist, explorers, and illustrators. We've made a selection of these titles available for free download in iTunes via our thirteenth iTunes U Collection: Notable Women in Natural History. Finally, we've gathered some of our favorite images illustrated by these illustrious women, or from publications written by them, and made them freely available for download and reuse in Flickr.
Today, we want to highlight an exceptional woman from natural history's chronicles: Jeanne Baret, or, as she was known during the time she spent as a man, Jean Baret. We've asked Baret expert, and former Life and Literature speaker, Dr. Sandra Knapp, to share this woman's fantastic experiences and contributions to scientific exploration and discovery.
Jeanne Baret: Around the World 250 Years Ago, Dressed as a Boy!
By Dr. Sandra Knapp
Voyage autour du monde, par la frégate du roi La Boudeuse, et la flûte L'Étoile; en 1766, 1767, 1768 and 1769
'Yesterday I checked on board the Étoile a rather peculiar event. For some time, a rumour had been circulating on the two ships that Mr de Commerçon's [sic] servant, named Baré, was a woman. His structure, his caution in never changing his clothes or carrying out any natural function in the presence of anyone, the sound of his voice, his beardless chin, and several other indications had given rise to this suspicion and reinforced it.' (De Bougainville's Journal, 28–29 May 1768).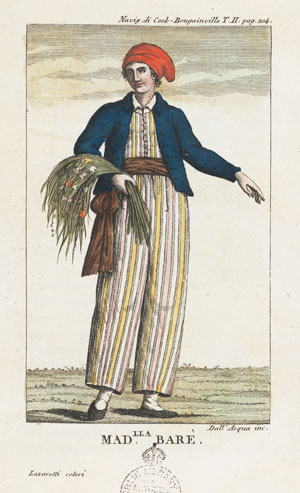 Cross-dressing seems to have been a botanical fad in the 18th century – the great Swedish botanist Carl Linnaeus (responsible for the system by which we name animals and plants today) famously posed in an authentic Sami costume from Lapland, not realising it was a woman's outfit. Jeanne Baret (or Baré or Barrett – spelling was not as fixed and consistent in the 18th century as it is now) dressed as a boy to accompany the voyage of Louis-Antoine de Bougainville in circumnavigating the globe; the voyage itself was an exercise in saving face after the disastrous French defeat to the British during the Seven Years War (when Britain gained control of Quebec). The intrepid Baret certainly saw more of the world than the notoriously stay-at-home Linnaeus, even though her name today is not well-known.
The world of exploration in the 18th century was an overwhelmingly male one, so the story of the young woman who dressed as a man to explore the world has immense appeal. De Bougainville set off on the voyage in 1766 – this was the first French circumnavigation and the first of any nation to have on board professional naturalists to observe and record the plants and animals of new lands. The "professional" naturalist accompanying the voyage was Philibert Commerson (often spelled Commerçon); a friend of Voltaire's and a correspondent of the great Linnaeus himself. Jeanne Baret, of peasant stock from the countryside in Burgundy, was Commerson's housekeeper and lover–what we today would call his common-law wife. Jeanne was an "herb-woman" with knowledge of plants and their properties useful to Commerson –his teacher rather than only his assistant. She was obviously adventurous and had considerable determination and sticking power – it had to be difficult to overcome not only gender but class barriers in order to stow away on the ship and even trickier to survive once her secret was out. The collaborative partnership between Baret and Commerson in the discovery of the botanical and zoological wonders is unique in the history of science.
Women's disguising themselves as men was not unknown – Hannah Snell dressed as a man and enlisted in the British Marines in 1745, serving for 5 years including tours of India; her book The Female Soldier, published in 1750, was immensely popular. Just how Jeanne Baret came to dress as a young man and accompany Commerson as his assistant Jean Baret on the voyage is not known – De Bougainville's official accounts of the voyage rather coyly place her "unmasking" in Tahiti. It does slightly beggar belief that a woman, however skilled at disguise, could conceal her gender on a ship for many months, where everyone lives cheek by jowl – but look at Hannah Snell! The journal kept by the ship's surgeon François Vivès is the source for Glynis Ridley's (1) contention that Baret was alone, unprotected by Commerson and sexually violated by the sailors from the Bondeuse and Étoile. That his diary is dripping with sexual innuendo is without doubt; he sounds a thoroughly unpleasant sort. Rather than on Tahiti, which the ships passed in April and May of 1767, Vivès puts the site of Baret's unmasking and violation in June on the shores of New Guinea. De Bougainville's story may have had more to do with his linking the discovery of Jeanne's gender to the open society of the island; he was one of the first to romanticise Tahitian ways of life and love.
Collecting plants is great fun, both Commerson and Baret must have been amazed at the wealth of diversity they encountered. Commerson wrote of Madagascar "I can announce to naturalists that this is the true Promised Land. Here nature created a special sanctuary where she seems to have withdrawn to experiment with designs different from those used anywhere else. At every step one finds more remarkable and marvellous forms of life." In notes on specimens Commerson honoured high-ranking members of the expedition – the leader is commemorated in the lovely tropical vine Bougainvillea, Nassau-Siegen in Nassauvia, but Commerson himself did not publish any of these; he never made it back to France to write up the fruits of the teams' labours. Bougainvillea was not formally described until 1789, and then only by Antoine Laurent de Jussieu, a French botanist who used Commerson's specimens and his notes (2). It is interesting to see that early on in the voyage, in Brazil, many plants are "named" for members of the expedition, but later collections have more cursory notes, although he did propose Baretia for a Malagasy tree. Commerson's Baretia was never published, not because someone wanted to do Jeanne Baret down, but that by the time the specimen made it back to Paris and into the hands of botanists, it was found that the genus already had a name; the principle of proirity had become the modus operandi for naming. After Commerson's death, Jeanne married on Mauritius and returned to France in 1774. She was awarded a state pension from 1785 in recognition of her bravery and contributions, not really completely forgotten and lost in total obscurity, although she never did botany again.
She was more recently, however, commemorated in the specific name of a new species of Solanum from Ecuador – far from where she travelled and collected plants (3). Solanum baretiae Tepe et al. is a relative of the potato and tomato from the cloud forests of the Andes – its link to Baret is its highly variable leaves. Many species of Solanum have simple leaves, just an elliptical shape with no lobing, while others, like the potato, have divided leaves with several pairs of leaflets. Solanum baretiae has all kinds of leaves – simple and divided with varying numbers of leaflets – the authors decided to commemorate this by naming the species after Jeanne Baret – herself a master of disguise!
That we remember single men (and it is usually men) as the "heroes" of expeditions or of discoveries is not necessarily to denigrate the contributions of others; who, after all, refers to Captain Cook's voyage of the Endeavour as "Banks' voyage" or knows the names of the crew – the single-person reference is a sort of shorthand. Science was as collaborative then as it is now, without the efforts of the many little would be achieved. Jeanne Baret and other overlooked contributors to science like her deserve recognition and celebration, but she does not need to be a victim (as she was portrayed in Ridley's book) to be seen as a success (4).
Jeanne Baret deserves our admiration not only for being the first woman known to have circumnavigated the world (although it took her quite a long time!), but for her significant botanical contributions in partnership with Commerson, even if they are not written down in quite the way we would record them now. You also have to respect the guts and determination of a woman who wanted to discover the world and just went ahead and did so – at a time when the hearthside was considered a woman's place.
Explore the chronicles of Jeanne's adventures in Voyage autour du monde, par la frégate du roi La Boudeuse, et la flûte L'Étoile; en 1766, 1767, 1768 and; 1769, the publication relating the Bougainville voyage!
References and further reading
(1)    Ridley, G. (2010) The discovery of Jeanne Baret: a story of science, the high seas, and the first woman to circumnavigate the globe. Crown Publishers, New York, 1–288.
(2)    Lack, H.W. (2012) The discovery, naming and typification of Bougainvillea spectabilis (Nyctaginaceae). Willdenowia 42: 117-126.
(3)    Tepe, E.J., G. Ridley & L. Bohs (2012) A new species of Solanum named for Jeanne Baret, an overlooked contributor to botany. PhytoKeys 8: 37-47 doi: 10.3897/phytokeys.8.2101
(4)    Knapp, S. (2011) The planstswoman who dressed as a boy (review of Ridley's "The discovery of Jeanne Baret"). Nature 470: 36-37.