This spring BHL staff member Trish Rose-Sandler participated in two conferences which were outside of the biodiversity community but whose attendees were very much interested in the natural history illustrations found within the pages of BHL books and journals. These included the Visual Resources Association (VRA) annual conference held in Providence, Rhode Island, April 3-5, and the Museums and the Web (MW) conference held in Portland, Oregon, April 17-20.
Attendees at the VRA conference are image curators, librarians, and archivists who support scholars in arts and humanities departments within universities or museums. Rose-Sandler's talk at VRA was part of a session on how visual resource collections are reaching out to new audiences through promotion of their content and collaboration with other disciplines. Much in the same way, BHL is reaching out to new audiences through its image content which has a broad appeal among many different fields of research.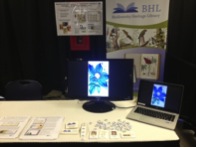 MW Demo Table.
The MW conference is attended by folks who work on the technology side of cultural heritage organizations, mostly museums, but also some libraries and historical societies. The story of BHL and its images was told through a one hour demo session that included a poster, one page handouts, and a slideshow of the illustrations. Rose-Sandler and her Art of Life colleague, Kyle Jaebker, explained the challenges BHL faces in identifying the location of millions of images, how we are providing limited access via Flickr, as well as how the Art of Life project is helping scale this effort by automating their identification and crowdsourcing their description. These visually-oriented professionals were enamored of the image content we possess. One visitor at MW, a scientific illustrator from Prague, commented that her students had used images from the BHL Flickr stream for a scientific illustration course she taught. Other visitors were interested in the algorithms we were developing for automatically identifying the location of images within text resources.
Most of the attendees at both conferences were completely unaware of BHL. Those who had heard of BHL were surprised to learn we provided access to natural history illustrations. VRA and MW provide unique opportunities for us to showcase the BHL content to communities who might not have heard of us otherwise. Natural history illustrations provide common ground where the art and scientific communities intersect. If you have any suggestions for other conferences or venues we should be present at, please send us feedback or email us at feedback@biodiversitylibrary.org.
View Handouts from the Museums and the Web Conference: