How BHL Helps Users Delve into the Wonderful World of Lepidoptera!
Today, we present an example of how BHL is being utilized to expand an award-winning database on the insect order Lepidoptera! 
Generic Names of Moths of the World: Generic Names and their Type-species by Brian Pitkin and Paul Jenkins is a catalogue of more than 32,000 genus-group names of the insect order Lepidoptera. First launched in July 2004, the site was awarded the Podalirius Star in November 2004. The catalogue has recently been updated, corrected where necessary and revitalised by the addition of links to scanned images of more than 58% of the cited references to the Biodiversity Heritage Library. The majority of the links are pre-1923 as a result of copyright restrictions on more recent publications.
Work on the electronic catalogue started by bringing together digital tag-delimited files on five and a half inch floppy discs of:
Hemming, 1967. Generic names of Butterflies of the World and their Type-species (Lepidoptera : Rhopalocera). Bull. Br. Mus. nat. Hist. (Ent.) Suppl. 9: 509 pp.,
Cowan, 1968 and 1970. Annotationes Rhopalogiques: 20 pp. Published privately, Clunbury Press, Berkhamsted, Herts.
Volumes 2-6 of Generic Names of Moths of the World, Trustees of the British Museum (Natural History), London by the senior author.

Volume 1 of Generic Names of the World was digitally scanned and converted to text using optical recognition software and then checked against the original by Paul Jenkins. All were then combined into a Paradox for DOS database which ultimately was converted to MS Access 97 by the senior author and subsequently MS SQL for web deployment.
Links to BHL have since been added to the catalog, expanding the information available. 54% (17,479) of the 32,188 included genus-group names have links to BHL scanned images. 64% (17,976) of the 27,891 included type species have links to BHL scanned images. 58% (2,297) of the 3,944 included type species designations have links to BHL scanned images. The catalogue bibliography includes 8,863 references, of which 3,741 (42%) have been scanned by BHL.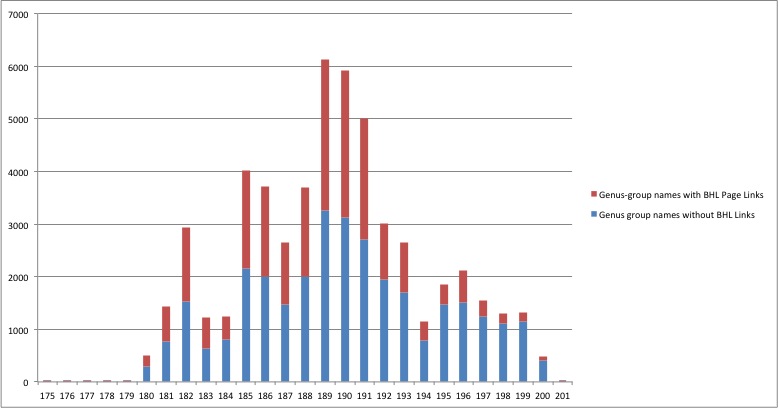 Graph showing the number of genus-group names of unlinked (blue) and linked (red, n=17,553 or 54.75%) citations in Butterflies and Moths of the World by decade to BHL scanned images. (Genus-group names without citations are ignored). Click graph to enlarge.
The higher classification has also been updated as far as possible to follow van Nieukerken et al., 2011 Order Lepidoptera Linnaeus, 1758. Additional genus group names have been added from:
Below is an example of how Butterflies and Moths of the World links to relevant BHL scanned pages, in order to portray a history for a given species.
We love hearing about all the great ways BHL users like Dr. Pitkin are adding value to their own work using BHL content. Are you using BHL in new and interesting ways? We want to hear about it! Send us feedback or write to us at feedback@biodiversitylibrary.org.