Happy Birthday to John Torrey!
It's hard to imagine how the wild, western terrain of the United States looked just 200 years ago—try to replace the suburban communities, bright lights, interconnected highways, and towering buildings with the uninhibited growth of native plants in considerable number and variety occupying undeveloped and spacious lands. The pioneers that ventured beyond the Mississippi into this vast unknown were exalted as executors of manifest destiny, responsible for territorial expansion of the fledgling county. But for John Torrey, he saw this point in history not as an opportunity to advance American boundaries, but as the precise moment to advance scientific progress.
Torrey was a different kind of pioneer, not an explorer, preferring instead the excitement of discoveries made under the microscope, to which he dedicated his life and his passions. So, this week we take a break from the regular Book of the Week posts to recognize Torrey on his 217th birthday for the significant contributions he made to botany, chemistry, and our understanding of North American flora.
Torrey was born August 15, 1796, in New York City to an established New England family, Captain William Torrey and Margaret Nichols. As a young man, Torrey showed great curiosity and interest in many subjects, but especially mechanics, thinking he might become a machinist. But when his father was appointed as Fiscal Agent of the State Prison in Greenwich, Torrey had a chance encounter with prisoner, and botanist in his own right, Amos Eaton. Eaton provided rudimentary instruction to Torrey, but, most significantly, awakened a zeal for the subject that remained with him throughout his life.
His numerous correspondences with prominent scientists of the day can be viewed in the BHL and reflect the reach he had in contemporary academia, including contributions to the Smithsonian Institution, the American Philosophical Society, the New York Botanical Gardens, and the National Academy of Sciences at Washington, D.C.
Torrey was drawn to botany, but definitely not to fieldwork. He enjoyed the comforts of home and "considered it a great hardship to be sent after dark in the country." So Torrey stayed in New York during Stephen Long's exploration of the Rocky Mountains. And he also didn't join John Frémont's expedition to the same range. But that didn't stop him from using the data and samples collected during Long and Frémont's travels to name and describe thousands of new species and varieties of plants.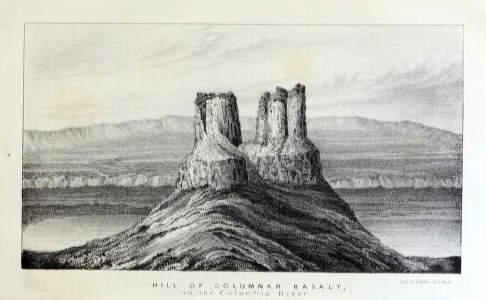 illustrated during the 1842
Frémont expedition. 
Some of the most notable works he authored include "Flora of the Northern and Middle Sections of the United States," his extensive two-volume "Flora of the State of New York," and the joint piece he wrote with Asa Gray "Flora of North America," which was considered one of the most authoritative works on North American plants up to that time.
Torrey was known as a professor, botanist, chemist, and mineralogist and remembered for identifying, describing, and classifying much of what inhabited the rugged frontier. He was a pioneer for the American scientific community with the fundamental contributions he made to botanical knowledge and institutions. The last line in Torrey's obituary by friend, co-author, and protégée Asa Gray perfectly encapsulates this lasting legacy:
"Thirty or forty years ago, a new and remarkable evergreen tree was discovered in our own Southern States, which it was at once determined should bear Dr. Torrey's name. More recently a congener was found in the noble forests of California. Another species had already been recognized in Japan, and lately a fourth in the mountains of Northern China. All four of them have been introduced and are greatly prized as ornamental trees in Europe. So that, all round the world, Torreya taxifolia, Torreya Californica, Torreya nucifera, and Torreya grandis—as well as his own important contributions to botany, of which they are a memorial—should keep our associate's memory as green as their own perpetual verdure."
Couldn't say it better than that. Happy birthday, John Torrey!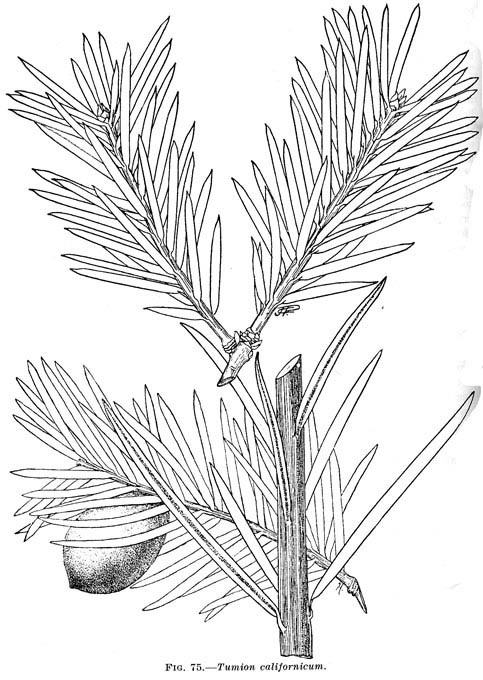 Torreya Californica, 
one of the legacy trees named in honor of Torrey, 
from trees.stanford.edu.
References:
 

John Torrey. (2013). In Encyclopædia Britannica. Retrieved from http://www.britannica.com/EBchecked/topic/600140/John-Torrey

Polunin, Nicholas. (1944). John Torrey: American Botanist.

Nature, 154(3905),

p. 294-295.

Gray, Asa. (1873, April).

Memoir or John Torrey 1797-1873

. Speech read before the National Academy.