Mining Biodiversity (MiBIO): innovative computational techniques to mine BHL texts
On January 15, 2014, ten international research funders from four countries jointly announced the winners of the third Digging into Data Challenge, a competition to develop new insights, tools and skills in innovative humanities and social science research using large-scale data analysis.
Fourteen international teams representing Canada, the Netherlands, the United Kingdom, and the United States will receive grants totaling approximately $5.1 million to investigate how computational techniques can be applied to "Big Data".  Their work will address the evolving nature of humanities and social sciences research, which often relies on massive multisource datasets.  Each team represents collaborations among scholars, scientists, and information professionals from leading universities and libraries in Europe and North America.
The first round of the Digging into Data Challenge was held in 2009 and the second in 2011. Previous Digging into Data research projects have received international attention.  The 2013 winners were selected from among 69 applications and address a wide variety of topics.  Among the sponsoring bodies, the Institute of Museum and Library Services (IMLS) announced, on January 15, 2014, the winners of the third Digging into Data Challenge that they will fund.  IMLS's contribution of $424,591 supports the American researchers from three of the mentioned fourteen international teams: the Missouri Botanical Garden, the University of Wisconsin-Madison, and the University of South Carolina.
As part of an international team involving partners in UK, Canada and the USA, Missouri Botanical Garden was awarded $175,000 by the IMLS to lead the USA members of the Mining Biodiversity Project team in applying innovative computational techniques to biodiversity texts and help improve the way we view, access and share the knowledge contained with in the Biodiversity Heritage Library.
The Mining Biodiversity (MiBIO) Project
Principal Investigators: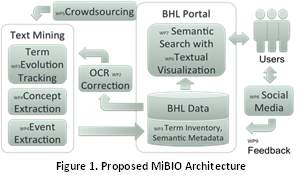 The MiBIO project is an international collaboration (UK, Canada, USA), leveraging large-scale data resources collected and curated by BHL members in US and worldwide, a digital portal developed and maintained by the BHL Technical staff at Missouri Botanical Garden and managed by the BHL Secretariat at the Smithsonian Institution Libraries, text mining resources developed by the UK partner (NaCTeM), and social media, visualization and text cleaning methodologies developed by the Canadian partner (Dalhousie).
The project's prime objective is to promote the efficient access to and sharing of large-scale biodiversity legacy literature by the worldwide community of science libraries, museums and the interested public The project will integrate novel text mining methods, visualization, crowdsourcing and social media into the BHL to provide a semantic search system aimed to transform BHL into a next-generation social digital library resource that facilitates the study and discussion (via social media integration) of legacy science documents on biodiversity by a worldwide community.
By promoting the development of capabilities that will foster collaboration among researchers from the fields of History of Science, Environmental History, Environmental Studies, Library and Information Science and Social Media, the project hopes to make a significant impact on the above disciplines by (1) enriching a large-scale library, i.e., the BHL, via innovative application of Text Mining techniques to produce semantic metadata and a term inventory, (2) providing improved access to biodiversity-related digital artifacts via an enhanced search engine and visualization of results and (3) stimulating increased collaboration, interaction and sharing of information among BHL users via the social media environment.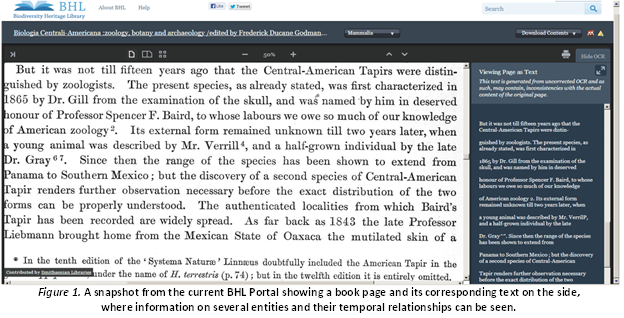 The Institute of Museum and Library Services (IMLS)is the primary source of federal support for the nation's 123,000 libraries and 17,500 museums. Our mission is to inspire libraries and museums to advance innovation, lifelong learning, and cultural and civic engagement. Our grant making, policy development, and research help libraries and museums deliver valuable services that make it possible for communities and individuals to thrive. To learn more, visit www.imls.gov and follow us on Facebook and Twitter.
In addition to the U.S. Institute of Museum and Library Services, the sponsoring funding bodies include:
Arts & Humanities Research Council (United Kingdom),

Economic & Social Research Council (United Kingdom),

Canada Foundation for Innovation (Canada),

National Endowment for the Humanities (United States),

Natural Sciences and Engineering Research Council (Canada),

National Science Foundation (United States),

Netherlands Organisation for Scientific Research in collaboration with The Netherlands eScience Center (NLeSC) (Netherlands),

Social Sciences and Humanities Research Council (Canada).
The U.K. charity Jisc will be providing professional program management in the progression of the United Kingdom projects.
The Biodiversity Heritage Library (BHL) is a consortium of natural history and botanical libraries that cooperate to digitize and make accessible the legacy literature of biodiversity held in their collections and to make that literature available for open access and responsible use as a part of a global "biodiversity commons." The BHL consortium works with the international taxonomic community, rights holders, and other interested parties to ensure that this biodiversity heritage is made available to a global audience through open access principles. In partnership with the Internet Archive and through local digitization efforts, the BHL has digitized millions of pages of taxonomic literature, representing tens of thousands of titles and over 100,000 volumes.
The Missouri Botanical Garden's mission is "to discover and share knowledge about plants and their environment in order to preserve and enrich life." Today, 153 years after opening, the Missouri Botanical Garden is a National Historic Landmark and a center for science, conservation, education and horticultural display.
The Center for Biodiversity Informatics (CBI) at the Missouri Botanical Garden seeks to provide innovative technology solutions to the global community of life science scholars in order to mobilize, integrate, and repatriate data about the world's biodiversity.
Find more information at:
MiBIO Project Website: www.nactem.ac.uk/DID-MIBIO/
Official Winners Announcement: http://www.diggingintodata.org/Home/AwardRecipientsRound32013/tabid/201/Default.aspx
IMLS Press Release: http://www.imls.gov/5.1_million_awarded_for_delving_into_big_humanities_and_social_science_data.aspx
Dalhousie University Press Release: http://www.dal.ca/news/2014/01/22/natural-history-for-the-digital-age.html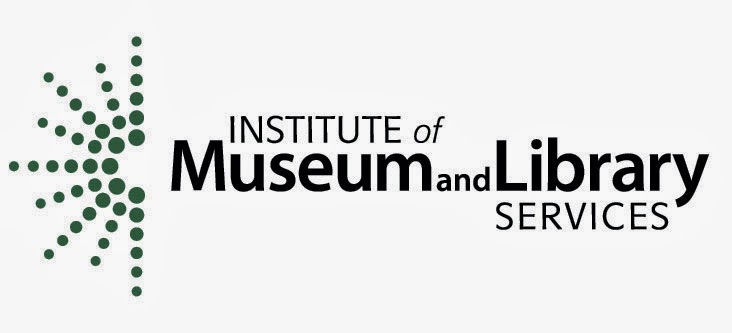 This project is made possible by a grant from the Institute for Museum and Library Services [Grant number LG-00-14-0032-14].