The Botanical Art of Redouté
The most celebrated flower painter of quite possibly the entire history of botanical art is Pierre-Joseph Redouté. Nicknamed "the Raphael of flowers," Redouté published over 2,100 plates depicting over 1,800 species – many of which had never before been illustrated for publication – throughout his career (University Libraries 2013). Many of Redouté's publications are available in the Biodiversity Heritage Library, and a selection of these works is examined in this article.
Born in 1759 at St. Hubert in the present-day Belgian province of Luxembourg, Redouté and his two brothers – who also became artists – were descended from a family of Belgian painters. After receiving training in his father's studio, Redouté set out at just thirteen years of age to earn a living as an artist. Eventually, in 1782 at the age of twenty-three, Pierre-Joseph joined his elder brother, Antoine-Ferdinand, designing stage scenery for the Théâtre-Italien in the rue de Louvois (Blunt 1967).
During this period, Pierre-Joseph's leisure time was spent painting flowers, and it was this passion that eventually led him to the Jardin du Roi, which today is known as Jardin des Plantes and is part of the Muséum national d'histoire naturelle. It was here that Redouté met and befriended Dutch painter Gerard van Spaendonck, Professeur de peinture de fleurs at the Jardin. van Spaendonck had a profound influence on Redouté, instructing him on engraving and water coloring techniques. In fact, Wilfrid Blunt, author of The Art of Botanical Illustration, asserts that Redouté owes much of his success to the technical discoveries that he learned from van Spaendonck (Blunt 1967).
Redouté's technique, modeled upon that of van Spaendonck, involved "pure water colour, gradated with infinite subtlety and very occasionally touched with body-colour to suggest sheen" (Blunt 1967, 179). Redouté eventually perfected the reproduction of his paintings for publication using stipple engraving, which used dots, rather than lines, to engrave plates, with varying dot density being used to convey tone and shading (Blunt 1967).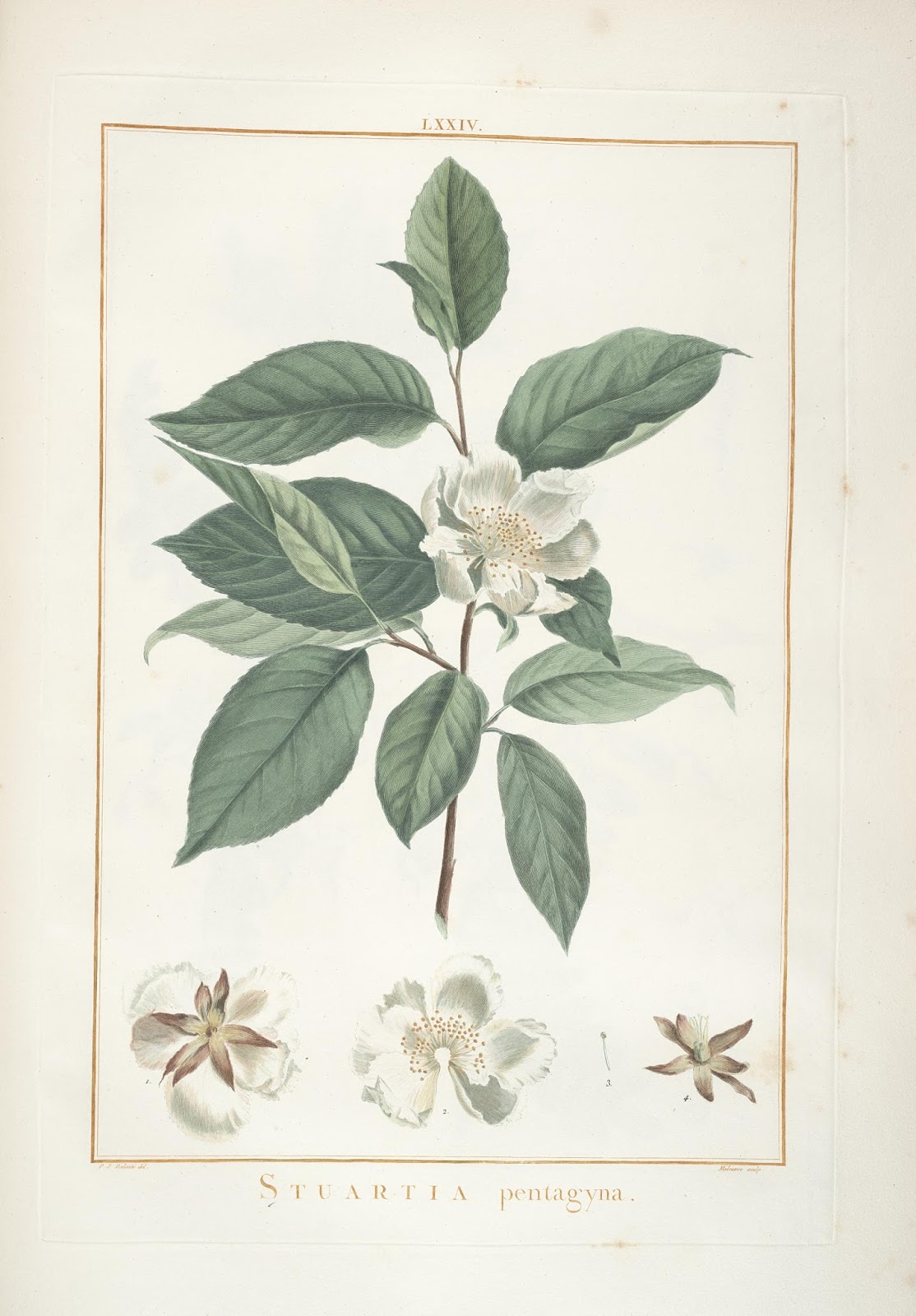 L'Héritier de Brutelle, Charles Louis. Stirpes novae :aut minus cognitae, quas descriptionibus et iconibus. (1784-85). Art by Pierre-Joseph Redouté. http://www.biodiversitylibrary.org/page/12516529. Digitized by Missouri Botanical Garden.
During his time creating botanical drawings for the Jardin du Roi, Redouté came to the attention of wealthy botanist Charles Louis L'Héritier de Brutelle, who instructed him on plant anatomy and the characteristics necessary for detailed botanical study. As a result of this relationship, L'Héritier enlisted Redouté to illustrate more than fifty plates for his Stirpes novae (1784–1785), which has been digitized in BHL by the Missouri Botanical Garden (Blunt 1967). With this work, L'Héritier intended to describe, illustrate, and classify according to the Linnaean system plants new or largely unknown to science at the time. This included specimens collected during the Dombey-Ruiz-Pavón expedition to Chile and Peru and plants found at Kew Gardens, Jardin du Roi, and other European gardens (Dumbarton Oaks 2016). Several years later, Redouté also produced plates for L'Héritier's Sertum Anglicum (1788), also digitized by the Missouri Botanical Garden, which included studies of rare plants growing at Kew Gardens (Blunt 1967). James Sowerby, another renowned English illustrator, also produced illustrations for this work (Mathew 1981).
In the late 1780s, likely at the recommendation of L'Héritier, Redouté was appointed Draughtsman to the Cabinet of Marie-Antoinette. During this time, L'Héritier proposed the production of Plantarum historia succulentarum (Histoire des plantes grasses), a work on cacti and succulent plants that would be illustrated by Redouté. While the French Revolution undermined L'Héritier's ability to sponsor the project, an enterprising publisher, Garnéry, was enlisted to undertake the publication (Mathew 1981) and Swiss botanist Augustin Pyramus de Candolle was selected as the contributor of the descriptive text. The first section of Plantarum historia succulentarum was published in 1799, and publication continued intermittently until 1837 (Missouri Botanical Garden 2003). This was the first botanical publication for which Redouté was the sole artist and the first to utilize his color-printing method of stipple-engraved plates (Mathew 1981). It has been digitized by Missouri Botanical Garden.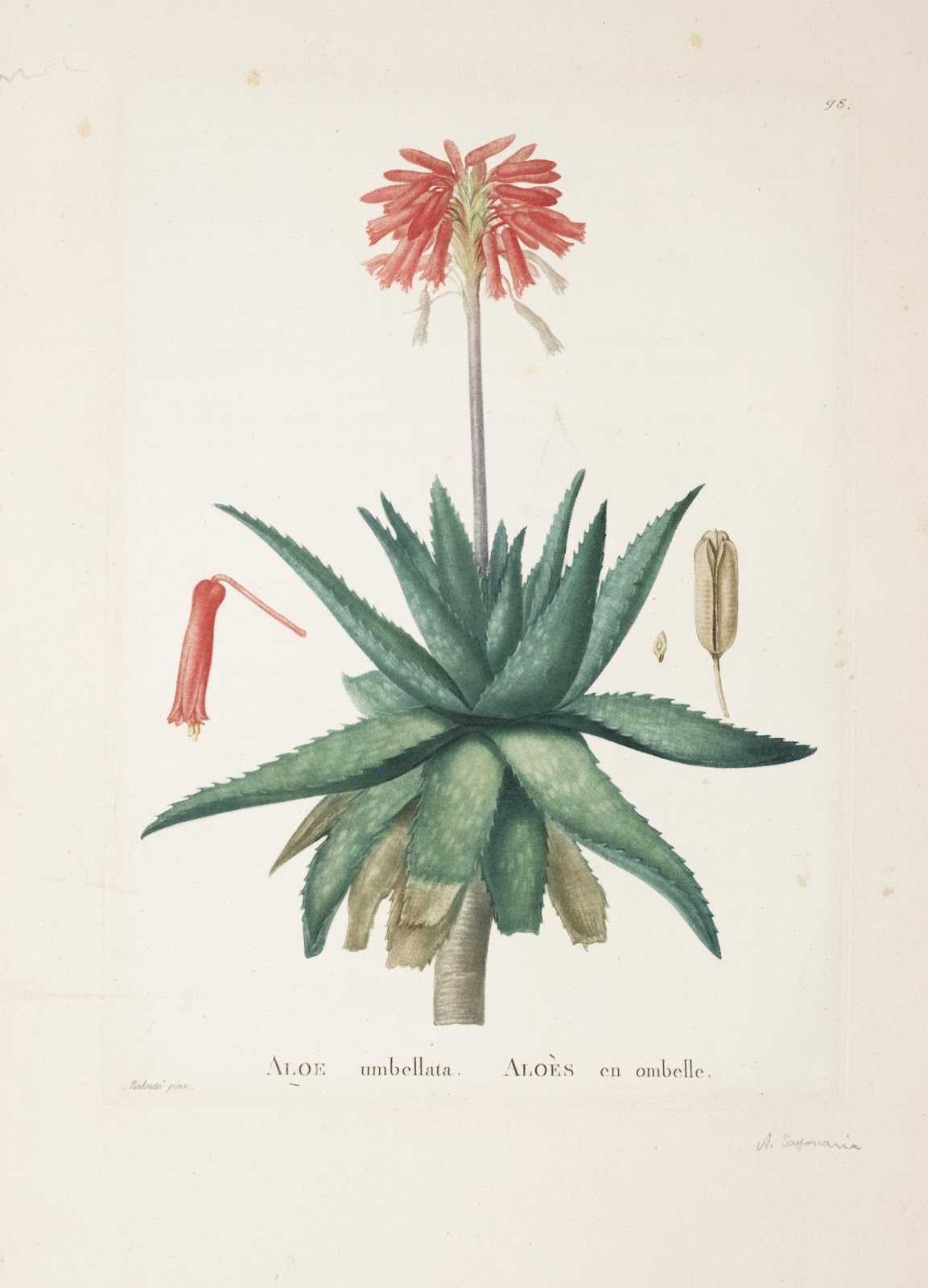 Candolle, Augustin Pyramus de. Plantarum historia succulentarum =Histoire des plantes grasses. (1799-1837). v. 2. Art by Pierre-Joseph Redouté. http://www.biodiversitylibrary.org/page/281073. Digitized by Missouri Botanical Garden.
Following the French Revolution, Redouté continued painting for the Jardin du Roi, and the rise of Napoleon Bonaparte resulted in increased fame for Redouté as Joséphine Bonaparte's court artist (Dumbarton Oaks 2016). Bonaparte married Joséphine de Beauharnais in 1796, and a few years later, Joséphine purchased Chateau de Malmaison near the western bank of the Seine. Joséphine set out to create magnificent gardens filled with rare and exotic plants from the Old and New Worlds, and in this venture she committed massive sums towards the procurement and cultivation of "choice flowers" and the production of extravagant publications about her gardens, for which Redouté contributed some of the most celebrated art in the history of botanical illustration (Blunt 1967).
The first of these publications was Jardin de la Malmaison, for which Redouté produced several hundred plant portraits exemplifying scientific precision and artistic mastery. These portraits, painted on parchment, were reproduced for publication using copperplate stipple engraving. Joséphine hired botanist Étienne Pierre Ventenat to identify and describe the plants at Malmaison. The resulting work was published in twenty installments of about 150 copies between 1803-1804 (Lack 2001). It has been digitized in BHL by Smithsonian Libraries.
A description of the plants at Malmaison was continued in Description des plantes rares cultivees a Malmaison et a Navarre. Following his divorce from Joséphine, Napoleon presented her with the country estate of Navarre near Évreux in Normandy. Here, Joséphine again set out to create a magnificent garden of rare plants. With Étienne Pierre Ventenat deceased, she engaged botanist Aime Bonpland to continue the description of her plants. Redouté and Pancrace Bessa, also a student of van Spaendonck's, produced watercolor paintings to illustrate Description des plantes rares cultivees a Malmaison et a Navarre, which was published in a print run of 325 copies between 1812-1817 (Lack 2001). It has been digitized by Missouri Botanical Garden.
During this period, the renowned Les liliacees was also published. This eight-volume work (digitized by Missouri Botanical Garden), published between 1802-1815, presents a collection of over 450 watercolors by Redouté. Botanical descriptions for the work were provided by Augustin Pyramus de Candolle (volumes 1-4), François de Laroche (volumes 5-7), and Alire Raffeneau-Delile (volume 8). The watercolors were reproduced using stipple plate engraving finished by hand. While the title may be Les liliacees, the work actually covers many other petaloid monocotyledons found in French gardens at this time, including Iridaceae, Commelinaceae, and Amaryllidaceae (Mathew 1981). Redouté pays homage to Joséphine, a major patron of the work, by renaming an amaryllis Amaryllis Josephinae, which is depicted in the only folding plate in the publication (Christie's 1997).
Publication of Redouté's arguably most-popular work, Les roses, began in 1817. This work, published in three volumes between 1817-1824, describes and depicts roses found in the Malmaison gardens, the collections of botanist Claude Antoine Thory (who provided the text for this work), and other gardens around Paris. It not only describes many flowers that are the forerunners of today's roses, but it also includes species and cultivars that are no longer in existence (Christie's 2008). This work was reprinted twice over the course of a few short years, and the third edition, published between 1828-1835, has been digitized by Biblioteca Digital del Real Jardin Botanico de Madrid and can be accessed through BHL.
While Redouté continued to enjoy fame throughout his career, producing not only sought-after paintings but also tutoring many distinguished pupils, his extravagant spending habits led him to financial embarrassment, requiring him to sell furniture, silver, and paintings in an attempt to satisfy his debts. At eighty years of age, he began planning the production of a magnificent flower picture that would command an astonishing sum. Sadly, he was never able to realize this ambition. On June 19, 1840, he suffered a stroke and died the following day (Blunt 1967).
Today, Redouté is remembered as one of the greatest botanical illustrators in history. His original watercolors and related publications can fetch incredible prices at auction. For example, 468 of his original watercolors for Les liliacees sold at auction in 1985 for 5.5 million USD (Reif 1985). Thanks to the contributions of our incredible partners, you can access many of Redouté's works for free in BHL and even download and print your own copies of his masterpieces. What was once available only to the rich is now freely available to the world.
References
Blunt, Wilfrid. 1967. The Art of Botanical Illustration. London: Collins.
Christie's. 1997. "Les Liliacées." Books, April 30. Accessed December 7, 2016. http://www.christies.com/lotfinder/lot/redoute-pierre-joseph-les-liliacees-text-by-186557-details.aspx.
Christie's. 2008. "Les Roses." Foljambe Collection, April 30. Accessed December 7, 2016. http://www.christies.com/lotfinder/Lot/redoute-pierre-joseph-1759-1840-and-claude-antoine-thory-5062664-details.aspx.
Dumbarton Oaks. 2016. "Les Roses." The Botany of Empire in the Long Eighteenth Century. Accessed December 6, 2016. http://doaks.org/resources/online-exhibits/botany-of-empire/illustration-and-representation/les-roses.
Lack, H. Walter. 2001. Garden Eden: Masterpieces of Botanical Illustration. Koln: Taschen.
Mathew, Brian. 1981. P.J. Redoute: Lilies and Related Flowers. New York: The Overlook Press.
Missouri Botanical Garden. 2003. "Plantarum historia succulentarum = Histoire des plantes grasses." Rare Books from the MBG Library. Accessed December 7, 2016. http://www.illustratedgarden.org/mobot/rarebooks/title.asp?relation=SB438C361799V1.
Reif, Rita. 1985. "Redoute Watercolors Auctioned to Syndicate." The New York Times, November 21. Accessed December 7, 2016. http://www.nytimes.com/1985/11/21/arts/redoute-watercolors-auctioned-to-syndicate.html.
University Libraries, University of South Carolina. 2013. "The W. Graham Arader, III Collection at the University of South Carolina: Journal." Accessed December 7, 2016. http://library.sc.edu/p/Collections/Arader.