The Rhododendrons of Sikkim-Himalaya
Joseph Hooker, born 200 years ago this year, may have been the greatest botanist of the nineteenth century, professionalizing practice of the discipline and establishing the system of botanical classification used almost universally until the advent of genetics-based systems. He was certainly one of the most pivotal Directors in the history of the Royal Botanic Gardens, Kew, defending its role as a scientific institution rather than a pleasure park and expanding its infrastructure and collections. However, to horticulturalists, he is perhaps best known for his introduction of new species of Rhododendron to Europe in the mid 19th century.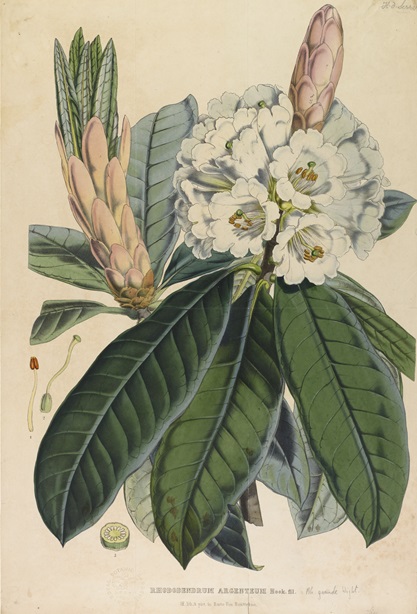 Rhododendron argenteum one of Hooker's new species published in The Rhododendrons of Sikkim-Himalaya. http://s.si.edu/2tkRKAP. Drawing by Joseph Dalton Hooker. Lithographed by Walter Hood Fitch. Digitized by the Missouri Botanical Garden.
It was whilst on a plant collecting expedition in India and the Himalayas (1847-1851) that Hooker became the first European to be granted permission to explore what was then the autonomous kingdom of Sikkim, now a northern state of India, which had previously been closed to foreign explorers. In this unspoilt mountain kingdom, he gathered over 25 species of Rhododendron that would prove to be unknown to science and to European horticulturalists.
Spectacular illustrations of these Rhododendrons were published in the lavish book The Rhododendrons of Sikkim-Himalaya. At Kew, we love that these are available to view online at the Biodiversity Heritage Library for ease of access along with many other landmark publications by Hooker. You can also browse the superb illustrations on Flickr.
Hooker braved the monsoon rains to ensure that he could collect seeds of these new botanical beauties. His letters from the expedition, recently digitized by the archives of Kew Gardens, describe the discomforts of the endeavor: frozen fingers, the shin tearing Rhododendron scrub, prolific leeches, the danger from overflowing rivers, snow blindness, rock falls and the added suffering of altitude sickness to name a few.
"Worst of all is the depressing effect of being often baffled: you go at up a gully, take a probable branch, are turned at the top,: down you go, every step lost & try another, & so on, 4, 5, & 6 times perhaps; till, utterly fagged, you slope at night-fall down to camp, wet bruised & dissatisfied." (Source)
Hooker was sometimes demoralized but not deterred and was determined to collect as much as he could:
"These explorations are very hard work, but I get such lots of plants that they are always abundantly profitable". (Source)
More tales of Hooker's collecting trials in his own words are available online through Kew's Joseph Hooker correspondence project and in his published Journal available on BHL. Some of my personal favorites include imprisonment by the Rajah and a close shave with an avalanche in which his collecting companion, a dog named Kinchin, lost his whiskers.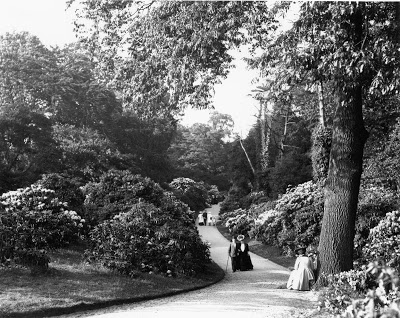 Victorian photograph of the Rhodoedndron Dell at The Royal Botanic Gardens, Kew. Reproduced by the Permission of the Trustees of The Royal Botanic Gardens, Kew.
The Kew Gardens Annual Report of 1850 records the receipt of '21 baskets of Indian orchids and new species of Rhododendron' from Hooker. The Rhododendrons were planted in Kew's hollow walk, to become known as the Rhododendron dell, and shared with nurseries and gardeners across Europe, starting a craze for the plants and a legacy of their profusion across the gardens of stately homes in particular.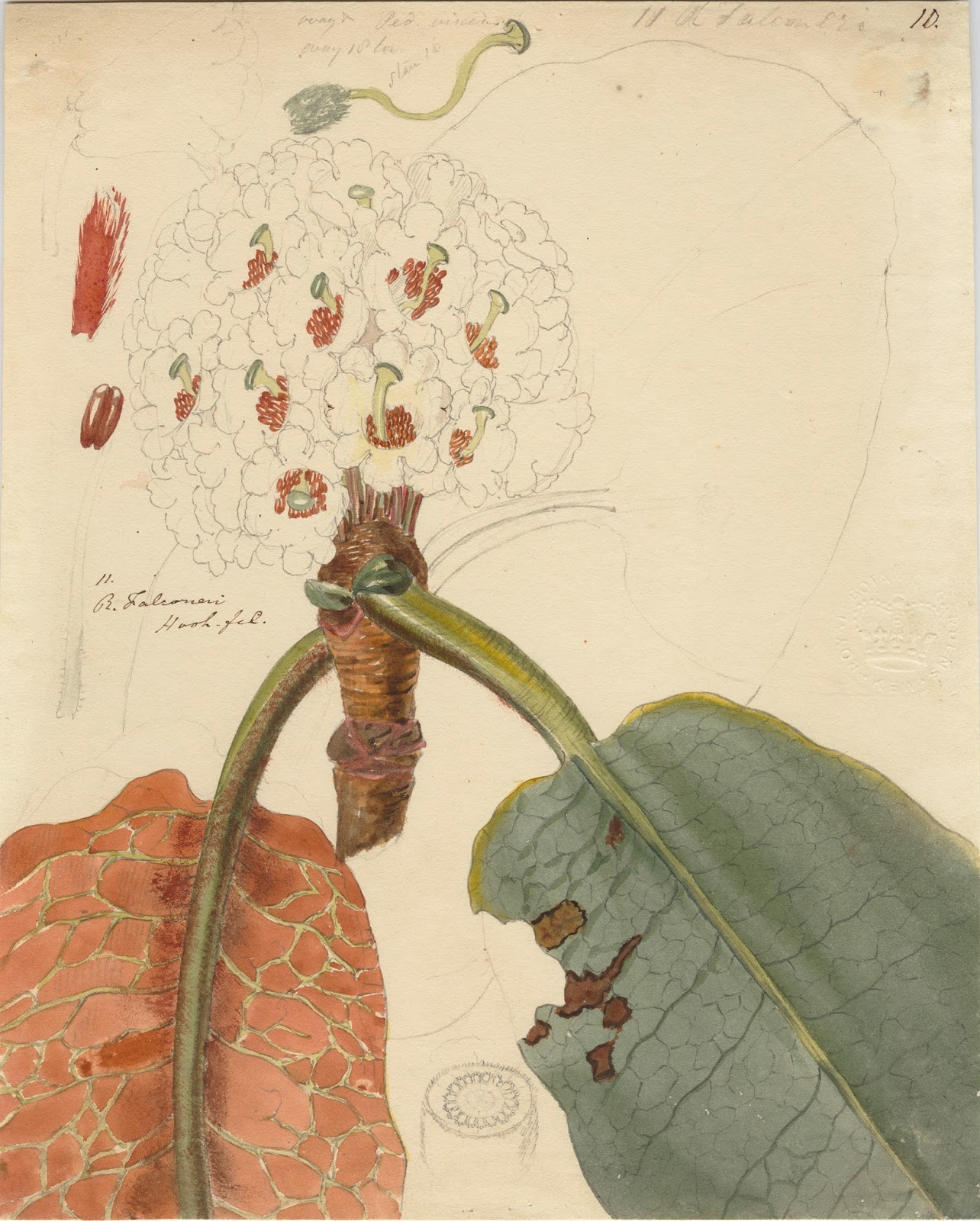 Field sketch of Rhododendron falconeri by Joseph Hooker, c.1850. Reproduced by the Permission of the Trustees of The Royal Botanic Gardens, Kew.
The additional annotated field sketches, dried plants and descriptions that Hooker sent home allowed the great botanical artist Walter Hood Fitch and Joseph Hooker's father, botanist William Jackson Hooker, to publish The Rhododendrons of Sikkim Himalaya before Joseph had even returned home. To mark the bicentenary of Hooker's birth this year, Kew has reproduced a facsimile edition of the publication from the first edition held in its library collection.