Helping Out with Diverse Interests in Biodiversity: Taxonomy of Molluscs and Birds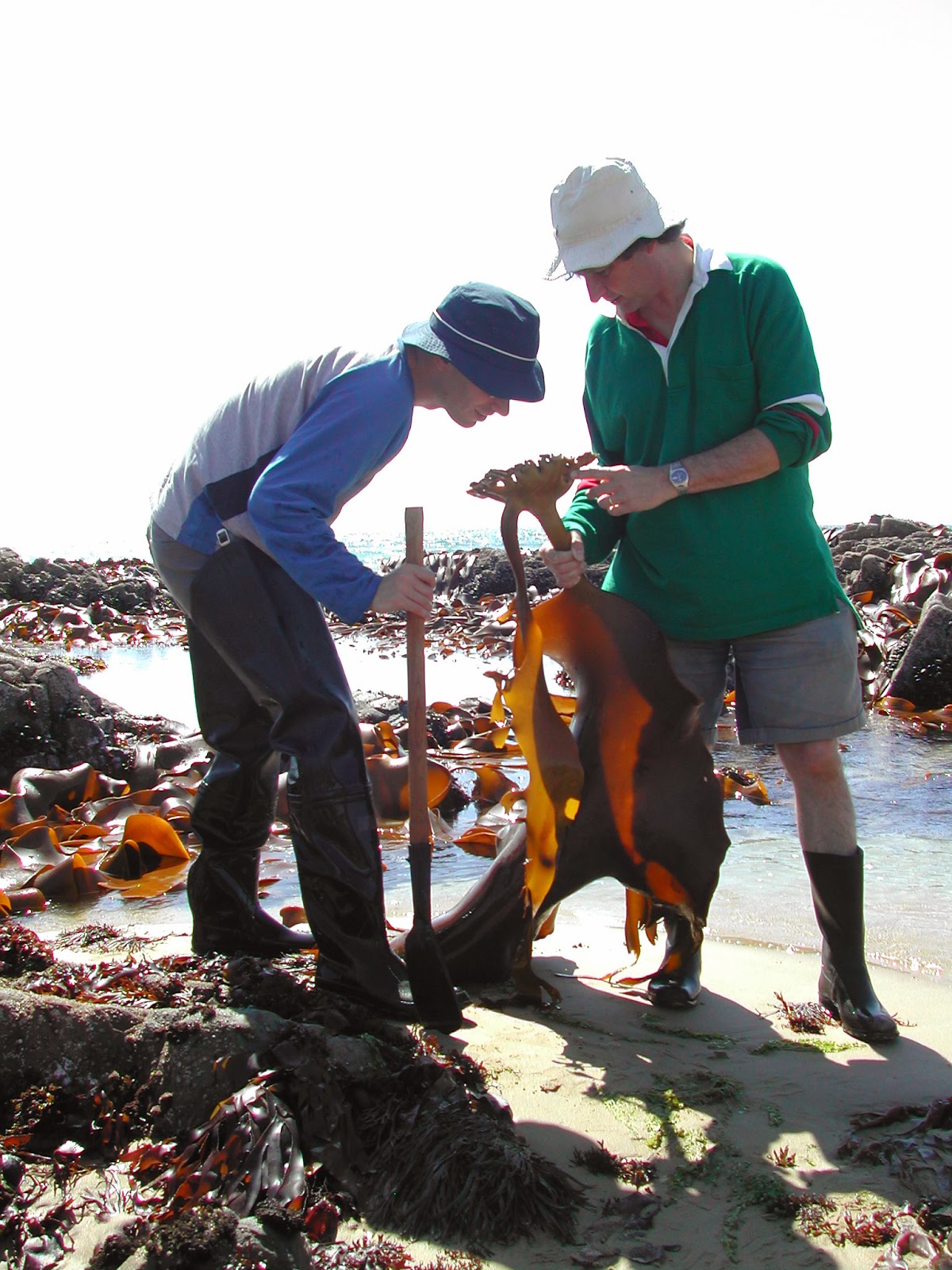 Prof. Hamish Spencer (right) and his long-time 
collaborator, 
Prof. Jon Waters (left) 
examining the 
holdfast of a 
brown alga,
Durvillaea poha
, a species 
they and a 
student of theirs described after showing
 it was genetically distinct from the 
widespread 
D. antarctica
.  
The holdfasts pictured are the habitat for a number of 
interesting invertebrates (e.g., molluscs, crustaceans). 
One of these, the gastropod 
mollusc 
Diloma durvillaea
, 
was also described by them.
New Zealand is an exciting place to study biodiversity for a number of reasons. First, its unique set of plants and animals, evolving in the context of an active geologic history, results in several model systems that are ideal for testing ideas about how evolution works. Second, the country still has areas of its natural environment that are relatively undisturbed, something of which the wider public is very proud and which means that many people are interested in and aware of many native species. And, third, New Zealand is still in an "age of discovery" with undescribed species turning up in numerous studies across almost all habitats.

Hamish Spencer has had the good fortune not only living in such an amazing location but has also pursued a very rewarding career in preserving and improving understanding of the rich biodiversity found here. He currently serves as Director of the Allan Wilson Centre, a cross-institutional group of evolutionary biologists working on various aspects of New Zealand's biodiversity.  He is also a Professor in the Department of Zoology at the University of Otago, in the city of Dunedin, known as the Edinburgh of the South.  

As part of our regular BHL and Our Users series, Professor Spencer has graciously agreed to answer some questions about how BHL has impacted that work.
When did you first discover BHL?
A while ago! Not sure.  Maybe 6 years?
What is your opinion of BHL and how has it impacted your research? 
It is fantastic! What is more important, even: it is getting better.  I am amazed at the breadth of its material, especially from the 19th Century. I work on the phylogenetics of a variety of groups (so far, molluscs, birds, trematodes, brown algae, polychaetes, crustaceans), usually as model systems to answer a question about the way evolution works. For example, I have been interested in the importance of long-distance dispersal in marine environments, especially the Pacific and Southern Oceans. With my collaborators, I have used brown algae, molluscs and crustaceans to investigate various questions about dispersal and sometimes venture into the taxonomy of these groups when the phylogenetic work reveals new species or clades. In order to do that properly, I like to consult original descriptions and, although Otago is New Zealand's oldest university, with a good library dating back well over 130 years, sometimes that literature is simply unavailable.  That is where BHL comes in.
How often do you use BHL?

It is very sporadic.  Sometimes not for weeks at a time and then intensively for a week or so.
How do you usually use BHL? 
Usually I want a whole article from an ancient journal, so I download that.  I find that if I just read online, I inevitably need to check some detail and so I have to go back and look at I again. Sometimes, if I want some part of a book, I download just the relevant pages.
What are your favorite features/services on BHL?
I am amazed and impressed by the breadth of material available.  It is a real tribute to the many people who have gone to the effort of producing high-quality scans of so much material. It is seldom, now, that I am wanting to read something from the 19th century that is not there.  As a consequence BHL is becoming my first port-of-call for such items.  It is a bookmark I use frequently.
If you could change one thing about BHL, what would it be, or what developmental aspect would you like the BHL team to focus on next?
The one thing that does not work very well is the downloading of parts of an item.  Selecting a large number of pages and then finding a number of them are blank can waste quite a bit of time.  (I think you know this is an issue, already, though!)
If you had to choose one title/item in BHL that has most impacted your research, or one item that you prefer above any other in BHL, what would it be and why?
That's hard, since I work on a range of groups, but I suppose the early issues of Proceedings of the Malacological Society of London would be up there (even though it is 20th century!).  More recently the (19th-century) Transactions of the Royal Society of South Australia have been very useful.
We send our deepest thanks to Hamish Spencer for his participation in this series.  We're always excited to learn more about how people are using BHL and the impact it has had on their work.  Gathering feedback on what our users would like to see changed or improved also helps us guide future development so that we can continue to improve and transform BHL to meet the needs of our users.  Have a story of how BHL has impacted your work?  We would love to hear from you! Send us an email to feedback@biodiversitylibrary.org.