World Oceans Day through Books: The Truth about Terra Australis
The Quest for Terra Australis: The Expeditions of James Cook
As far back as antiquity, Western scholars theorized the existence of a great southern continent that they called Terra Australis. While the continent found its way onto many early European maps, this presentation was not based on actual surveys but instead the hypothesis that landmasses in the Northern Hemisphere must be balanced by respective landmasses in the Southern. Depictions generally included a single landmass encompassing the South Pole and spreading far north to include Australia, New Zealand and, at its most extreme, even Tierra del Fuego.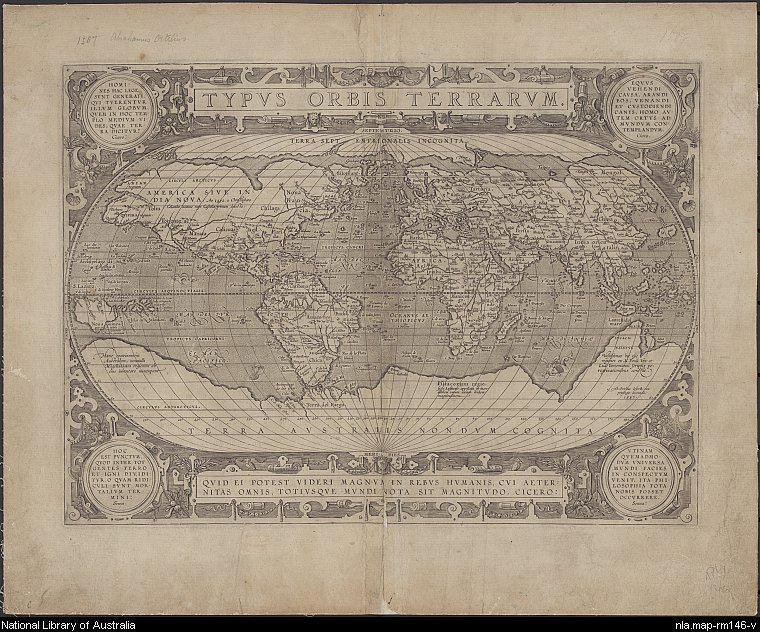 Map showing imagined Terra Australis. Ortelius, Abraham, 1527-1598. Typus orbis terrarum. Quid ei potest videri magna in rebus cui alter nitas omnis, totiusque mundi nota sit mangitudo. Cicero [cartographic material] 1587. MAP RM 146. http://nla.gov.au/nla.map-rm146. National Library of Australia.
By the mid-18th century, some Europeans claimed to have seen this great southern continent, but details were scarce and verification virtually non-existent. The intrigue prompted the British Admiralty and Royal Society to direct Lieutenant James Cook, as part of a larger mission from 1768-71 to observe the transit of the planet Venus from Tahiti, to search for Terra Australis.
In September 1769, Cook's ship, the Endeavour, reached New Zealand, after which Cook spent six months circumnavigating the island to ultimately establish that it was not, as was commonly believed, part of the "southern continent." From New Zealand, Cook and his crew sailed towards Australia, becoming the first recorded Europeans to reach the Australian east coast in April 1770. Sailing north, Cook charted over 5,000 miles of coastline and further demonstrated that Australia and New Guinea were not connected.
Cook went on to command two additional expeditions, the second of which (1772-75) brought Cook closer to the South Pole than any recorded previous navigator, finally disproved the existence of a large southern continent as expansive as the envisioned Terra Australis, demonstrated that chronometers were a practical means of determining longitude at sea, and laid the foundations for a modern map of the South Pacific, thus paving the way for future explorations in the area.
Cook's third and final voyage (1776-80) attempted to discover the elusive northwest passage. Although he was unsuccessful, he did become the first recorded European to visit the Hawaiian Islands and charted the coast of northwest America. Tragically, Cook was killed on the return voyage during a confrontation on the Hawaiian Islands on 14 February 1779.
Cook's achievements did much to pave the way for future oceanic exploration, especially around Australia. He helped lift the veil of uncertainty surrounding "Terra Australis," and helped to establish a viable method by which to more easily navigate the oceans (via a chronometer). Furthermore, by methodically enforcing cleanliness and ventilation on his ships and a balanced diet for his crew, he dramatically improved the living conditions and health of his crew and set new standards for future expeditions.
An account of Cook's three voyages, taken in part from his journals, are available in the seven volumes of The Three Voyages of Captain James Cook around the World (1821).
Exploring Oceania: Voyage of the Astrolabe
Following Cook's expedition, France and England vied intensely for southern possessions, resulting in many expeditions that expanded our knowledge of the oceans and marine life around Australia and New Zealand.
Early French expeditions to the region included the 1800-1804 cartographic survey of Australia's coastline, under Nicolas Thomas Baudin, which resulted in the first published detailed chart of Australia, and the voyage of the Coquille from 1822-25, under the command of Louis Isidore Duperrey. Navigator Jules-Sébastien-César Dumont d'Urville served as second-in-command on the Coquille expedition, and just two months after its return, d'Urville requested a second voyage to the South Seas, this time with him in command.
In 1826, the Coquille, renamed the Astrolabe, set sail with a mission to chart the unknown regions of Oceania. This time, the expedition also included many worthy naturalists, including Pierre Adolphe Lesson, Jean René Constant Quoy, and Joseph Paul Gaimard. The expedition resulted in the discovery of many new-to-science species in Oceania, important ethnographic studies, and "the first tentative speculations as to how coral reefs and atolls could have formed in the middle of the deep tropical oceans" (Stiassny, 51). The expedition's findings were published in a fourteen-volume series from 1830-34, entitled Voyage de la corvette l'Astrolabe.
More World Oceans Day Resources
Follow us on Twitter, Facebook, and this blog all this week as we explore marine biodiversity and awesome related publications in BHL.
Check out some monumental publications in historic and present-day marine bioscience research in our BHL collection.