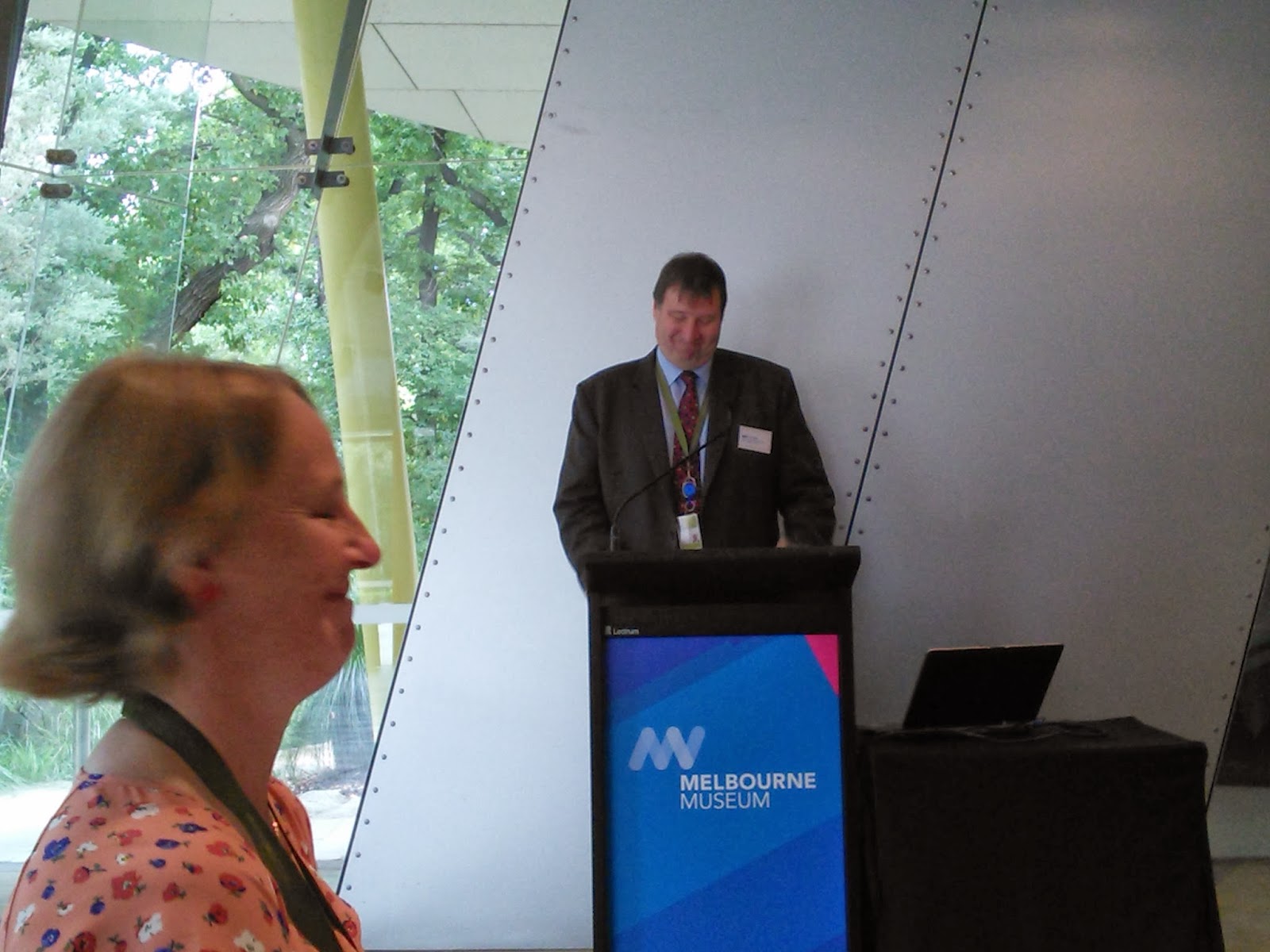 Ely Wallis (left) and Tim Hart
BHL Australia and the Melbourne Museum hosted "BHL Day" at the museum on 31 January 2014. Representatives of all the global BHL nodes (with the exception of BHL Egypt) were in attendance. BHL members were joined by staff and volunteers from BHL Australia as well as from the Atlas of Living Australia.
The day began with Caroline Martin, Bunjilaka Manager at the Melbourne Museum who welcomed the group with a traditional welcome from the indigenous people of Australia. Tim Hart, Acting CEO of the Melbourne Museum gave a welcome to the day's events. The Global BHL delegates also received a special tour of the First People exhibition by multimedia designer (and BHL Australia scanning coordinator) Joe Coleman.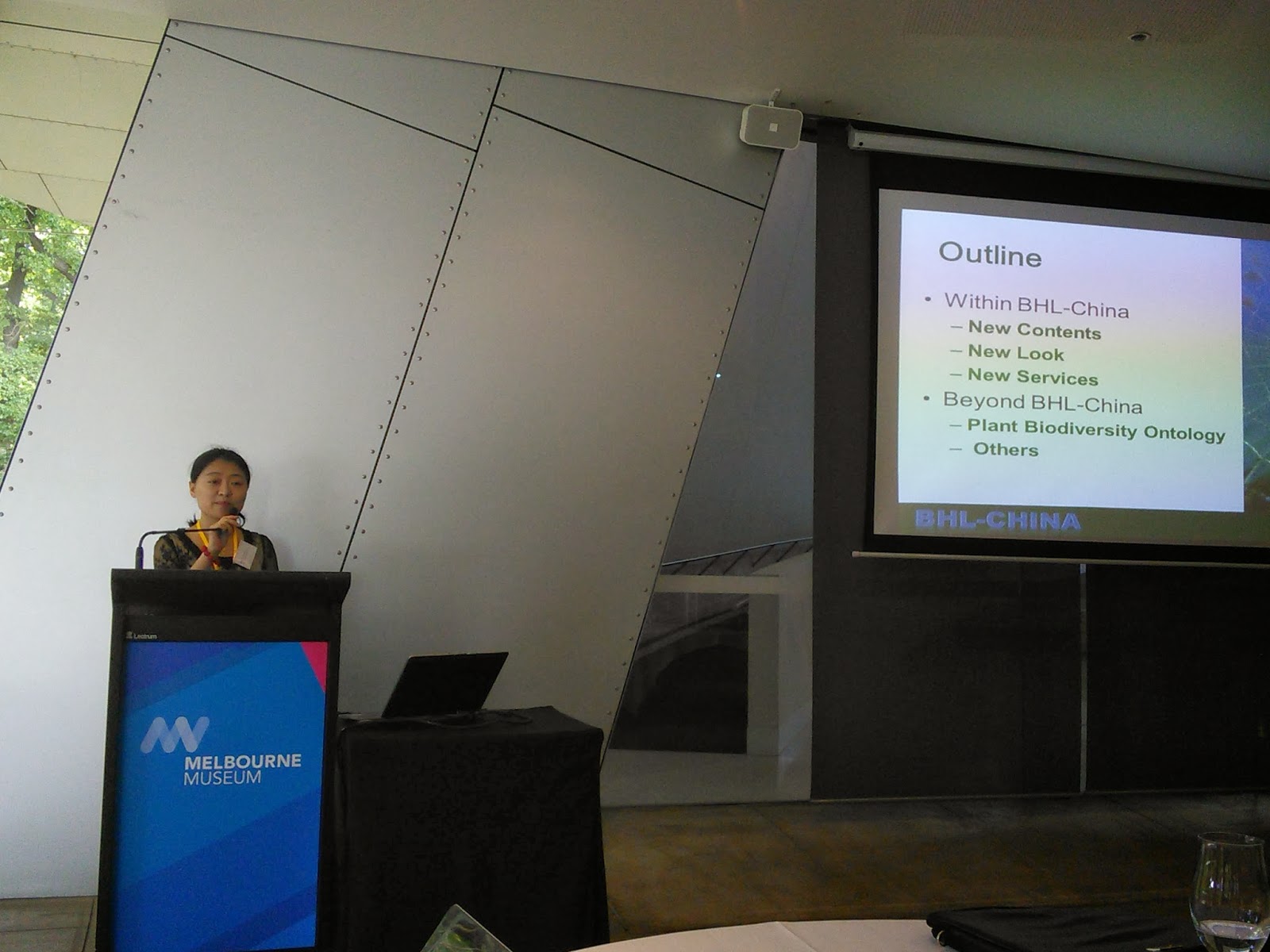 Fenghong Liu (BHL China)
The morning session consisted of presentations from each of the attending nodes.
Nancy Gwinn, Chair, Biodiversity Heritage Library
Ely Wallis, Biodiversity Heritage Library Australia
Jinzhong Cui and Fenghong Liu, Biodiversity Heritage Library China
Jiri Frank, Biodiversity Heritage Library Europe
Abel Packer and Fabiana Montanari Lapido, Biodiversity Heritage Library SciELO (Brazil)
Anne-Lise Fourie, Biodiversity Heritage Library Africa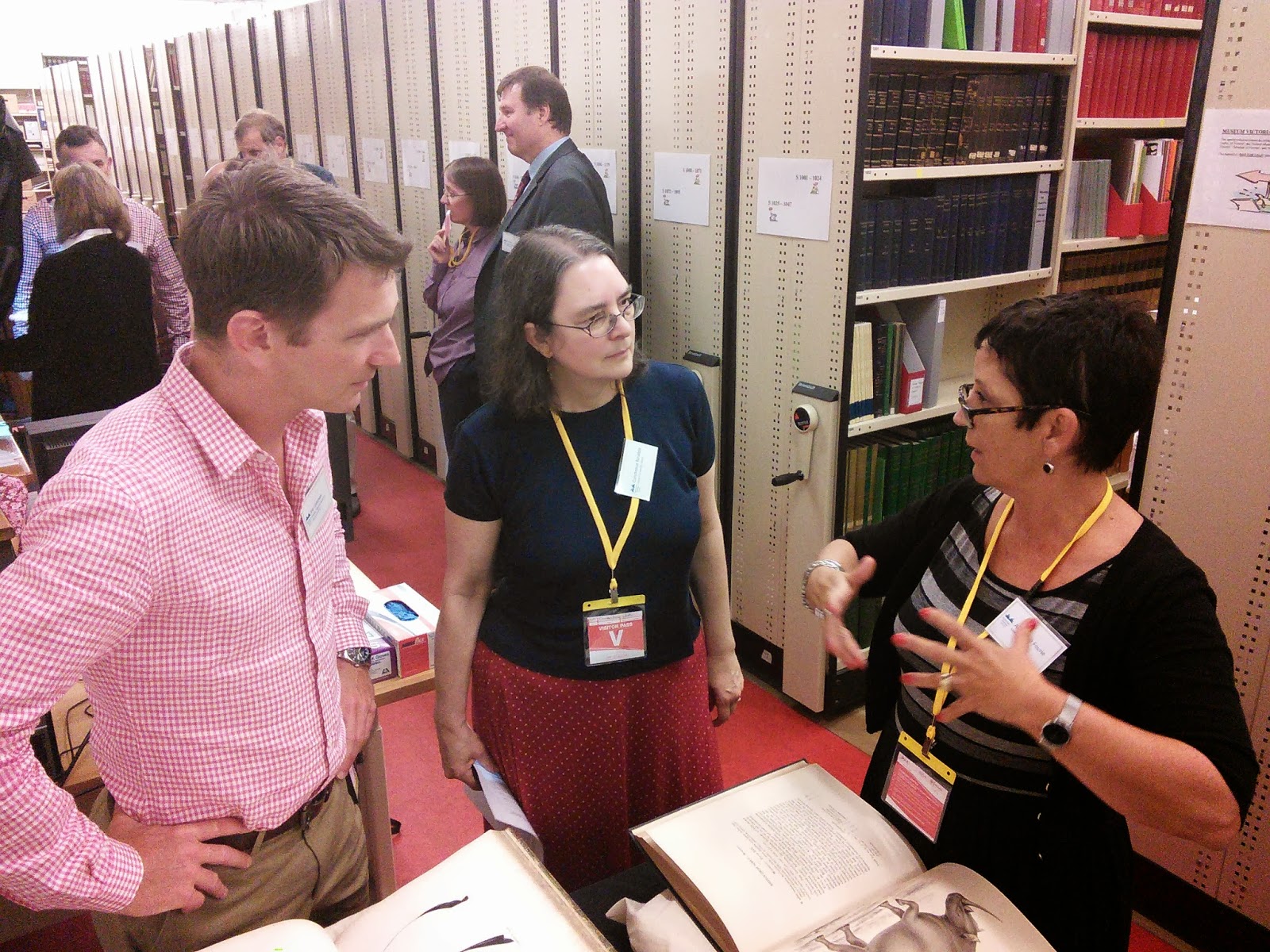 Joe Coleman, Connie Rinaldo,
and Anne-Lise Fourie
After the presentations, three "provocative" questions were presented to the audience (which consisted of a number of Melbourne Museum, CSIRO, and Atlas of Living Australia staff (including ALA Director John La Salle). The questions posed were:
"Recent Literature" by John La Salle (Atlas of Living Australia). What are the questions and concerns about BHL more actively engaging in the acquisition of in copyright material?
"Topic Based Reprint Collections" by Robin Wilson (Senior Curator, Marine Invertebrates, Museum Victoria). Many scientists hold extensive reprint collections around their subject area of expertise. What provision can we make for incorporating such collection into digital repositories without inadvertently infringing copyright laws? How do we strike a balance?
"Archival Materials" by Martin Kalfatovic (Smithsonian Libraries / BHL). How can, and should, BHL proceed on expanding its collections of non-print materials (e.g. field notes, art work, etc.)?
The questions engendered lively and useful discussion and input for BHL writ large.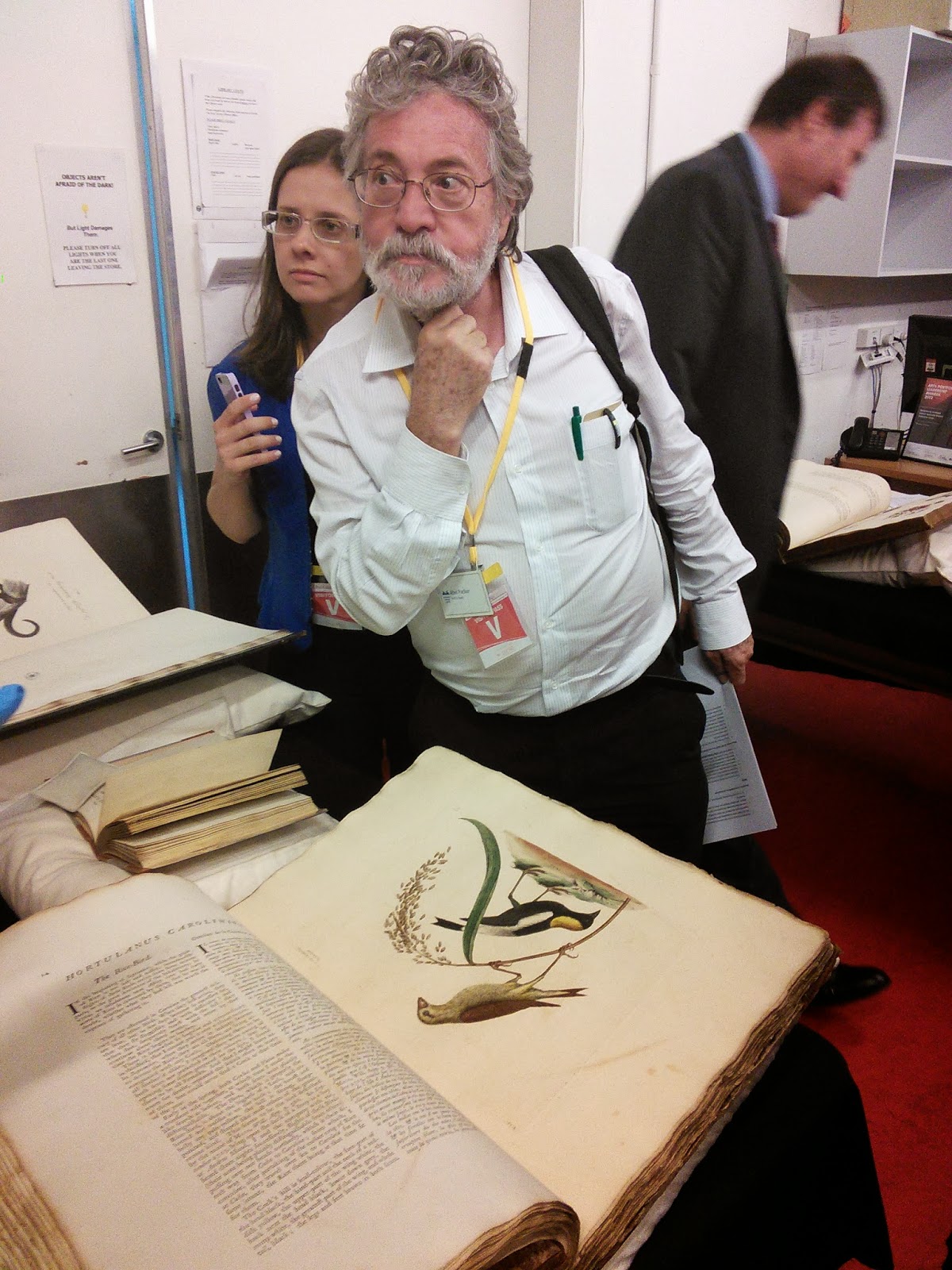 Abel Packer and
Fabiana Montanari Lapido
BHL SciELO
There was also a tour of the Melbourne Museum rare book collection and scanning center where the group met with the volunteer scanning staff.
A reception and opportunity to catch-up with colleagues ended the evening.
The Global BHL members wish to give Ely Wallis (Museum Victoria/BHL Australia) special thanks for organizing the event which was one of the most productive at a Global BHL meeting.