Originally scheduled for 2020, the BHL Annual Meeting finally made it to Paris after two years of virtual meetings and a break to hold the 2022 BHL Annual Meeting in conjunction with the Society for the Preservation of Natural History Collections (SPNHC) and the Natural Sciences Collections Society (NatSCA) meetings in Edinburgh, Scotland.
The host for the 2023 meeting was the library of the Muséum national d'Histoire naturelle (MNHN), led by Alice Lemaire, Clément Oury, and Gildas Illien. The meeting took place 17-21 April 2023 and included BHL business meetings, tours of library and museum sites, and a BHL symposium titled "Fostering Data Driven Natural Science through Open Digital Libraries". In total, the meeting gathered 38 attendees (both in-person and virtually) from 22 BHL partners.
BHL Business Meeting
David Iggulden, BHL Chair (Head of Data & Digital in the Library and Archives at the Royal Botanic Gardens, Kew) opened the meeting and presented his Chair's report, "A Period of Change: But Also Building On Our Success." David welcomed new BHL partners, Meise Botanic Garden and Dumbarton Oaks and gave a summary overview of Executive Committee activities over the past year.
Secretariat Reports
BHL Program Manager Colleen Funkhouser's report, "Relying On and Supporting Our BHL Community," summarized BHL's financial status, user statistics, outreach activities, and an update on our progress in implementing the 2020-2026 BHL Strategic Plan.
Bianca Crowley, BHL Digital Collections Manager, followed with her report, "BHL Collection Management as a Community of Practice." Bianca's insightful report detailed the work done to create the recently revised BHL Collection Development Policy and broadly discussed BHL's position as a "community of practice."
Joining the BHL Annual Meeting in person, BHL Lead Developer Mike Lichtenberg and BHL Technical Coordinator Joel Richard (joining virtually) provided the "BHL Technical Team Report: 2022 Review and Recap".
Joining her first in-person BHL Annual Meeting, BHL Data Manager JJ Dearborn delivered her report, "BHL Data: Opportunities, Challenges, Next Steps." In addition to outlining her work as BHL Data Manager, JJ spoke to the challenges of liberating BHL data as well as the long term benefits to the global biodiversity community of mobilizing BHL data.
Closing the reporting session, I presented "'Tools without Data are Useless' or Data Born in Literature: 2023 BHL Program Director's Report." In this report, I outlined the deep history of biodiversity data held in BHL, the fragility of institutions, and continued importance of BHL's standing on the pillars of Science (Data Generated by Science), Libraries and Literature (Data Born in Literature), and Technology (Data Delivered by Technology).
Tour of the Room
The annual BHL partner "Tour of the Room" summarized partner responses to the question, "How can BHL demonstrate value, Return On Investment (ROI), or other metrics of value per your institution's strategic objectives?" BHL Chair David Iggulden and Vice Chair Kelli Trei (University of Illinois at Urbana-Champaign) hosted the discussion.
Other Business Sessions
In a new feature of the BHL Annual Meeting, Committee Chairs Nicole Kearney (BHL Australia) and Suzanne Pilsk (Smithsonian Libraries and Archives) presented the committee reports of, respectively, the Persistent Identifier Working Group (PIWG) and the Cataloging and Metadata Committee.
Executive Session
The Executive Committee, Secretariat, and Members Council (representatives from BHL Member institutions) held a closed executive session to discuss sustainability planning for BHL and other governance topics, such as proposed Bylaws changes.
Tamar Evangelestia-Dougherty (Director, Smithsonian Libraries and Archives) presented on sustainability planning for BHL. BHL is considering appointing a consultant to assess BHL and create a sustainability plan in preparation for BHL's 20th anniversary in 2026.
BHL Code of Conduct
The Executive Committee, led by Vice Chair Kelli Trei, presented a draft proposal for a BHL Code of Conduct. After input from partners, the draft Code will be revised and implemented later in 2023.
Supplemental Work Projects
Following on work done over the past few years, BHL Chair David Iggulden presented the results of the discussions to return additional value to BHL Members through funding Supplemental Work Projects. The main takeaway was to fund collaborative project(s) with benefit to everyone in BHL as a whole rather than providing funds that benefit individual partners. The funding model and implementation of the projects will take place during the remainder of 2023.
Partner Call Methodology and Timing
Recognizing that the monthly BHL Partner calls, implemented during the COVID-19 pandemic, have seen decreased attendance over the past year, the Executive Committee proposed alternatives that will facilitate multiple time zones and encourage engagement from across the consortium as we continue to deliver on our BHL Strategic Plan.
BHL Symposium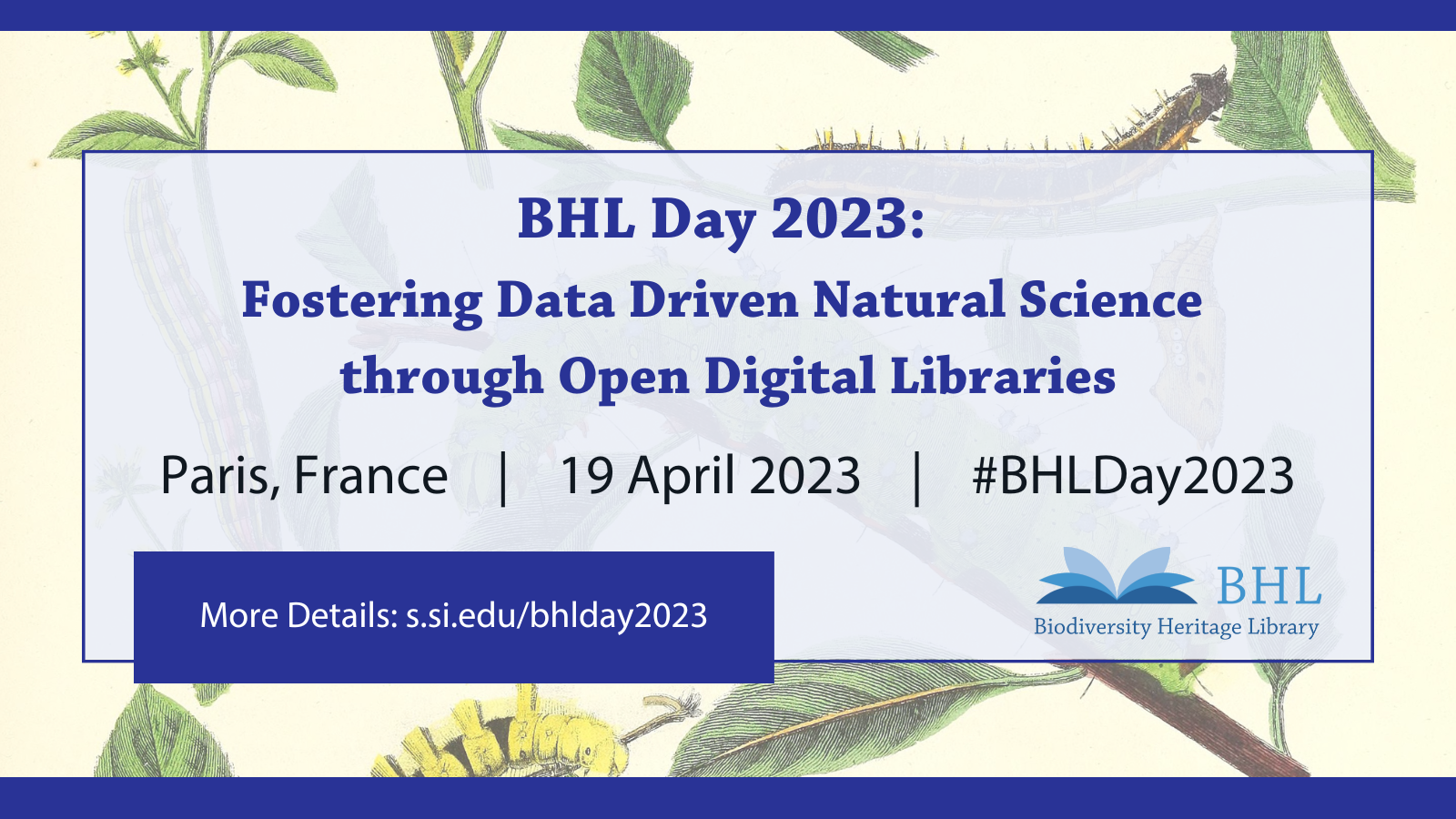 On 19 April, the Muséum national d'Histoire naturelle hosted the BHL Day 2023 symposium in the auditorium of the Grande Galerie de l'Évolution. The symposium, "Fostering Data Driven Natural Science through Open Digital Libraries" was well attended with about 75 participants.
Recent years have witnessed a spectacular increase of data available for research, through either digital conversion or in born digital form, vastly increasing outcomes based on data driven science. In natural sciences, especially in taxonomy and systematics, this new data forward context has allowed for the emergence of the concept of "digital specimen", where a digital representation of a physical specimen is linked to additional information stored in external databases.
Documents from digital libraries, particularly the Biodiversity Heritage Library, rank among the most relevant data for taxonomy and systematics. This literature includes key data points such as first descriptions, occurrences, specimen information, morphology, illustrations, and other key information.
However, digital libraries with these data are often silos or are unable to provide data under FAIR (Findable, Accessible, Interoperable, and Reusable) principles. Opening up these silos and building bridges between platforms necessitates various efforts, including the provision of persistent identifiers, structured metadata, and access via automated protocols and APIs.
These efforts towards interoperability foster the creation of important biodiversity networks, from the local (individual institutions) through national and international networks, bringing together librarians, researchers, and computer scientists to increase access to data that supports a thriving and sustainable planet.
The symposium was hosted by Gildas Illien, General Director of Collections, MNHN, and divided into two sessions chaired by Alice Lemaire, Director, MNHN Libraries, and Clément Oury, Deputy-Director, MNHN Libraries.
The first session, Providing Heritage Literature for Natural Sciences, included four talks:
The role of heritage literature in taxonomic research
Patrice Pruvost, Curator of the Fish Collection, Muséum national d'histoire naturelle
BIOfid's efforts to foster data-driven biodiversity research in Central Europe
Gerwin Kasperek, Curator of the Biology Collection, University Library Johann Christian Senckenberg
Enhancing the Museum Data Ecosystem: Mining Research Publications for Museum Specimens
Richard Naples, Data Manager, Smithsonian Libraries and Archives
Building bridges between heterogeneous data silos : towards a MNHN datahub
Chloé Besombes, Head of Acquisition and Treatment Service, Libraries of the Muséum national d'histoire naturelle
Francis Clément, Deputy Director, Digital Innovation and IT, Muséum national d'histoire naturelle
Cécile Callou, Director, UAR BBEES Muséum national d'histoire naturelle
The second session, Past and Present Scientific Publications in a Network of Biodiversity Data, included the following talks:
Scientific publications in the biodiversity ecosystem: the BiCIKL project
Marianne Salaün, Desk Editor, Scientific Publications, Muséum national d'histoire naturelle
Towards a more visible, more connected, and more useful BHL
Roderic Page, Professor of Taxonomy (Evolution & Diversity), University of Glasgow
Echinopscis – an extensible notebook for open science on specimens
Nicky Nicolson, Senior Research Leader, Biodiversity Informatics, Royal Botanic Gardens, Kew
A toolbox for digital library investigation: developing data analysis of natural history documents
Guillaume Sapriel, Associate Professor, Versailles St-Quentin University (Paris-Saclay)
Marie Carlin, Coordinator for the BnF Datalab, Bibliothèque nationale de France
The symposium concluded with a tribute to BHL Immediate Past Chair, Constance Rinaldo, where we were joined by her husband, Gary Nielsen, son Tristan, and his wife Charlotte.
Special Tours and iNaturalist Bioblitz
Musée de l'Homme and Library
Before the business meetings got underway, attendees had the opportunity to participate in an excursion to the 16e arrondissement and a visit to the Musée de l'Homme. The visit started with a tour of the museum's Yvonne Oddon library led by librarian, Nathalie Charrier-Arrighi. BHL guests were treated to a special visit to the roof of the museum which presented a gorgeous view of the Seine and Eiffel Tower. Following the library tour and rooftop visit, our group was treated to a specialized tour of the museum.
Tour of the Central Library, Muséum national d'Histoire naturelle
Before starting the business portion of the meeting, our hosts organized a tour of the Central Library and its amazing spaces and collections, including the extensive vellum collection and the Cabinet de curiosité de Joseph Bonnier de la Mosson. This was a unique opportunity to dive into the extensive history and collections of one of our BHL Member libraries and to meet a number of MNHN colleagues.
Tours of the Zoothèque and Herbarium, Muséum national d'Histoire naturelle
Throughout the week, our hosts organized additional tours of some of the 70 million specimens held by MNHN, including vertebrate collections in the underground Zoothèque and selections from the Herbarium. Our collection guides highlighted the close relation of the literature in BHL and the specimens held by the museum.
Bibliothèque nationale de France (BnF Richelieu)
After the close of the meetings, BHL participants had the opportunity for a specialized tour of the BnF Richelieu, one of five facilities of the Bibliothèque nationale de France. The BnF Richelieu specializes in Performing arts, Maps and plans, Prints and photography, Manuscripts, Coins, medals and antiques, and Music. Additionally, it also hosts the Oval Room, a public library space for all.
Our guides took us to the various reading rooms (public and research library), some of the collections areas, the lovely garden, and also the BnF museum co-located with the library facilities.
iNaturalist Bioblitz
We also invited the global BHL community to participate in a 2023 BHL Annual Meeting Bioblitz during the week of 15-22 April 2023. Over the course of the week, observers logged 151 observations and 83 species. The top species was Corvus corone (Carrion Crow) with 11 observations.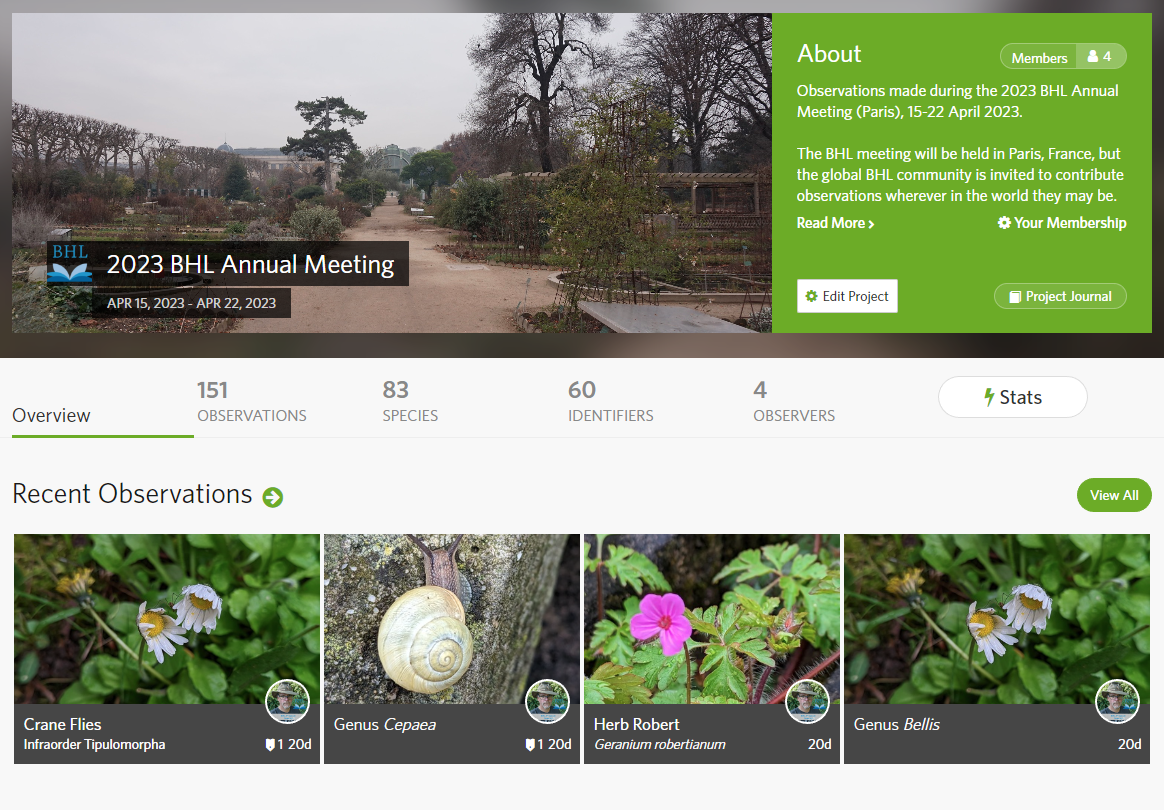 BHL Partner Recognition, and a Farewell
At the close of the 2023 BHL Annual meeting, we took time to recognize those who have worked with BHL over the years and have since moved on to new adventures. Those recognized included:
Diana Duncan, Technical Services Librarian, Gantz Family Collections Center at the Field Museum;
Susan Lynch, Systems, Digitization & Web Services Librarian, New York Botanical Garden;
Gil Taylor, Head of the Smithsonian National Museum of Natural History Library, Smithsonian Libraries and Archives;
Diane Shaw, Special Collections Cataloger, Smithsonian Libraries and Archives;
Susan Braxton, Prairie Research Institute Librarian, University of Illinois at Urbana-Champaign;
Susan Fraser, Thomas J. Hubbard Vice President and Director of the LuEsther T. Mertz Library at The New York Botanical Garden; and
Judy Warnement, Director of the Harvard University Botany Libraries.
We were lucky to be joined in person by Susan Fraser (Founding Member, BHL Secretary from 2011-2015) and Judy Warnement (Founding Member). Susan and Judy were slated to attend the planned 2020 meeting in Paris but retired in the interim period.
We also bid adieu to Anne-Lise Fourie (BHL Africa/South African National Biodiversity Institute). Anne-Lise will be retiring from SANBI later in 2023 and this was her last meeting as BHL Affiliate representative from BHL Africa. Her contributions to BHL were recognized. We do hope to see her again, however, at future BHL meetings.
Closing
As a last piece of business, the location of the 2024 BHL Annual meeting was revealed. The Executive Committee chose Chicago, United States, as the host city. The hosting institutions will be The Field Museum and the Chicago Botanic Garden. Thank you to Gretchen Rings (Field Museum) and Leora Siegel (Chicago Botanic Garden) for putting forward the Windy City as our next meeting space.
In closing the meeting, BHL Chair David Iggulden thanked our local hosts, Alice Lemaire (Director, MNHN Libraries) and Clément Oury (Deputy Director, MNHN Libraries) and all their staff who participated in the planning and execution of this most successful meeting.