Happy Moth Week!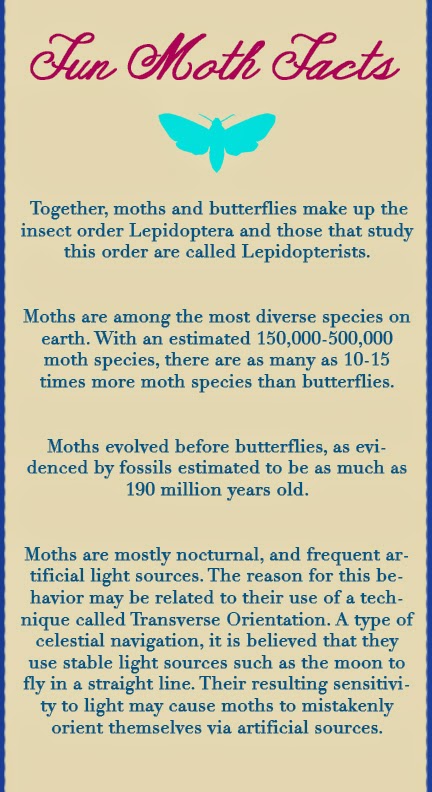 Happy Moth Week! National Moth Week is an annual event that celebrates the diversity and magnificence of moths. By partnering with online biological databases, National Moth Week encourages everyone to become a citizen scientist by helping map moth distributions and provide information about these amazing species.
BHL is celebrating moth week by highlighting select species gleaned from one of our favorite BHL books: Butterflies and Moths: Shown to the Children (1910), by Janet Harvey Kelman, with descriptions by Rev. Theodore Wood.
Satisfy all your moth curiosity with free moth images from BHL in our Flickr Moth Collection and books on moths in BHL. Learn more about Moth Week and find out how you can get involved.
Death's Head Hawk (Acherontia atropos)
There are three species of Death's Head Hawk moths, but the European species is the best known. Characterized by the skull-shaped markings on its thorax, these are very large moths, with wingspans of 3.5-5 inches. The moth is capable of "squeaking" vocalizations, and commonly raids beehives for honey. By mimicking the scent of bees, it is able to prowl through the hives unmolested.
The moth's association with death extends to its name. The genus name, Acherontia, is derived from the river Acheron in Greek mythology – one of the five rivers of the underworld associated with pain. The species name, atropos, comes from the name of one of the Greek Moirai, goddesses of fate and destiny.

Fun Quote from Butterflies and Moths
"And if you meet with [the Death's Head Hawk], and pick it up, you will be surprised to find that it can squeak quite loudly! Stranger still, the chrysalis can squeak too, and so can the moth ! Indeed, if you pick up a Death's Head Hawk Moth it will go on squeaking very much like a mouse all the time that you hold it in your hand!" (pg 39)
Wood Leopard (Zeuzera pyrina) 
Though found primarily in Europe and northern Africa, the Wood Leopard was introduced to America prior to 1879 and can now be found from Maine to Pennsylvania. With a wingspan measuring from just over 1 to just over 2 inches, this species boasts a distinctive, fury white thorax with six black spots and Dalmatian-esque black and white wings.

Fun Quote from Butterflies and Moths
"You may sometimes see [the Wood Leopard] resting on the trunks of trees in July and August. Then, if you examine the tree-trunk carefully, you are almost sure to find the entrance to the burrow out of which it came; for the caterpillar of this moth is one of those which feed on the solid wood of trees. The female moth lays her eggs in the crevices of the bark, and as soon as the little caterpillars appear they nibble their way into the trunk with their powerful jaws, and there live for several months, burrowing backwards and forwards, day after day, till sometimes the wood is almost honeycombed with their tunnels." (pg 50)
The Puss Moth (Cerura vinula)
Found throughout Europe, North Africa, and temperate Asia, the Puss Moth has a 2-3 inch wingspan and feeds on willows and poplars. With a flight period extending from April to August, the pupa winters the cold months in a wood-reinforced cocoon. The light green caterpillar exhibits a defensive pose that involves rearing its bright-red head and extendable flagellae on its rear (as seen in illustration). If a predator fails to regard this warning, the caterpillar will squirt formic acid.  
Fun Quote from Butterflies and Moths
"This fine and handsome moth is called the 'Puss,' because, when its wings are closed, it looks rather like a brindled cat. And there are two or three smaller moths which are a good deal like it; so these are known as 'Kittens.'" (pg 79).

The Old Lady (Mormo Maura)
Found throughout northwestern Africa and Europe, the "Old Lady" or "Black Underwing" moth measures about 2-2.5 inches in wingspan. Found mostly near water, it hides by day and is not particularly attracted to light. It is, however, attracted to sugar, and feeds on the leaves of various fruit trees.   

Fun Quote from Butterflies and Moths
"If you were to ask me why this moth should be called the 'Old Lady,' I am not quite sure that I could tell you. But I think the reason must be that old ladies mostly dress in dark grey, or dark brown, or black, which are just the colours of the wings of the moth." (pg 88)
Be sure to check out Butterflies and Moths: Shown to the Children in BHL for more fabulous moth (and butterfly) facts and images. Don't forget to find out how you can become a citizen scientist as part of Moth Week this week!