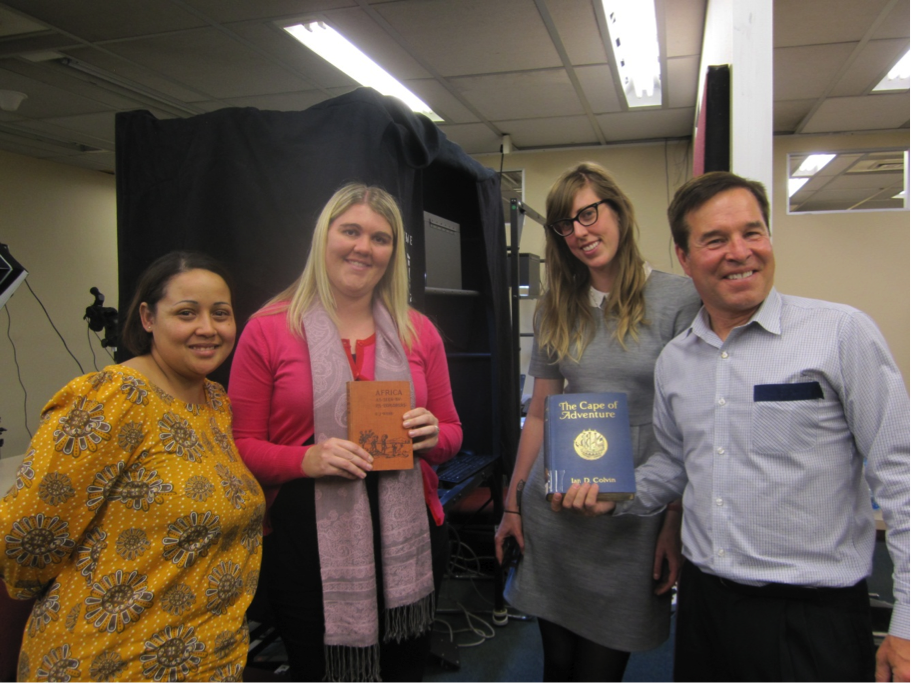 From left to right: Cindy-Lee Daniels  and Lidia Swart (staff at the Digitization Office, Library Services, University of Pretoria); Gemma Waterston (IA Satellite Coordinator) and Robert Miller (Director of Global IA)
On April 15, 2013, during a ceremony hosted at the South African National Biodiversity Institute (SANBI) at the Pretoria National Botanical Garden in Pretoria, South Africa, BHL-Africa officially launched as our sixth global node. Working within the BHL consortium, BHL-Africa aims to provide open access to the valuable information held in Africa's biodiversity institutions. For the past two years, SANBI and the University of Pretoria in South Africa have been working with Internet Archive (IA) to contribute content to BHL through existing protocols and workflows.
In April, 2014, two Internet Archive scanning machines, called "scribes," were shipped to the University of Pretoria to facilitate local digitization efforts. To help install the machines and provide operational training, Robert Miller (Director of Global IA) and Gemma Waterston (IA Satellite Coordinator) traveled to the University of Pretoria in June. The trip culminated in the successful scanning of the first BHL-Africa book digitized through an IA machine. Scanned in just 40 minutes, the 500-page book represents the first of many contributions soon to come. These contributions will be incorporated directly into the existing BHL corpus, expanding our extensive collection of over 43 million pages.
Following the South African trip, Miller journeyed to Nairobi, Kenya, where he presented to a coterie of our Kenyan colleagues vested in the BHL-Africa initiative. During a presentation at the Louis Leakey Auditorium, Miller highlighted collaborative opportunities for digitization that would allow Kenyan content to be incorporated into the BHL collection.
We are excited about these developments, and look forward to many more contributions from our colleagues in Africa! In celebration, enjoy this collection of BHL images highlighting African biodiversity.
Get the flash player here: http://www.adobe.com/flashplayer
var so = new SWFObject("http://www.db798.com/pictobrowser.swf", "PictoBrowser", "500", "500", "8", "#EEEEEE"); so.addVariable("source", "sets"); so.addVariable("names", "African Biodiversity Collection"); so.addVariable("userName", "BioDivLibrary"); so.addVariable("userId", "61021753@N02"); so.addVariable("ids", "72157633207738920"); so.addVariable("titles", "on"); so.addVariable("displayNotes", "on"); so.addVariable("thumbAutoHide", "off"); so.addVariable("imageSize", "medium"); so.addVariable("vAlign", "mid"); so.addVariable("vertOffset", "46"); so.addVariable("colorHexVar", "EEEEEE"); so.addVariable("initialScale", "off"); so.addVariable("bgAlpha", "32"); so.write("PictoBrowser140716133303");