Book of the Week: A Study in Flies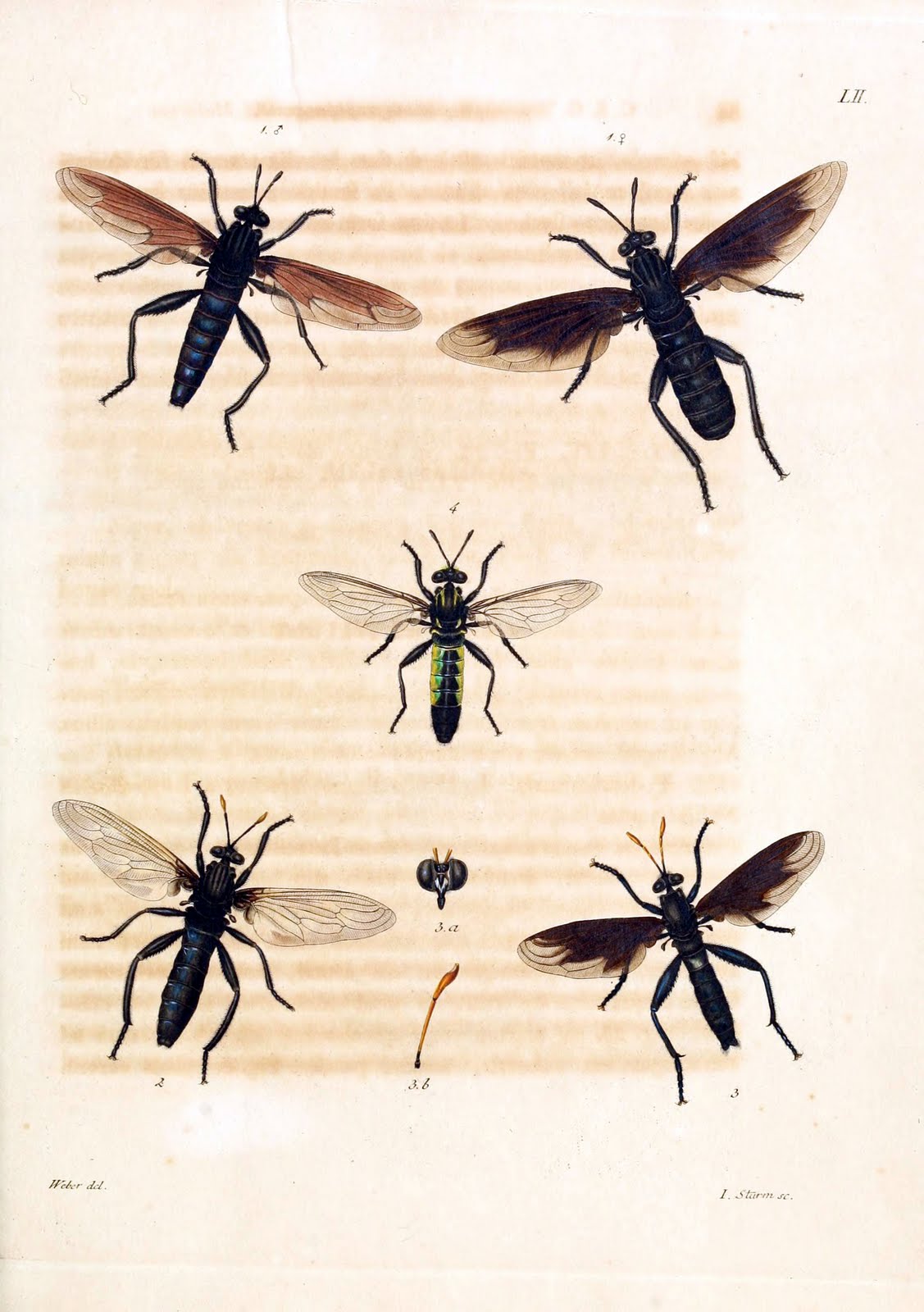 This week, we featured one of our BHL users, Dr. Torsten Dikow, in our regular blog series, BHL and our Users. With a focus on flies in his research, Dr. Dikow identified his favorite book in BHL, which we're highlighting today as our book of the week. As Dr. Dikow stated when asked about his favorite item in BHL,
"Well, there are so many beautiful and scientifically important items on the BHL, but I would probably go with a study on flies from 1831: Monographia Generis Midarum by C.R.W. Wiedemann. Just look at the beautiful color drawings of these flies, including some of the largest known flies from South America. Only very few scientists would have access to this rare book and would be able to admire these color illustrations if it had not been digitized by BHL."
To give you a little background on the author, Christian Rudolph Wilhelm Wiedemann, a German physician, historian, naturalist, and entomologist, is best known for his studies of world Diptera. The author of the first monographs on "exotic" or non-European Diptera, his descriptions of the species portray many advances over others working in his field, including "a brief Latin diagnosis, a fuller detailed description in German, the sex of the specimen, locality details, a reference to the collection in which the specimen was to be found and, sometimes, the name of the collector." His work with Johann Christian Ludwig Hellwig and Johann Karl Wilhelm Illiger set "new standards for descriptions (uniform terminology for structures and colour) and for nomenclature, especially in regard to the avoidance of synonyms by proper research of pre-existing literature." Of course, we can't help but wonder how much easier their research would have been had BHL been around ;-).
Wiedemann's collection of Diptera and Hymenoptera can now be found at the Natural History Museum (Vienna), Senckenberg Museum (Frankfurt), and the Zoological Museum at the University of Copenhagen. The portion of the collection at the University of Copenhagen is detailed online.
Our book of the week describes flies of the family Mydidae, which includes large flies, one of which is the largest known fly in the world, Gauromydas heros. Found mostly in arid regions, little is known of Mydidae biology as they are not often encountered due to the brevity of their adult life span. Recent classification changes in the family resulted in the inclusion of genera formerly in the family Apioceridae.
Thank you, Dr. Dikow, for highlighting this book. It truly is a masterpiece worthy of note! We encourage our users to take some time to view the beautiful illustrations of the rare Diptera found within Monographia Generis Midarum.
This week's book of the week, Monographia Generis Midarum (1831), by Christian Rudolph Wilhelm Wiedemann, was contributed by the Smithsonian Institution.