2016 marks the 10th anniversary of the Biodiversity Heritage Library. We're kicking off our year-long celebrations with our #BHLat10 campaign this week, 11-15 April 2016. The campaign celebrates BHL's impact on the global science community, our history and growth, and our collections. Content is being published on our blog, Twitter, Facebook, Flickr, Pinterest, and BHL. Learn more: http://www.biodiversitylibrary.org/collection/BHLat10
We also have programming all week tying into our #BHLat10 themes. Learn more.
One of the themes of our #BHLat10 campaign is to celebrate our history. To do so, we've created a timeline highlighting some of our major milestones and provided an in-depth narrative of our history on our website. (Click to Enlarge)
BHL officially launched in 2006 during the program's first organizational meeting at the Smithsonian Libraries. The meeting, and hence BHL, grew out of discussions that occurred a year earlier during the 2005 meeting "Library and Laboratory: The Marriage of Research, Data, and Taxonomic Literature" at the Natural History Museum in London.
At the time of its formation, BHL included ten member organizations in the U.S. and the U.K. Tom Garnett, then Associate Director of Smithsonian Libraries, was named Program Director of BHL in 2007. The Smithsonian also assumed administrative responsibility for the program, establishing the BHL Secretariat. The Missouri Botanical Garden took on the program's technical operations under Chris Freeland's guidance as BHL's Technical Director. Martin R. Kalfatovic, Associate Director of Digital Programs and Initiatives at Smithsonian Libraries and BHL's current Program Director, took on the BHL directorial role after Garnett's retirement in 2012. William Ulate served as Technical Director from 2012-2015, following Freeland's departure from the Missouri Botanical Garden. Today, BHL's technical development is led by a team of Technical Advisors comprised of staff from BHL's Member institutions under the direction of Kalfatovic.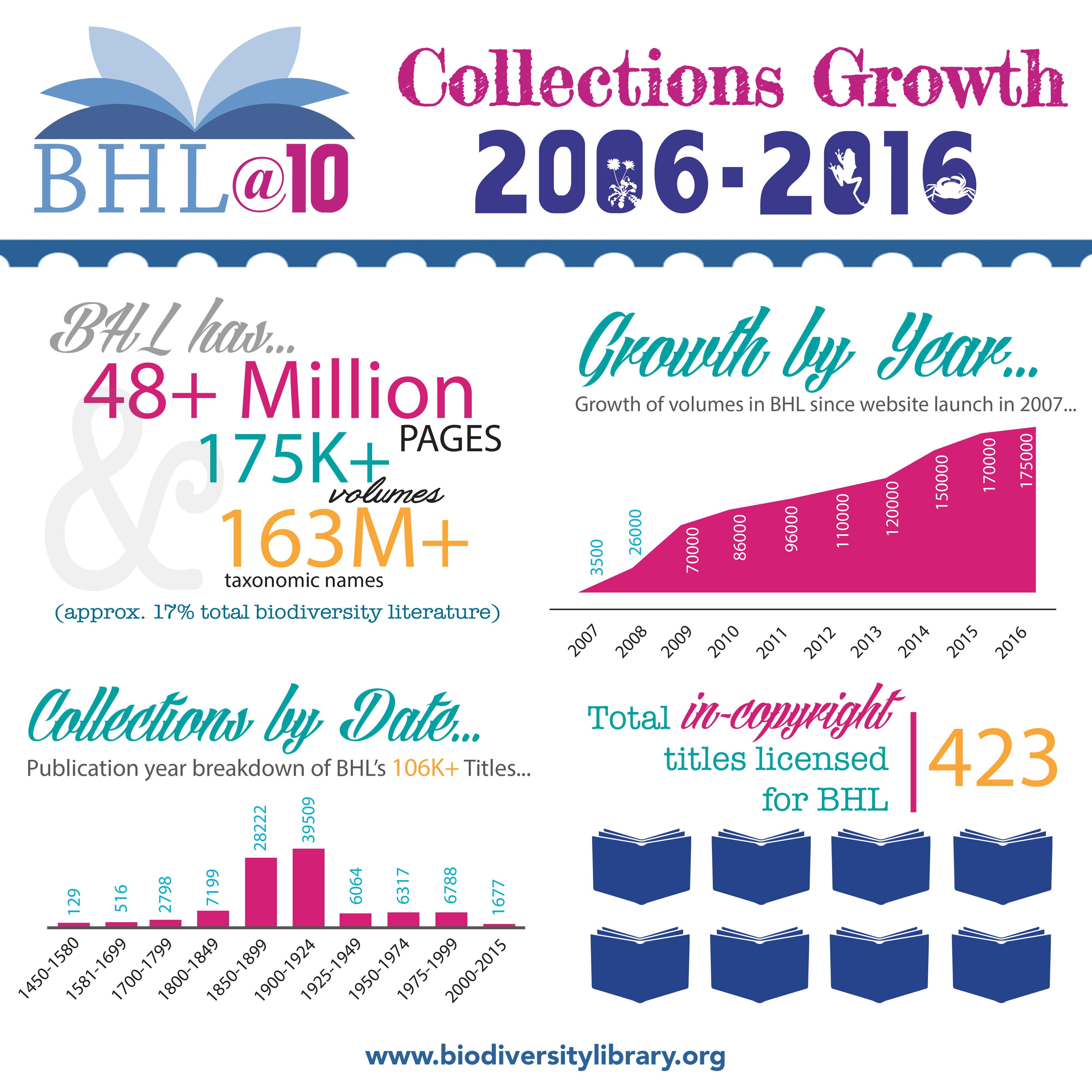 In 2007, the BHL website launched with just over 300 titles, largely comprised of collections already digitized by BHL's Members. Over the ten years since its formation, BHL's collections have grown to over 48 million pages, constituting over 175,000 volumes and over 106,000 titles. The consortium has also grown from 10 founding institutions to over 60 Member, Affiliate, and Partner institutions on every continent except Antarctica. Since its launch, BHL has served over 4.9 million people in 240 countries and territories. On average, BHL receives more than 161,000 visits per month, constituting over 9.4 million visits over the library's lifetime. Additionally, BHL has made over 100,000 of the illustrations within its collection available in Flickr, which in turn have been viewed over 161 million times.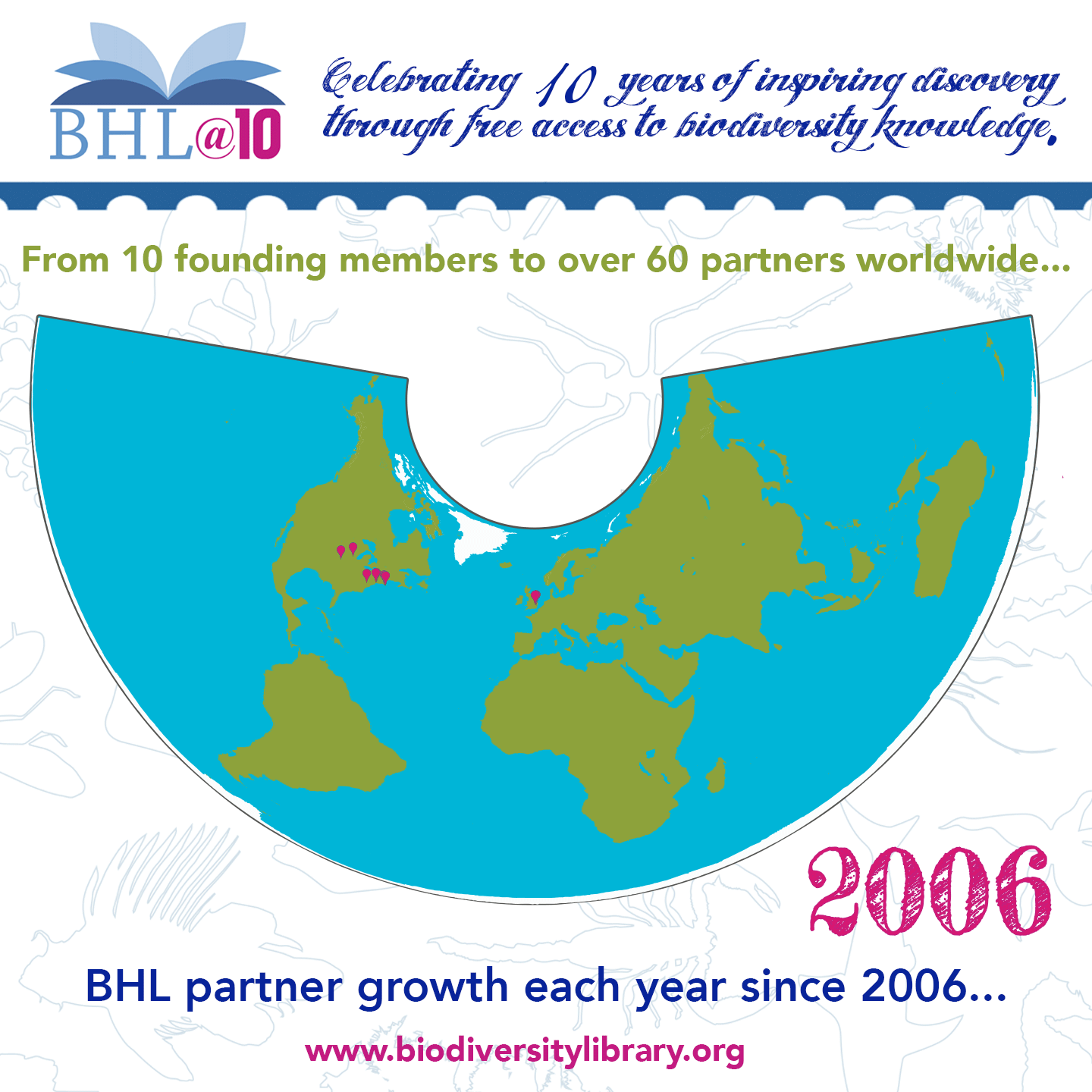 Over the past ten years, the Biodiversity Heritage Library has become the world's largest open access digital library for biodiversity literature. It now serves as a standard for taxonomic literature aggregation, discovery and presentation as well as a model for other digital library initiatives. By engaging with the scientific community to identify user needs, incorporating tools that facilitate data discovery and reuse, and continuing to grow collections under open access principles by fostering existing and establishing new partnerships with libraries and data providers around the world, BHL has become an unparalleled resource that is transforming the way scientists, researchers, and the public understand and study the natural world.
Learn more about our history on our website.
We hope you'll join us in celebrating our 10th anniversary this week and all year long! Follow #BHLat10 to catch all of our great content and tell us how BHL has impacted your work by posting with the hashtag or leaving a comment on this blog.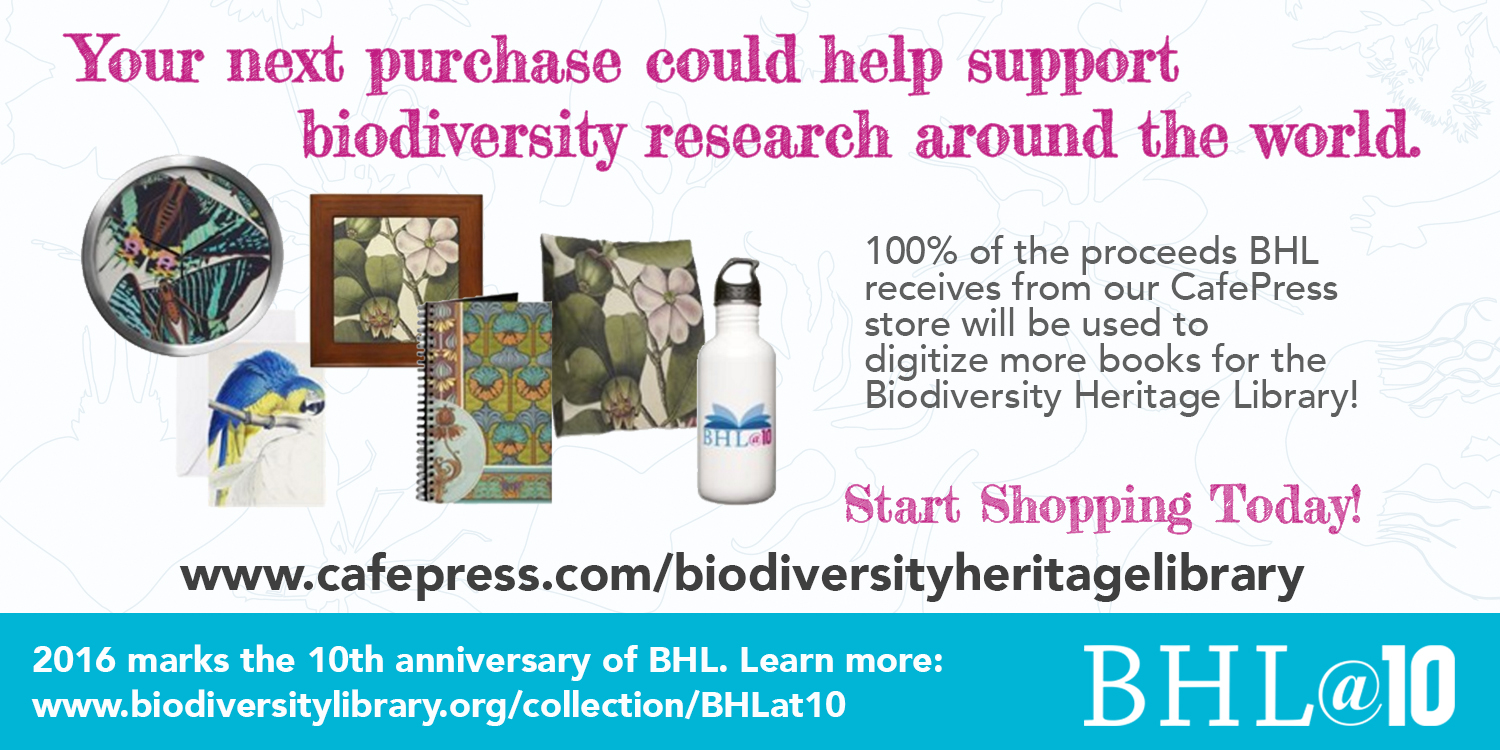 To help ensure that BHL continues to provide free and open access to biodiversity literature for decades to come, we've launched a CafePress store with products celebrating our 10th anniversary and featuring images from our collection. We've launched the store with a small selection of images from BHL, but we'll be expanding this selection in the future as we continue to develop our store. 100% of the proceeds that BHL receives from the sale of these products will be used to digitize more books for BHL. Check out the store today!
And if merchandise isn't your thing, but you want to help support BHL's future, consider making a tax-deductible gift to help us continue to support science and research around the world.
Finally, don't forget to sign our birthday card and tell us what BHL means to you!
Happy Birthday, BHL!