BHL Receives Funding to Host National Digital Stewardship Residency (NDSR) Cohort
The Biodiversity Heritage Library (BHL), led by the Ernst Mayr Library of the Museum of Comparative Zoology, Harvard University (MCZ), will host a National Digital Stewardship Residency (NDSR) cohort as part of the Laura Bush 21st Century Librarian Program, funded by the Institute of Museum and Library Services (IMLS). Entitled "Foundations to Actions: Extending Innovations in Digital Libraries in Partnership with NDSR Learners," the program will include five geographically-distributed residents, all graduates of LIS or related master's programs, in a collaborative project to improve tools, curation, and content stewardship at BHL. This work will help support the development of BHL Version 2 (BHL v.2), the next generation of the world's largest open access digital library for biodiversity literature.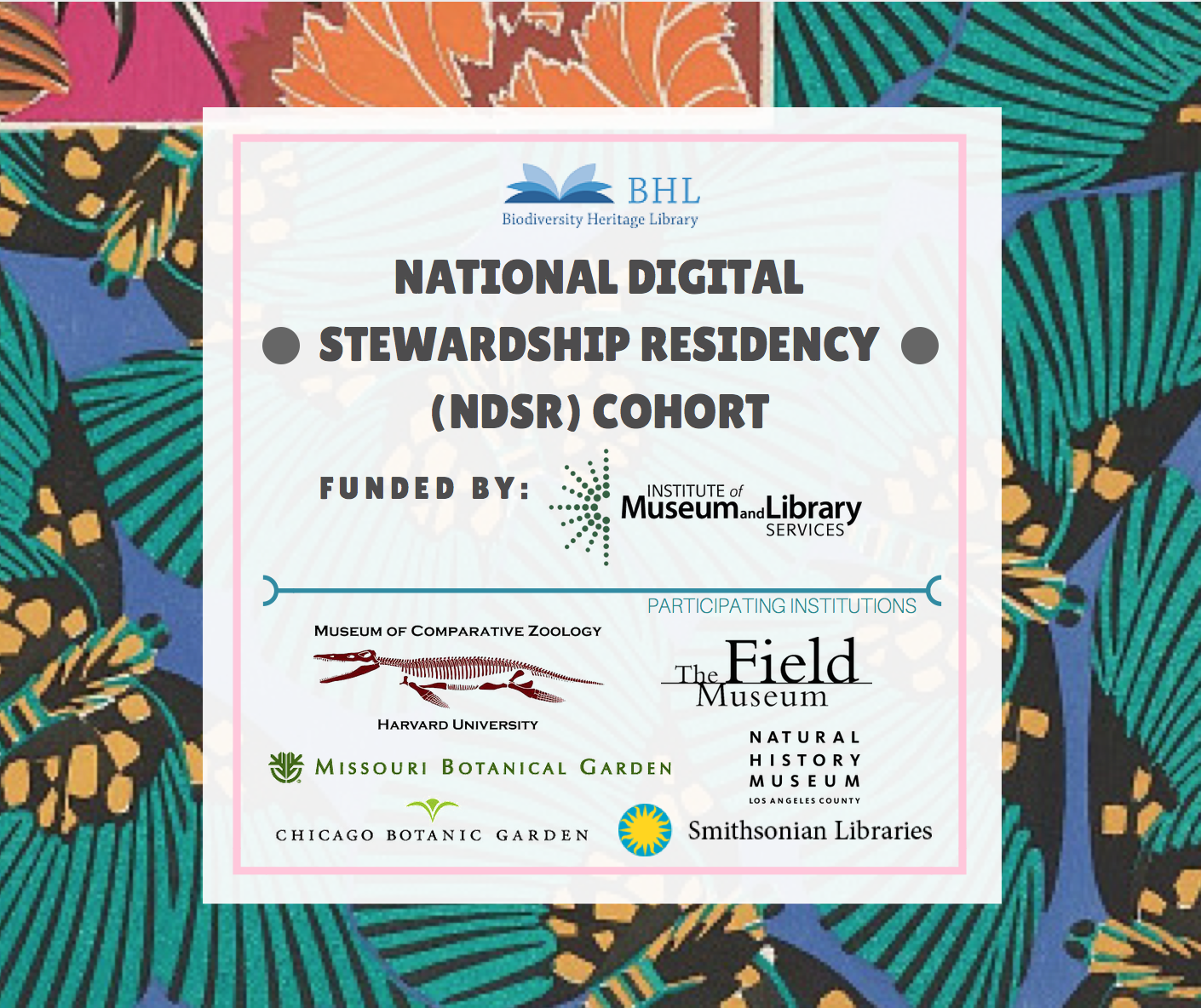 Residents will be hosted by the Field Museum of Natural History and the Chicago Botanic Garden, Harvard University, Missouri Botanical Garden, Los Angeles County Museum of Natural History, and Smithsonian Libraries. The project will run from 1 June 2016-31 May 2018, with residents at host institutions for twelve months, from 1 January 2017-31 December 2017.
Each host institution will provide mentorship to a resident for a specific project designed to improve the functionality of BHL and will identify how tools and processes may be transferred to or from other digital library and museum environments. Outcomes will include a best practices guidelines document for digital libraries incorporating transcriptions, image searching, collection analysis techniques and better connections to museums, archives, and other relevant databases. Better functionality for BHL, based on user needs, will feed into other data systems and provide enhancements for BHL biodiversity and library partners such as the Encyclopedia of Life (EOL), Global Biodiversity Information Facility (GBIF), Digital Public Library of America (DPLA), and Europeana.
The BHL NDSR cohort will work together with mentors to plan BHL v.2 and characterize the tools necessary to improve data management and reuse. The Chicago partners' resident, which will be co-hosted by the Field Museum of Natural History and the Chicago Botanic Garden, will address content and gap analysis, reviewing the domain of biodiversity literature underpinning the field of biodiversity, estimating the amount of that literature in the public domain, and exploring methodologies to visualize digital collections. The Harvard University MCZ resident will develop methodologies and propose tools for verification and integration of crowd-sourced data corrections, building on previous work undertaken by the Ernst Mayr Library and the Missouri Botanical Garden (MBG). The MBG resident will explore user interface modifications to the BHL portal to enable image searching, browsing, and display. The Los Angeles County Natural History Museum resident will consult with BHL partners such as DPLA and Europeana to determine how BHL data works in these large-scale digital libraries and categorize high value tools and services. Finally, the Smithsonian resident will work with the BHL Secretariat to determine additional digital library needs and services that will provide increased value to a broader set of BHL users.
The Laura Bush 21st Century Librarian Program (LB21) supports professional development, graduate education and continuing education to help libraries and archives develop the human capital capacity they need to meet the changing learning and information needs of the American public. Through a strong mentorship focus, and by providing opportunities to connect with professionals in biodiversity fields as well as libraries, museums, and archives, the BHL NDSR residencies will establish new leaders with skills in digital stewardship related to collection development and services, archives management, data curation, information systems management, informatics and community management, and distributed, virtual collaboration. In addition to fostering digital stewardship skills in these new graduates, the residencies will result in enhancements to BHL such as innovative tools, services, and best practices to trigger the development of BHL v.2, while providing users with improved interfaces, data discovery, and database connections.
We are now accepting applications for the five resident positions. For more information, visit the vacancies posting page here. To apply, click here.
You can learn more about the program on the IMLS website or the BHL public wiki.