Just past the halfway point of its 2-year IMLS grant period, the Expanding Access to Biodiversity Literature (EABL) project has made significant contributions to BHL's collections and is well on its way to achieving its stated goals: securing permission for 50 in-copyright titles; adding 100 new contributors; adding 300,000 metadata records; and positioning BHL as an on-ramp for content delivered to the Digital Public Library of America (DPLA).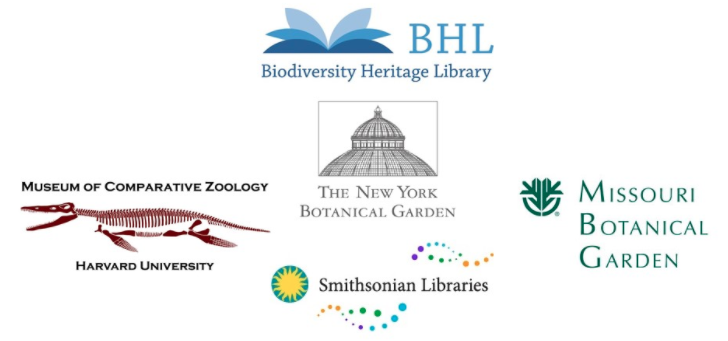 The institutions participating in EABL
Background
EABL was conceived to address some of the persistent challenges facing digital repositories in the U.S. scientific community. How do small organizations get involved when they don't have much content to contribute? How can the necessary metadata be harvested or created to point to their content? And how can the discoverability of that content be improved?
By reaching out to small natural history organizations outside the BHL consortium, EABL has created a pathway for inclusion in BHL, and, ultimately, the U.S. national digital infrastructure (DPLA). The first step is getting content into BHL.
Process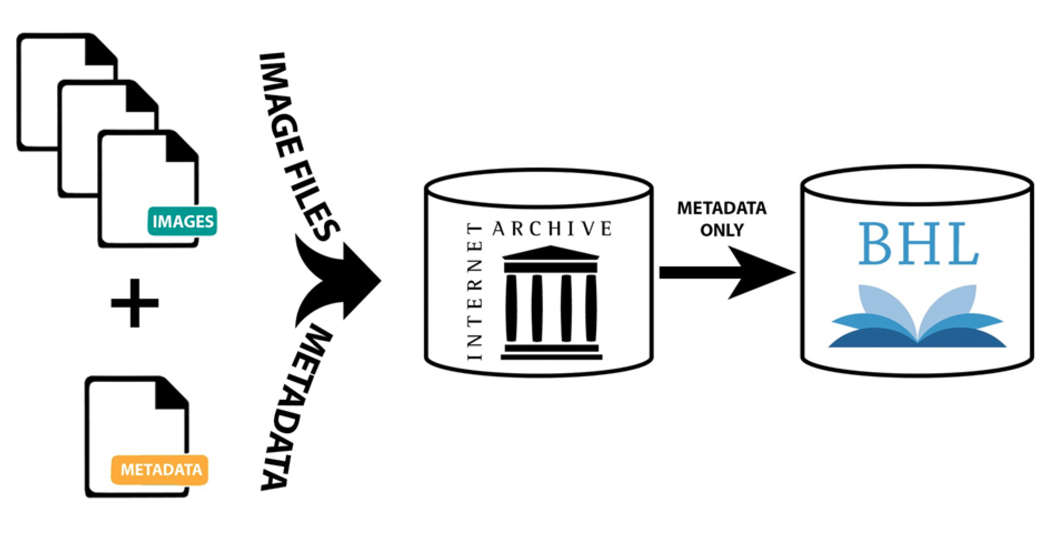 Diagram illustrating the relationship between IA and BHL
When an institution has already digitized its content, EABL Metadata Specialist Mariah Lewis, at the New York Botanical Garden (NYBG), uploads it to Internet Archive (IA). Because BHL strives to create cover-to-cover digital reproductions of the printed item, this sometimes requires stitching together article PDFs prior to upload. It also requires a MARCXML record, which Mariah pulls from an existing catalog record or, in rare cases, creates from scratch. Once in IA, the content is ingested into the BHL EABL collection, where Mariah curates it to ensure that it displays correct enumeration and metadata. Recently, the EABL team worked with BHL to add a "Rights Holder" field, which distinguishes the organization that owns the copyright for a publication from the "Contributor," or the organizations that provided the physical copy.
For organizations with material that hasn't yet been digitized, EABL provides funds for shipping and scanning the material at an IA scanning center. In special cases where the material is too fragile or valuable to ship to IA, EABL is working with third-party scanners or training personnel to do their own in-house scanning. Alternatively, EABL secures permission for a title from the rights holder and then a BHL member library pulls a copy from the shelf and scans it.
Material that is uploaded to BHL will eventually appear in DPLA as well. DPLA is currently mapping its fields to BHL to facilitate this content transfer and will have records ready for review early in the new year. When this process is complete, BHL will be an active "content hub," aggregating content from smaller providers and feeding it to DPLA.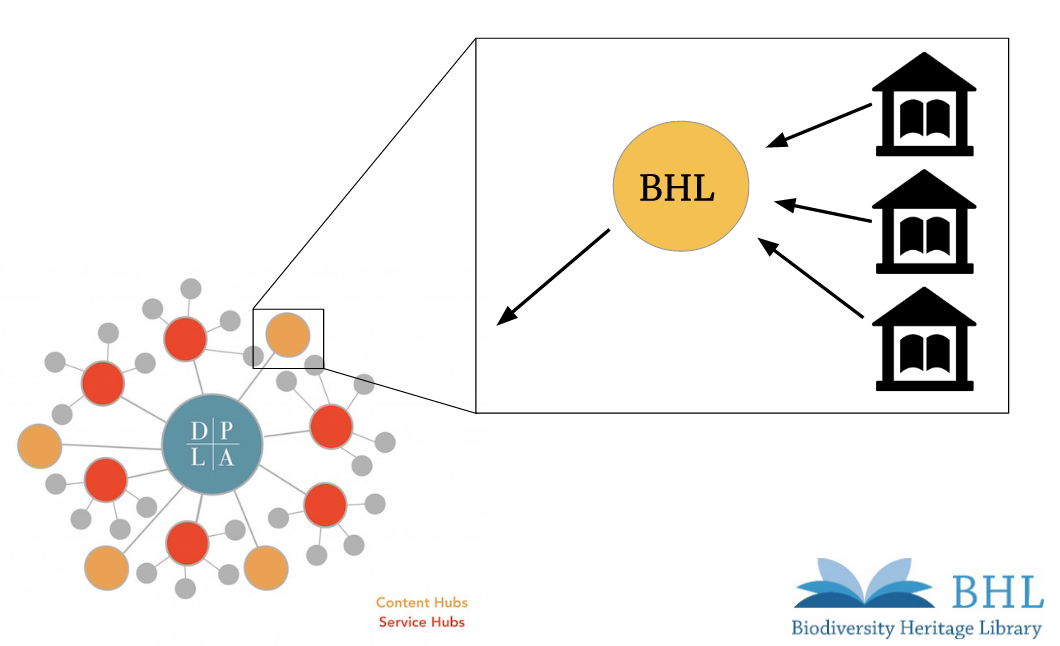 For organizations that plan to contribute material to BHL over time, especially those that are interested in becoming BHL Affiliates, Mariah provides training on all aspects of the BHL digitization workflow. She does this in person or virtually, depending on the organization's needs, and has also created video tutorials of the metadata creation and upload process.
Results
So far, EABL has secured permission for 106 in-copyright titles and added 59 new contributors to BHL. The EABL collection holds 3,428 volumes from 289 titles, containing 377,924 pages. Important titles (some of which have not yet been scanned) include:
Journal of Arachnology
North American Birds
Memoirs of the Southern California Academy of Sciences
Arnoldia
The Green Scene
An important part of curating these titles, and one that greatly enhances their discoverability, is article and chapter definition. EABL team members Susan Lynch at NYBG and Trish Rose-Sandler at Missouri Botanical Garden (MOBOT) are working to index journals added to BHL through EABL. This involves collecting available citations from the publisher or from databases like Web of Science so that article titles and authors' names can be isolated. To date, EABL has indexed 58,801 articles and chapters in BHL. The value of this becomes apparent when browsing long-running publications like 
Zoologica
 or 
Kirtlandia
, which are now 100% indexed. (For more information about how to view articles, see last month's 
blog post
 about 
Kirtlandia
).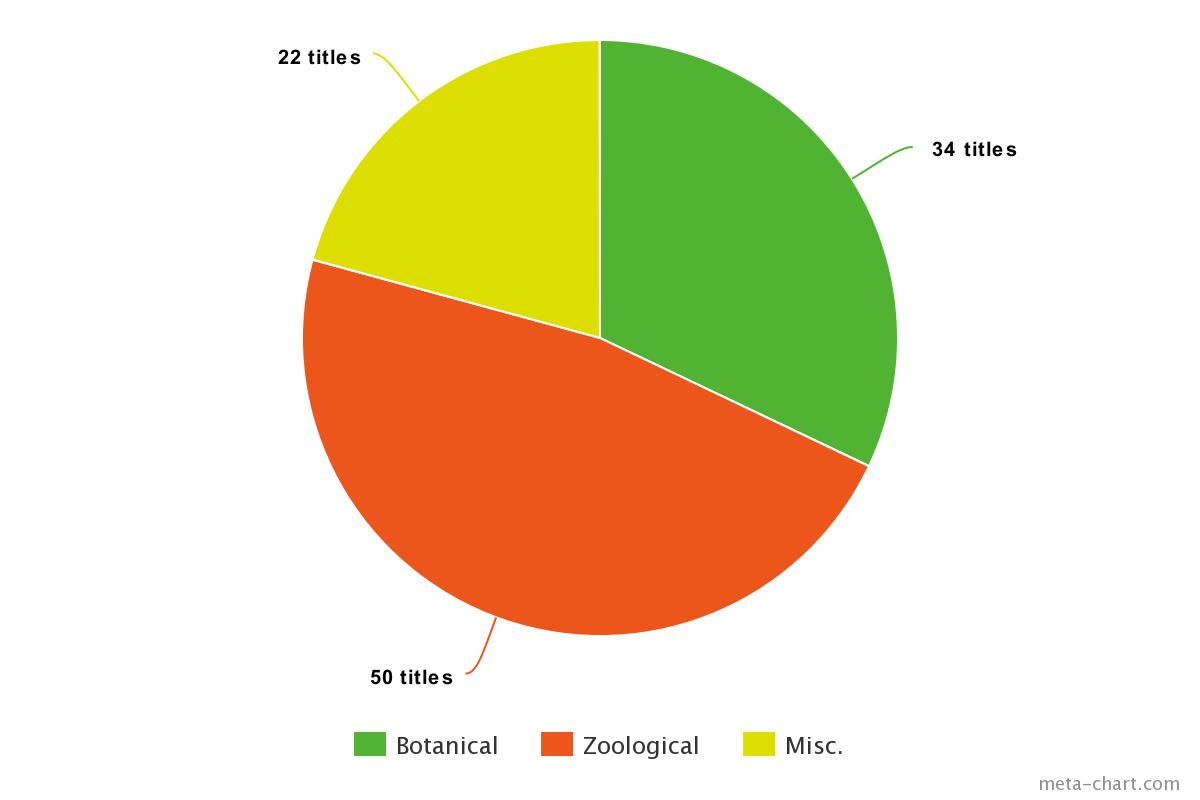 In-copyright titles added by BHL
For more information about EABL, please visit the wiki, where you will find an up-to-date list of digitized titles, a list of presentations given about the project, related blog posts, and the EABL Twitter feed.
Get Involved
EABL will receive new content through the fall of 2017. If you know of a publication or institution that you would like to see represented in BHL and DPLA, please contact EABL Community Manager Patrick Randall at patrickrandall@fas.harvard.edu or Principal Investigator Susan Fraser at sfraser@nybg.org. If you would like funding for digitization, please fill out the EABL interest survey.